A Study In Opposites
How did designers make a new Bergen home a stunner? By boldly marrying polarities: modern and traditional, spacious and cozy, warm and cold.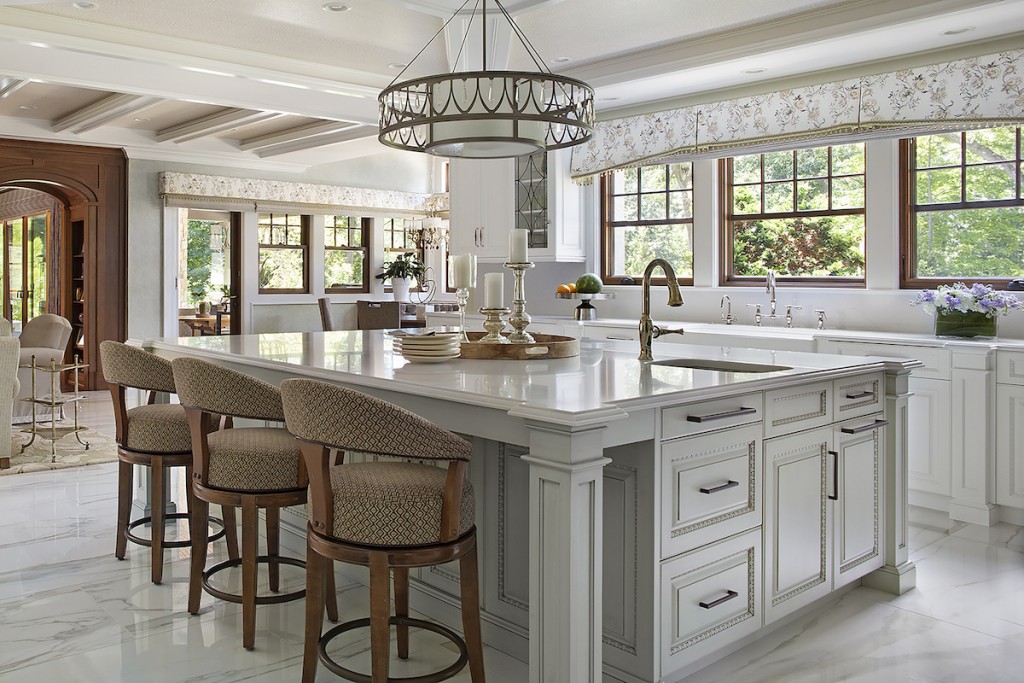 A couple from northwest Bergen County didn't wait until they were true empty nesters to plan a house cozy enough for just the two of them yet still ready to be the life of any party.
The husband and wife knew it would be a matter of time before their four adult children left the nest and they could lose that cherished cozy feeling to a big empty house. So, in the summer of 2019, they worked with a team on a new colonial that would be just right for whatever came next, whether it was alone time or the gang was all there.
Creating a space to fit seemingly opposite moods—both comfy and spacious—didn't stump Rina Capodieci-Quinn, owner of Ramsey-based RCQ Design, and her senior designer, Amanda Arditti. Nor did the goal of marrying two design styles—modern and traditional—in a well-balanced motif.
The kitchen is a good example of a room that fits all lifestyles. The breakfast nook is intimate with its stain-resistant, mini-print chairs and cut-velvet, smoky brown banquette by Michael M. Fea Inc.
But the majestic island in pale green with light-brown glaze and topped with gray veined quartz was meant to be a people magnet, says Capodieci-Quinn. "We wanted it to be a space where the owners could entertain and people could congregate around the island," with Designmaster woven mini-print stools ideally positioned to max the beautiful window view.
A third gathering spot in this open-floor-plan kitchen allows for an RCQ-custom sofa and comfy swivel chairs over an oversized Davis & Davis damask rug in pale green and taupe. A stone fireplace completes this cozy setting.
Good design never neglects the ceiling, says Capodieci-Quinn, and in this case, she explains that the architectural-trimmed beams inset with a subtle tone-on-tone wall covering "created different spaces within one space."
To marry modern and traditional, the designers gave the floors the sleek effect of Calacatta gold marble but used stained mahogany window frames and a rifted oak fireplace wall to infuse warmth.
"Wood is warmth, and the wallcovering on the ceiling and the soft window treatments add warmth to the colder elements of the kitchen," says Capodieci-Quinn.
The custom island by MDM Woodworking with oil-rubbed bronze hardware gets a hint of traditional from the egg-and-dart details of its raised panels. The white perimeter cabinets with polished nickel have their own special feature: a leaded glass pattern by Antique Glass Studio, matching the window transoms.
Glass-beaded, floral window treatments by Alan Schatzberg & Associates in soft green and pale, creamy yellow are pretty and practical with woven Roman shades.
"The hood [RangeCraft] really needed to make a statement," adds Capodieci-Quinn, who delivered with a mix of metals—gold and silver, keeping with the pattern of warm and cold.
The spa-like master bath was another space where modern met traditional.
"In this room we were looking for a sense of elegance," she says. "We drew toward the feminine part of it." With a hint of soft lavender on the ceilings and soft rose damask window treatments, again by Schatzberg, the result was "almost a romantic feeling."
Adding to the wow factor of polished Calacatta gold marble floors are two inset area rugs of glass-and-marble waterjet mosaic bordered with mother-of-pearl.
New construction allowed the luxury of groin-vaulted, 9-foot-plus ceilings, outlined with silver leafing, for a look of grandeur and openness that didn't waste space. While not too big for a shrinking household, Capodieci-Quinn says, the bathroom still "hits all the marks" with his-and-her sink vanities and a makeup vanity (all by RCQ/MDM Woodworking), a soaking tub, a large shower and a water closet.
For a little more glam, RCQ designed rhinestone door handles into the Calacatta-gold-topped vanities with circle trim, and the tub-area drawers have a similar effect. The shower also dazzles with a feature wall of scroll-patterned glass and Calacatta marble in a waterjet mosaic. The soaking tub (Artistic Tile/Stone Surfaces) started with a hand-picked slab of Calacatta gold marble.
As in the kitchen, stained woodwork creates an old-world feel, says Arditti.
Want to watch the news while getting ready? A TV is cleverly hidden in a mirror inset into the millwork by Michael M. Fea Inc., which tackled the trim throughout the house.
Layers of lighting, including drop chandeliers and antique silver- finish sconces over the vanities, are another mixture that boosts the ambience.
"The key to both the kitchen and bathroom was keeping it very fresh and crisp," says Capodieci-Quinn.
With the happy marriage of modern and traditional and other artfully paired polarities, this family may just have pulled off the trick of downsizing while up-styling.
By Donna Rolando
Design by RCQ Design
Photography by Peter Rymwid