A Supper for Sweethearts
St. Eve's in Ho-Ho-Kus is long-regarded as one of the most romantic restaurants in the area, so we just had to have chef/owner Steve Christianson create a sexy menu just for BERGEN readers. Trust us—this three-course meal for two is the perfect date night in with your honey.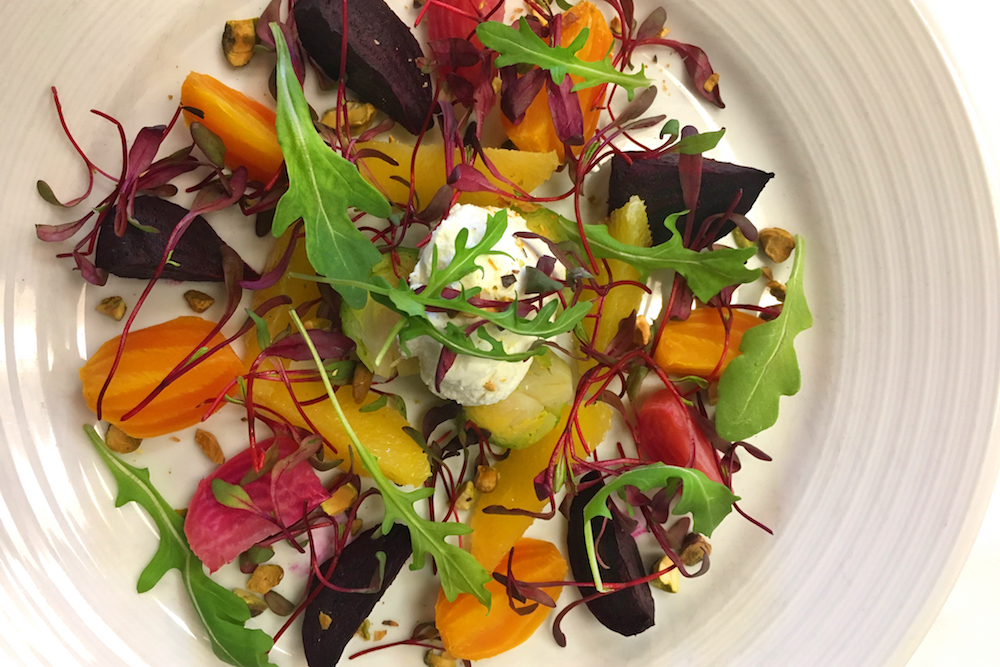 BABY BEET SALAD WITH GOAT CHEESE AND CANDIED PISTACHIOS
Yields: 2 servings
INGREDIENTS
½ lb. assorted baby beets (yellow, purple, orange)

½

cup balsamic vinegar
1 cup water n 3 Tbsp. sugar
2 Tbsp. white vinegar
1 Tbsp. salt n 3 Tbsp. goat cheese
1 clementine, peeled and sectioned
1/8 cup peeled pistachios
Arugula, for garnish
Sea salt to taste
DIRECTIONS
Mix 2 Tbsp. sugar, balsamic vinegar and half the water into a pan and cook it halfway down for a few minutes until it's a syrup consistency; it's done when it sticks to your finger. Let cool.
Cook beets in a stock pot with lightly-salted water, remaining 1 Tbsp. sugar, salt and white vinegar for 10-15 minutes, until fork tender. Leave at room temperature to soak in the flavor.
Place pistachios dry on a pan. Throw them in the oven at 300°F for about 8 minutes, until golden brown; watch them closely to make sure they don't burn.
Break cheese and sprinkle cheese, clementine and toasted pistachios onto beets. Drizzle balsamic syrup on the salad and finish with a dash of sea salt. Garnish with arugula.

PEPPERCORN-CRUSTED FILET MIGNON WITH MUSTARD-HERBED BUTTER AND ROASTED POTATOES
Yields: 2 servings
INGREDIENTS
2 10 oz. pieces of filet mignon
1 Tbsp. pink peppercorn
1 Tbsp. black peppercorns
1 Tbsp. white peppercorns
1 Tbsp. olive oil

½

cup butter
2 Tbsp. Dijon mustard
2 Tbsp. whole grain mustard

½

pound fingerling or red bliss potatoes
2 shallots, chopped
1 clove garlic, chopped
Chopped rosemary to taste
Chopped thyme to taste
Salt to taste
DIRECTIONS
For the filet mignon:
Preheat oven to 375°F. Season beef with salt and peppercorns. Put the meat peppercorn-side down in a hot oiled non-stick pan. Once browned, flip and do the same on the other side, then bake in oven for 12-15 minutes. Meanwhile, mix butter, Dijon mustard and whole grain mustard in a bowl with chopped rosemary and thyme. Top the meat with the butter.
For the potatoes:
Wash potatoes and cut them in half lengthwise. Sautee potatoes in olive oil until brown and crispy. Turn potatoes over, add shallots and garlic and fresh thyme and/or rosemary and toss. Finish by baking the potatoes in the oven for an additional 10-15 minutes.
Plate filet mignon with potatoes and serve.

BLACKBERRY AND PEAR COBBLER
Yields: 2 servings
INGREDIENTS
½ cup flour
2 tsp. sugar
1 tsp. cornstarch
1 tsp. baking powder
4 Tbsp. butter, cut into cubes
4 Tbsp. buttermilk

½

tsp. vanilla extract
1 cup blackberries
1 soft pear, peeled and chopped
Vanilla ice cream or whipped cream, to serve
DIRECTIONS
For the topping:
Mix flour, 1 tsp. sugar, baking powder, butter and buttermilk in a bowl. Roll out until crumble is about 1/3-inch thick.
For the fruit:
In a separate bowl, mix together blackberries, pear, the remaining sugar, cornstarch and vanilla.
Spoon fruit into 2 6-ounce baking dishes. Cover with the rolled out topping and bake at 375°F for 25-30 minutes, until golden brown. Top with fruit (optional) and serve warm with a scoop of vanilla ice cream or whipped cream on top.