A Sweet and Tasty Social Media Challenge
Ashia Kim goes head-to-head against her 4-year-old nephew in the Fruit by the Foot challenge.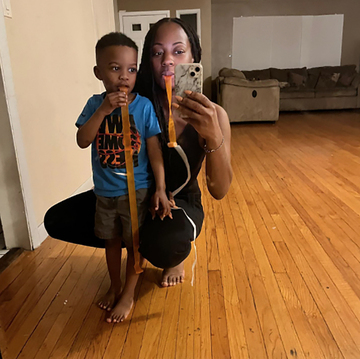 Many of us have dumped ice water over our heads and posed like mannequins for the sake of social media, but Englewood's Ashia Kim and her 4-year-old nephew Jayce prefer something tasty for their Instagram challenge. The youngster recently brought one of his favorite snacks to his aunt and went head-to-head with her. "He brought me a Fruit by the Foot and said 'challenge!'" recalls Ashia, who posted this photo before the challenge got underway. The goal is to unroll the fruit treat and be the first one to finish it from end to end without using your hands. "My nephew is so sweet and so much fun, and sharing with family and friends comes in many different forms," she says. "And this was sweet fun—literally!" For more of what's going on around Bergen County, follow us on Instagram @bergenmagnj.