A Teen Effort: Supporting Cancer Care
Through community support, Comfort Project 360 enhances the patient experience at The Cancer Center at Cooperman Barnabas Medical Center. The annual Reason to Walk gets Gen Z involved too.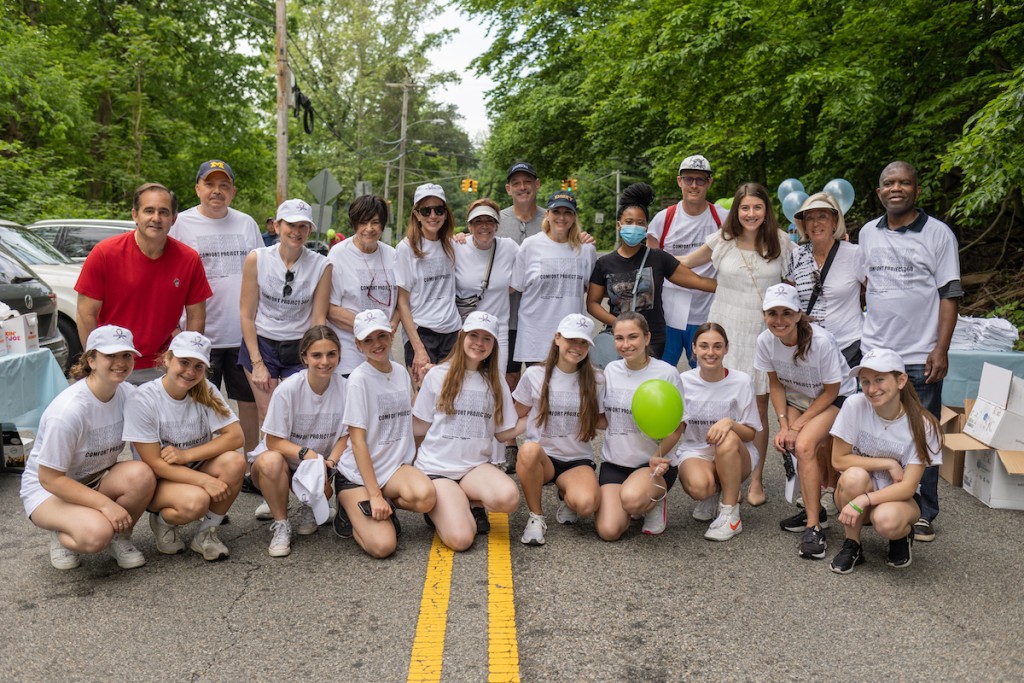 Sometimes, small touches can make a big difference. That's the idea behind Comfort Project 360, an initiative that complements The Cancer Center at Cooperman Barnabas Medical Cancer (CBMC). While oncologists, radiologists and the rest of the clinical staff handle the medical element of cancer care, Comfort Project 360, co-founded in 2014 by Hyla Weiss and Suzanne Unger, creates a caring and supportive environment for the patients and their families. From "welcome kits" full of creams, phone chargers and fuzzy socks to volunteers walking from room to room offering snacks, beverages and crossword puzzles from the "Comfort Cart," the initiative strives to create an environment that promotes healing for both men and women, and makes the patient experience more comforting. In fact, the infusion center and radiation oncology have been renovated to feel more soothing with large windows, bright lights and photos of nature for a calming effect, for example.
"This project is directly about complementing the outstanding medical care that the doctors at CBMC provide," says Weiss, a two-time breast cancer survivor. "All of our efforts are targeted toward enhancing the patient experience on their cancer journey."
Through the years, several fundraisers and donations from community members have allowed Comfort Project 360 to thrive. "The community embraced us because unfortunately, everybody knows somebody who's been affected by cancer," says Weiss. "It's been very well-received."
Since the beginning, some of the community's youngest members have become involved too, both by raising money for the cause and by getting involved with and volunteering at community-wide events. On May 22, Comfort Project 360 held its first in-person fundraiser since COVID, A Reason to Walk. It's an event founded four years ago by Jodi Bloom and her daughters, who at the time were seeking a volunteer project at Millburn High School. Livingston's Keri Gorsky, a Comfort Project 360 volunteer, and her 16-year-old daughter, Zoe Gorsky, who helped create the welcome kits, worked with Bloom to assemble a team of teens. The teens come from nearby middle and high schools in Millburn, Livingston, the Caldwells, West Orange and, as a first this year, Newark Academy. They raised money for the cause, recruited friends and joined together at this year's gathering in Millburn to walk for an important cause to benefit our community.
Every year at the walk, participants are given T-shirts to show their support, but this year, they were given the opportunity to personalize them. Each shirt had a black and white version of Comfort Project 360's logo printed nine times, representing each type of cancer treated at The Cancer Center. "On the back, people wrote who they were walking in honor or memory of," Gorsky notes.
"The highlight of this event is seeing it be successful and attracting young people who care and commit to making a difference," says Unger. In fact, this year's Walk was certainly a team effort, and raised nearly $29K from 227 supporters. About 100 community members attended the walk, including students, their parents, their sports coaches and even William Miron, the principal of Millburn High School.
So, what's next for Comfort Project 360?
"We're in the process of developing a comfortable unisex wrap gown/robe combo for The Cancer Center that wraps around the back but opens in the front for easy access," says Weiss. And of course, there are plans for more in-person fundraisers, including the annual A Reason to Rock event in October. Additionally, the Comfort Project 360 team is constantly working with the medical team at CBMC to enhance the care experience. They also actively engage their volunteer base and are looking for people who want to contribute with their time, talent or monetary gifts.
"Even the smallest donation can help the emotional well[1]being for these patients," says Gorsky. "Their treatment journey is so difficult, and by getting involved or donating even a little bit of money, it's a way to give back to those that are going through something really painful and difficult."
---
To learn more about Comfort Project 360 programs or services, to get your teen involved when school resumes or to make a donation, contact Breanne Matloff at 973.322.4336 or breanne.matloff@rwjbh.org.