A Tempting Trio
Can gluten-free mean delicious as well as healthy? You bet—and these recipes prove it.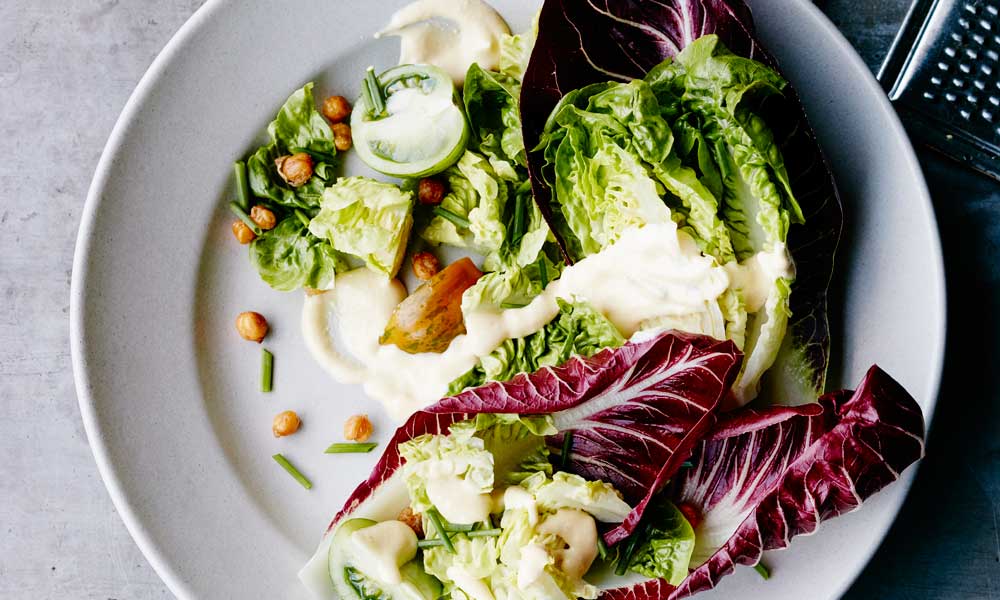 Caesar Salad with Roasted Chickpeas
This version of classic Caesar dressing is great as a dip for cold chicken, with raw veggies, on sandwiches or—of course—on salads. Consider making it in bigger batches and stashing it in the fridge so it will be at the ready for snacking. Serves 4–6.
Ingredients
For the classic Caesar dressing
large soft-boiled eggs
¼ cup fresh lemon juice
3 cloves garlic, minced
¾ Tb. anchovy paste
1 tsp. Worcestershire sauce (check label to make sure it is gluten-free)
½ tsp. Dijon mustard
½ cup shredded Pecorino Romano cheese
1 cup extra-virgin olive oil
For the salad
3 heads romaine hearts, torn into bite-sized pieces
¼ cup roasted chickpeas
Directions
First make the dressing: Put all of
the ingredients except the olive oil in a
food processor and blend for 30 to 60
seconds. With the food processor running,
slowly drizzle the olive oil down
the chute to emulsify the dressing into
a creamy consistency.
Put the romaine and roasted chickpeas
in a salad bowl. Add the dressing
and toss to coat.
TIP: Feel free to get creative with your
Caesar, perhaps adding crumbled
bacon, soft-boiled egg, roasted
tomatoes—or all three. Also, anchovy
is a strong flavor. You may wish to start
with less, then taste before your final
mixing to see if you want to add the
full amount.
More Recipes
Baked Eggs in Avocado Cups »
Pan-Seared Fish with Crispy Skin »