A Turkeyless Thanksgiving?
Even the year's most traditional meal can be enlivened by an occasional change-up. Check out these 10 tasty ideas from Bergen chefs.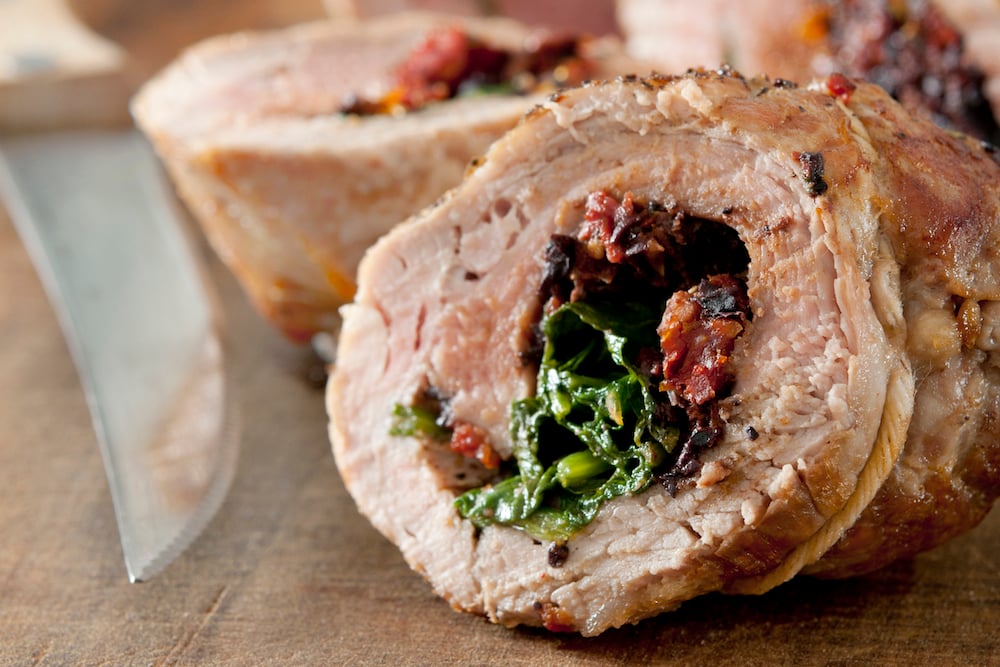 If you're a certain type of person, don't read this article. We mean a committed turkeyite, a stuffing stickler, a zealot for whom the traditional Thanksgiving dinner can never vary. Delicious treats are described here, but they're not for you. Turn the page.
Now, the rest of you realize that skipping the pumpkin pie for just one November won't actually land you in prison—even if it does draw a stern look from Great Aunt Matilda. Fact is, you may appreciate those every-year standards all the more in 2019 if you go a little crazy this fall and give them a break with some creative substitutions. Your taste buds may be thankful, and thankful's what it's all about, no? Try:
STUFFED PORK LOIN
INSTEAD OF TURKEY:
Nikos Panteleakis, co-owner of Oceanos in Fair Lawn with his father Peter, says Greeks don't eat turkey on Thanksgiving, opting instead for roasted baby lamb marinated in Mediterranean spices or a roasted stuffed pork loin. "Pork loin stuffed with apricots, pinoli nuts, walnuts, cranberries and apples with an apricot brandy sauce on top is delicious," he insists.

SPICED POPCORN
INSTEAD OF CHIPS AND DIP:
You and your guests will likely need something to tide you over until the main event. Ryan Brining, owner of White Maple Café in Ridgewood, suggests serving a light snack that won't ruin anyone's appetite before the official meal begins.
"I like to serve a spiced popcorn with nutritional yeast, cumin, salt, garlic powder and a small amount of sugar," he says. "It's vegan and has an addictive cheese-like quality from the nutritional yeast."

BUTTERNUT SQUASH AND APPLE CIDER SOUP
INSTEAD OF CREAM OF MUSHROOM SOUP:
This appetizer combines all the best fall flavors—squash, apple and cinnamon—in one soup that chef Adam Weiss of Stone & Rail in Glen Rock calls "a cross between a classic butternut squash soup and a sweet-potato casserole." Sauté butternut squash with onions, celery, garlic and some spices such as cumin and cinnamon. Then bring fresh apple cider and Ironbound hard cider to a simmer and top with some cream.
Remember: Presentation is just as important as taste. Chef Weiss adds the finishing touch by adorning each soup bowl with dried cranberries, toasted pumpkin seeds and whipped cream seasoned with ground cinnamon and maple syrup. Yum.

ROASTED FILET MIGNON
INSTEAD OF TURKEY:
Whether you're tired of turkey or turkey literally makes you tired (even though the experts say tryptophan's effect is exaggerated), there are other types of meat to feast on. Chef Kevin Kohler of Café Panache in Ramsey, who says his Italian family members "don't eat birds," usually makes a filet mignon roasted with herbs and then topped with cranberry sauce. "Just whisk the cranberry sauce in," he suggests.

HARVEST POT PIE
INSTEAD OF BUTTERNUT SQUASH:
The meat entrée doesn't always have to be the star of the show. Serve a hearty vegetable dish both vegetarians and carnivores will devour. "Harvest pot pie contains toasted farro, butternut squash, wild mushrooms, braised kale, carrots and celery root, all of which can be found at almost any grocery store," says Heather Bertinetti-Rozzi, chef at Stella and No. 12 in Ridgewood.
"The pie is finished with thickened vegetable stock and baked with a buttery puff pastry top," she adds. "It's a crowd-pleaser!"

ROASTED ROOT VEGETABLES
INSTEAD OF GREENBEAN CASSEROLE:
We wouldn't dream of telling you to stop eating your greens. But to keep things festive—and give your Thanksgiving table a colorful punch—roasted root vegetables are a scrumptious alternative. Chef Jimmy Perides of Biagio's in Paramus recommends simply roasting "turnips, acorn squash and parsnips," which he says are seasonal, healthy and full of flavor.

SPIKED SWEET POTATO GRATIN
INSTEAD OF SWEET POTATO MASH:
Couldn't we all use a little holiday buzz? Chef Carlos Valdez of The Oceanaire Seafood Room in Hackensack has just the thing: sweet potato gratin spiked with bourbon whiskey. Roast or bake sweet potatoes in a mixture of butter, cinnamon, nutmeg, brown sugar and, if you're feeling bold, a full cup of bourbon whiskey.
"Then add dried cranberries, tarragon, minced apples, candied pecans and a dash of lemon juice," says Valdez. "That makes it extraordinary." Finally, add marshmallows on top and broil for a few moments before serving. Just keep this stuff away from the kids!

CRANBERRY DEMI-GLACE
INSTEAD OF CRANBERRY SAUCE:
Let's be honest—there's nothing noteworthy about cranberry sauce from a can. Chef Peter Angelakos of Bacari Grill in Washington Township proposes making something meatier—literally and figuratively—by turning fresh cranberries into a demi-glace instead of a sauce. Pureé and then strain fresh cranberries with veal stock, port wine, sweet-and-sour sauce, honey, sugar and cider vinegar, and voilà! "This is meatier, richer and a more balanced sauce than the jellied one from the can," Angelakos says.

CHOCOLATE PECAN PIE
INSTEAD OF PUMPKIN PIE:
Adding chocolate to the filling of a pecan pie is a nice surprise for the taste buds—and it's undeniably delicious. Bake the pie according to the recipe, but add bittersweet chocolate to the mixture.
Chef Angelakos also suggests swapping out the typical doughy crust for one made with Oreos; just grind the cookies with a little bit of butter in the food processor to the desired consistency.

RAVIOLI
INSTEAD OF STUFFING:
Stuffing, typically made with bread or rice as the base with meat and spices to add flavor, can get a little tired for some diners after the umpteenth year. Chef Kohler recommends whipping up a trendy pasta instead, such as pumpkin ravioli, a fun take on a carb-heavy side dish. "Try a pumpkin and ricotta ravioli with crispy sage and brown butter," he says. "I always bring a course made with pumpkin to the Thanksgiving meal."