A Very Sweet 16
Like a coming-out party, a bat mitzvah or a quinceañera, a Sweet 16 party marks a girl's passage into young adulthood. Thanks to her event-planner dad, one lucky Hillsdale teen's big debut was even sweeter than most.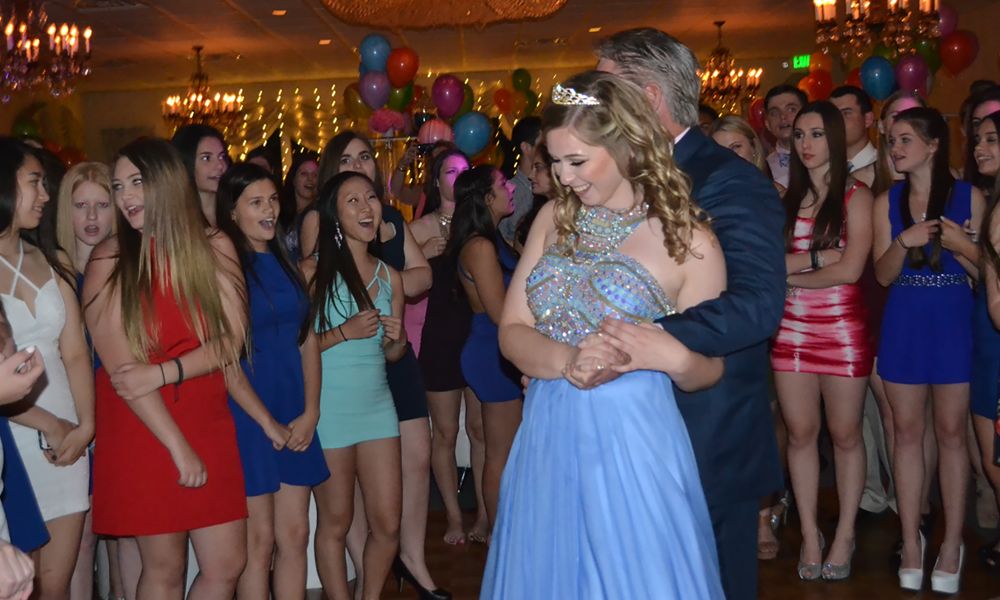 What better theme for a Sweet 16 than a "Very Sweet 16" candy party? That was the theme requested by event planner Bob Conti's daughter Kaitlyn, of Hillsdale, who knew her father could easily pull it off, thanks to his experience designing high-end weddings and other parties for Ed Libby & Co. Events, based in Hackensack. "She loves candy and wanted a fun and colorful event, so it was a natural fit," he says.
Kaitlyn's dress featured a beaded bodice that "almost looked like candy pieces," says Conti.
The party was held last May at the Woodcliff Manor in Woodcliff Lake. When guests—instructed to wear candy colors—arrived at the historic manor house, they entered through a colorful balloon arch by Party Box in Lodi, which set the tone for the bright bash within. About 100 of Kaitlyn's friends attended, along with 40 or so adults, mostly family members and close family friends. Supporting the guest of honor was a court made up of her 10 best friends, who wore white and were introduced to the crowd before Kaitlyn made her grand entrance.
The guest of honor poses with her court.
During the cocktail hour, guests nibbled on passed hors d'oeuvres such as pigs in a blanket and stuffed mushrooms and posed for photos in a photo booth while a DJ pumped out tunes. "I use Total Entertainment [in Hackensack] a lot for work, and they are really good," says Conti. "They came up with a really great playlist that Kaitlyn made suggestions on. It was non-stop music all night." When they weren't busy dancing, guests enjoyed a buffet dinner of sliders, mac 'n' cheese and chicken fingers for the kids, with salmon and chicken francese available for the more sophisticated diners.
Colorful marble balloons resembling jelly beans, along with candy in apothecary jars and a few flowers in bunches grace each table.
During the evening, Kaitlyn paused to light 16 candles, dedicated to 16 people who were special to her, like her grandparents and her older brother, who came home from college to attend. "She had people come up, and she read a little poem that she wrote for them," says Conti. Another special moment was when father and daughter danced to Phil Collins' "You'll Be in My Heart." "That was really sweet," he recalls.
The candy bar was modeled after Dylan's Candy Bar in New York City.
For favors, guests helped themselves to candy from a "store" resembling Dylan's Candy Bar in New York City, which was a big hit, says Conti, especially the oversized candy bars. By the end of the evening, it was clear the party was a sweet success."Kaitlyn loved it," says Conti. "It was really a fun night. You know the kids had a good time, because for their junior prom, they all asked if they could have the same DJ. They were dancing the entire time."
Conti, Kaitlyn, mom Jeanne and brother Christopher.