A Wedding Worth Saluting
A couple calls in the big guns to iron out logistics for their wedding at West Point.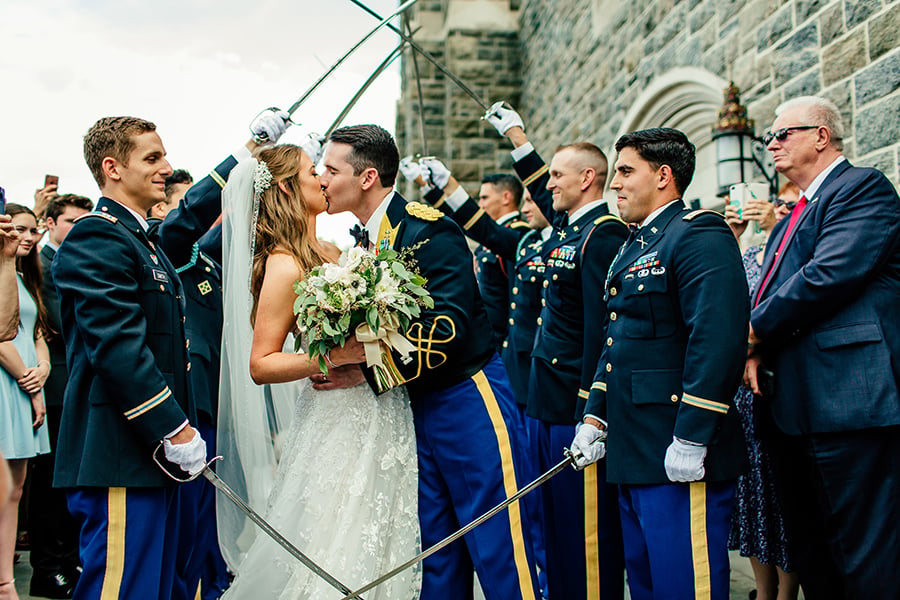 Newlyweds Pamela and Michael Fitzgerald pause for a kiss under the Arch of Sabers outside Most Holy Trinity Catholic Chapel at West Point.
Photography by POPography
The easiest decision Pamela Downes and Michael Fitzgerald made about their nuptials was the venue.
"I'm a graduate of West Point so I have a great fondness for the academy," says Michael, a U.S. Army captain.
Both he and his future bride, Pamela, a Woodcliff Lake native, had many treasured memories of West Point. Like Cinderella, Pamela had gone to the ball (more than once, as well as dinners) with her "Prince," when he was a cadet there and she attended nearby Marist College. (The pair had known each other since age 15 after working together as day-camp lifeguards, but the sparks didn't start flying seriously until their college years when they bumped into each other at a party closer to home.)
While the decision was easy, the same could not be said for carrying it out. After six months of trying to plan things on her own, Pamela realized it was time for the big guns—and in November, she followed a friend's recommendation and called on Christine Figliuolo, founder of Waldwick-based Creations by Christine Events, to plan the June 10 ceremony.
"It's not your typical wedding venue so we needed someone to make it come together seamlessly," recalls 28-year-old Pamela. That included getting invitations out extra early for the background checks required on all 330 guests, as well as bus drivers, photographers and others hired for the big day. The military academy, established by President Thomas Jefferson along the Hudson River in Orange County, N.Y., has strict security measures, even for a wedding.
And while holding a wedding reception in the majestic Eisenhower Hall is something graduates consider an honor, the huge room lacked the romance Pamela yearned for. "It's a grand ballroom overlooking the river," says Pamela. But because the room serves mainly cadet functions, it looks like an Army hall, not a wedding hall.
"Once I saw the space, I knew I had to make it cozier because it's huge—it holds up to 600 people," Christine says. She got the bride on board by showing her a computer-generated floor plan that used drapery as a room divider and depicted a lounge and bar area just beyond the drapes.
"The draperies were gold in color and very lush," recalls Christine. And you've heard of BYOB, but here they brought their own bars! While it may sound extreme to create a lounge area just for the day, Christine works with Lounge It Up, a Fairfield company that does exactly that, and also provides décor and lighting. Of course, it couldn't look like a typical bar area, so Christine gave it a softer touch by adding gold and off-white hues and creating various seating areas with couches and chairs. Together, she and Pamela continued the look on the hall's dining tables with floral arrangements that included peach roses and Queen Anne's Lace, as well as candles, lacy tablecloths and gold ballroom chairs.
To further soften the ambience, Christine played with the lighting. "Chandeliers, which the hall already had, can throw off a harsh light," she says. But the amber up-lighting she installed for the big day delivered a golden glow. Wireless—this lighting could be introduced wherever needed, and the magic of the look intensified as night fell.
Elite Rhythms Entertainment of Fair Lawn provided the dancing music, while the academy's own Janine Roszkowski catered the meal: salmon in white wine sauce, prime rib and stuffed chicken, along with mixed green salad and side dishes. The feast was followed, of course, by a wedding cake—five tiers of sweet happiness decked with edible roses and created by Carlo's Bakery of Ridgewood—and everyone went home with French macarons by Mimi's Cookies of Waldwick.
While the hall needed a major makeover for the wedding, the Most Holy Trinity Catholic Chapel at West Point was already picture perfect. The Gothic Revival architecture and stained glass in West Point's oldest continually-used chapel made for great photos, but also provided a connection to the couple's faith, and Father Larry Anderson, a friend of the family, was able to preside.
"We're both Catholic, and it meant a lot to have it in a church," says Michael, also 28, who looked regal in his navy and gold uniform as he stood before the altar with Pamela in a flowing sequined gown from Kleinfeld Bridal in NYC.
In true pomp and circumstance style, the couple exited to the soulful sound of bagpipes courtesy of Bergen County Pipes & Drums. Some of West Point's own formed the Arch of Sabers for the newlyweds to pass under.
The day flowed with military precision thanks in part to Christine's insistence on practice drills. For example, she requested that the bus company, Royal Coachman of Denville, practice their route to the church, where they'd have to take the guests staying at nearby hotels; the 54-passenger bus that was the company's first choice couldn't make it up the steep hill to the church. Thankfully, a smaller bus fit perfectly. Still, with the almost 10 buses and shuttles needed to get everyone in his/her place, Christine arranged for a bus company supervisor to be on site for the big day. "We just couldn't wing it that day," Christine explains.
There were a lot of people involved to make it a seamless event. "When duty calls, you do what you're trained to do, and it all works out," Christine teases.
The couple agrees. "It was a salute-worthy event because our friends and family made our day an occasion we'll never forget," says Pamela.
Pamela arrives at the church in style
Michael greets Pamela's grandmother
approximately 330 guests gathered inside the Most Holy Trinity Catholic Church at West Point
Pamela's dad glimpses the bride-to-be
Michael wears his navy and gold uniform for the ceremony.
Michael and Pamela Fitzgerald share a tender moment
Pamela and Michael use a sword to cut their cake
Guests gather around for the couple's first dance
Pamela and her dad share a special moment on the dance floor
Michael and his mother enjoy a dance and a laugh.
Peach roses from Arcadia Floral Co. of Mamaroneck, N.Y., adorn the tables; the wedding party
The celebration included plenty of dancing
Friends and family leave good wishes for the newlyweds
The five-tier wedding cake from Carlo's Bakery.