A Winning Coach
Augie Hoffmann of Montvale's Saint Joseph Regional High School discusses his football team's 2018 state title—and his own playing days.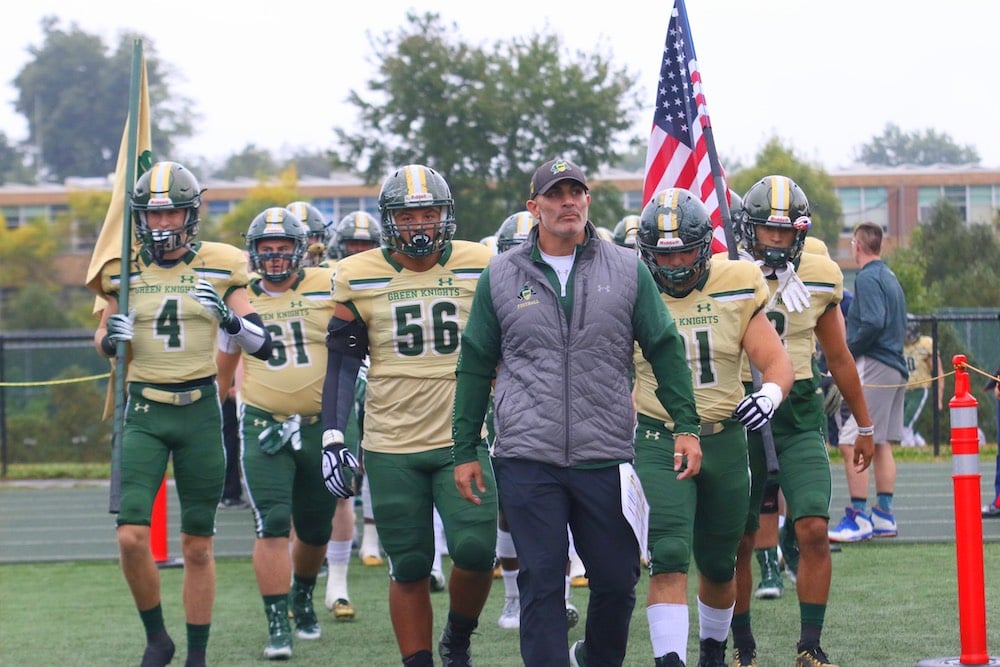 When Saint Joseph Regional High School won the state Non-Public Group 4 high school football championship last November, the glory belonged—of course—to the players. But it was also a sweet moment for the coach: Park Ridge native August Hoffmann, 37, who has a two-decades-long history with the all-boys Roman Catholic private school in Montvale. He played for its Green Knights as a student himself before graduating in 1999, and is now in his 10th year of coaching there.
In between, Hoffmann played football at Boston College and was signed by the New Orleans Saints. He returned "home" to the St. Joe's football family in 2009 and has since helped maintain the Knights' reputation as a top-tier high school football team in Bergen County—culminating in that state title win against longtime rival Bergen Catholic. Recently BERGEN caught up with Hoffmann for a conversation.
How did it feel to return to St. Joe's as coach after playing in college and in the NFL?
It's been an interesting trip. I wasn't planning to come back; I was trying to get into public school [coaching] when I first got done playing. But when I talked to athletics director and head coach Tony Karcich about getting a job, he said, "Why don't you want to come here? You've pretty much done everything there is to do here." I wanted to forge my own path and he was basically like, "Absolutely not." He made me the head freshman coach and had me teaching sophomore and senior English, and it's been great ever since. I'm out of the classroom now and focused on football and fundraising efforts for the school and the program.
Do you ever get the itch to play again?
I don't miss being on the field—I'm kind of beat up these days. I loved playing. It was great; I got to see different parts of the U.S. and play in Europe. But this job gives me the ability to still be in that locker room, have that family outside of my own family, and make an impact in the players' lives.
Besides the tactics of the game, what do you try to instill in these teens?
Everybody is looking forward to college, but they really need to stop and enjoy this part of their lives. I feel my time at St. Joe's formed me into the man I am. Don't look past that and rush into college. Enjoy this. It goes fast. And it doesn't get any easier!
What have you learned from them?
You can't coach every kid the same. We have kids from all different backgrounds— single-parent households, two-parent households. I have a player whose parents both passed away. Everybody's normal is different, and you need to understand where each one is coming from.
What have been some of your most memorable moments?
This year was a really trying year for the program. We have had three deaths in the St. Joe's football family. One of our coaches, Lenny Davis, passed away—he was here 19 years, I think. One of my players lost his father unexpectedly. And then Frank Coccaro—my offensive line coach who has been my friend since high school—his father passed away the afternoon of the championship game. Those three tragedies had the ability to ruin our team. For the guys to be able to fight through and still be state champs was a really special thing.
When was the last time St. Joe's won a title like this?
We were ranked No. 1 in the state in 2016, but we have not had a win of this magnitude in a long time. I was talking to one of our alumni who graduated in '84 and he said, "I think this might be one of the biggest wins—if not the biggest win—in school history." The last time we played Bergen Catholic in the finals in the No. 1 spot was in 1998, in my senior year, when we lost. If you're a St. Joe's kid, you have to beat Bergen Catholic. The whole league is great—we play [Don] Bosco, Paramus Catholic and St. Peter's. But there's just something about Bergen Catholic.
Would you say the Green Knights are better with you as a coach or with you as a player?
[Laughs.] We won a lot of games when I was in high school; I think we only lost two games in my three years on varsity. I got to play under a legend, Tony Karcich, who won more games than anybody in North Jersey. But to be a part of coaching these kids is awesome. Let's make it a tie.
What's next for the Green Knights?
We start our strength and conditioning program this month, and that'll take us right up until May. When May hits and the weather gets nicer, we add Saturdays to the training schedule and get the guys outside running a little more. It's a full slate until August, when camp starts. There are no breaks. That's why it's hard being a high school athlete these days; the stakes have gotten high and they train all year round.
What is your goal for 2019?
To always put our boys in a situation to be successful. The biggest piece of the puzzle for us is making sure the program is in good hands, the kids have a great experience and our seniors can make their dreams come to fruition when they're done playing here. [Editor's note: Some of Hoffmann's team members will be off to play football at Harvard, Notre Dame, West Point and other prestigious universities next year.]
Do you aspire to coach college football?
The one thing I've learned, especially with this year's circumstances, is that I'm not looking ahead for anything. St. Joe's is my home. It's been great to me and my family. I love it here and I don't have any plans of leaving. I want to keep the culture going strong and drive us into the next 10, 15 years.