Aaron Capuano, M.D., FACS
Northern Center for Plastic Surgery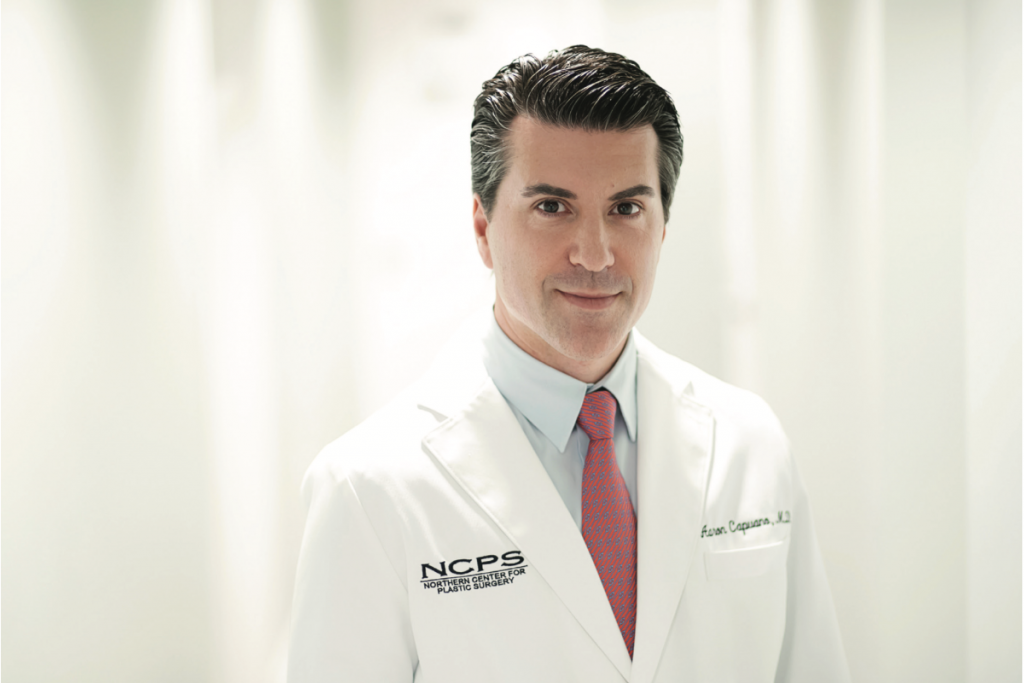 700 East Palisades Ave., Englewood Cliffs, NJ 07632 201.820.5280 • njplasticsurgerycenter.com
Dr. Aaron Capuano is a double board-certified plastic surgeon, based in Bergen County N.J., with 16 years of surgical experience. Dr. Capuano has earned numerous awards and honors throughout his career including N.J. Top Doctors and Bergen County's Top Doctors in Plastic Surgery. Dr. Capuano specializes in cosmetic surgeries of the face, breast and body as well as breast reconstruction for breast cancer. His experience with cosmetic and reconstructive procedures, solid reputation in the community and focus on continuing education, means that you can rest easy knowing you're in good hands.
Dr. Capuano's practice, the Northern Center for Plastic Surgery and Med Spa, offers a variety of Cosmetic non-invasive, minimally-invasive and surgical procedures.
Non-invasive procedures include comprehensive dermatologic skin care, a gamut of laser services and a full-suite of Med-spa services, including HydraFacial, permanent hair removal via electrolysis, chemical peels, aquagold treatments and therapeutic massages.
Minimally-invasive procedures include laser skin resurfacing, laser liposuction, micro-needling, radio frequency (RF), PRP, Vampire Facial, facial fillers and Botox®. Dr. Capuano is highly experienced in facial augmentation with fillers and performs treatments which range from improving lower eyelid contour, the shape and size of the jawline, nose and chin, and providing volume to the lips, cheeks, nasolabial fold and temporal areas.
Cosmetic surgeries include breast augmentation, breast augmentation with a lift, breast reduction or lift, facelift, neck lift, eyelid surgery, brow lift, rhinoplasty and chin augmentation, lipo-contouring and fat grafting, tummy tuck and arm and thigh lift. Combination procedures include a Mommy Makeover and Post-Bariatric Total Rejuvenation. Finally, Dr. Capuano performs both implant-based and autologous breast reconstruction for breast cancer as well as repair of abdominal wall hernias using component separation surgery.
Dr. Capuano's primary objective is to provide every patient with individualized treatment based on their personal concerns and deliver the most natural-looking surgical result possible. Our team at the Northern Center for Plastic Surgery is friendly and professional, and provides exceptional proficiency and service in all aspects of plastic surgery. We invite you to experience incredible results.