Act on a Dare
You'll discover that Irish golf can be beautiful even when you leave the sea behind.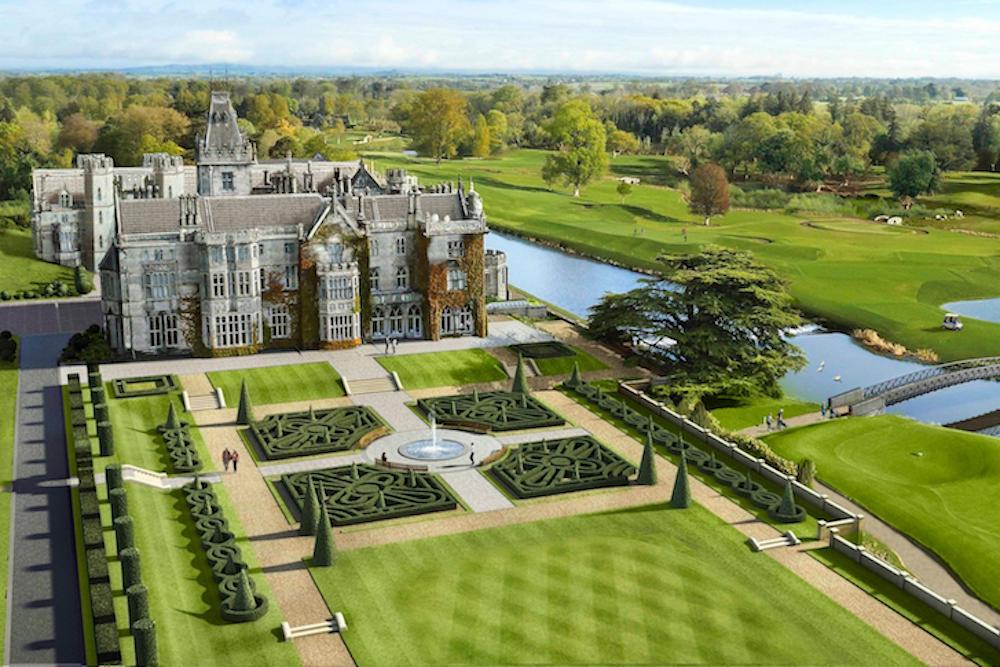 Think of golf in Ireland, and brochure-worthy images probably spring to mind. You picture wild and woolly layouts, their rumpled fairways, fringed with unruly native grasses, threaded through the folds of a coastal dunescape: scenes of rugged beauty, set hard along the sea. This is links golf of the throwback kind, firm and fast and windswept and thoroughly charming. Ireland is famous for it. But it's not the only golf played on the Emerald Isle.
The country is also home to inland courses, stitched through hills and forests and fields of heather. Their turf tends to be more lush than the ground along the coast, their fairways often tree-lined, their holes guarded not by ocean but by rivers, creeks and lakes.
Though less well-known to travelers than Ireland's fabled seaside links, many of these landlocked courses are terrific. None is better than a remade layout in County Limerick, two hours west of Dublin and a short skip south of Shannon. It's called Adare Manor, and it stretches its green fingers astride a grand estate and resort of the same name.
The manor itself dates back to the early 1830s, when it was built as the home of the second Earl of Dunraven and his wife, Lady Caroline Wyndham. Nearly two centuries later, their sense of extravagance and whimsy endures. Guarded by gargoyles and decorated with ornate carvings, many of them bestial figures carved from wood and stone, the manor brims with Gothic grandeur. Its exuberant design is accented by 365 leaded windows, 52 chimneys and four towers—architectural nods to the number of days, weeks and seasons in a year. A lovely place, in short. And then there is the golf.
The original course here opened in 1995, an 18-holer crafted by the famed American golf architect Robert Trent Jones Sr. It was no slouch of a layout, esteemed enough to serve as the venue for the Irish Open in both 2007 and 2008. But that wasn't quite enough for the resort's current proprietor, JP McManus, a County Limerick-native-turned-business-magnate and racehorse owner. McManus wanted more than a respected golf course. What he envisioned was a parkland paradise. He commissioned Tom Fazio to create it for him.
"The result," gushed Golf Monthly, a prominent glossy magazine published across the pond, "is arguably the most Augusta-like experience anywhere in Europe." Augusta National, of course, is golf's ultimate Eden, a pristine private club in Georgia where there's rarely a single blade of grass out of place.
In its reincarnation, which came to life in 2018, Adare Manor is maintained in similar condition, fastidiously cared for by a squadron of groundskeepers. As part of the multi-million-dollar renovation, sub-air drainage systems were installed beneath the greens, which are elaborate moisture-removing and temperature-regulating mechanisms that help preserve the putting surfaces in immaculate shape year-round. As for the fairways and tee boxes, they're as close-cut as the greens at your average course.
Fazio's redesign did not alter the routing. The new course follows the same footprint, over a gently lilting swatch of sylvan terrain, along the banks of the River Maigue. But every hole has been reimagined, the greens pushed up and compellingly contoured, the bunkers enhanced with better sand and improved drainage.
On the reborn course, there is double the mowed acreage that there was before. There is no long rough, so the holes, while challenging, remain playable and fun.
To complement the upgraded golf experience, Adare Manor added a host of luxe amenities, including a new clubhouse called the Carriage House, replete with a restaurant serving seasonal specialties ranging from poached Atlantic lobster to succulent leg of lamb. There is a whisky bar, a heated cigar lounge and a terrace for sitting, chatting and sipping as you gaze across a verdant landscape of rare beauty.
Relax. Enjoy. You can play golf on the coast another day.