All Grown Up
With the kids gone, a Park Ridge couple updates their space.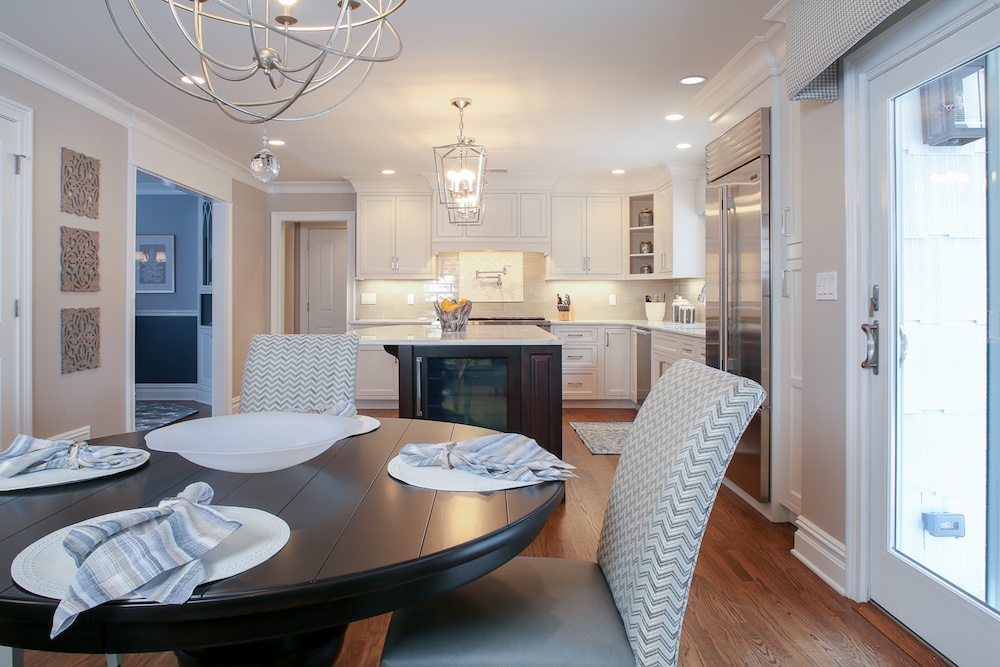 After raising two children in their Park Ridge colonial, two empty-nesters decided it was time for their home, as their designer put it, to grow up too. But don't think baby steps—this is a complete remodel reflecting the couple's passion for entertaining with an open-floor plan.
"It looks like a completely new home," explains Lori (last name withheld upon request), the homeowner of 27 years. "What we had was a 1950s typical center-hall colonial that was closed in and dated."
To achieve the wow factor, Lori and her husband hired Northvale-based Creative Design Construction & Remodeling for the plans and construction, as well as Michaeline Fernandez of Denville-based CYS Design to add the finishing touches.
Today, the cook is no longer cut off from guests while making meals, and the look…well, it went from traditional to transitional with hues of gray, blue and navy plus contemporary statement pieces like the globe chandelier over the wood-plank table.

From the gleam of hardwood oak floors to the elegance of quartz counters and soft white "stylized Shaker" cabinetry, Fernandez gave the kitchen its grown-up vibe, and Lori couldn't be happier. Gone are the dated colors—red, green and gold— as is the "very utilitarian" light oak cabinetry. Now the couple has all the tools they need for their gettogethers— a center island with extra seating, highend appliances and even durable kitchen chairs designed to be "family friendly."

For a family that loves to gather together, they now have a central location with a design and style that will welcome many generations to come.