All in the Family
A new Franklin Lakes house draws upon the owner's updated childhood home—and a savvy designer's touch.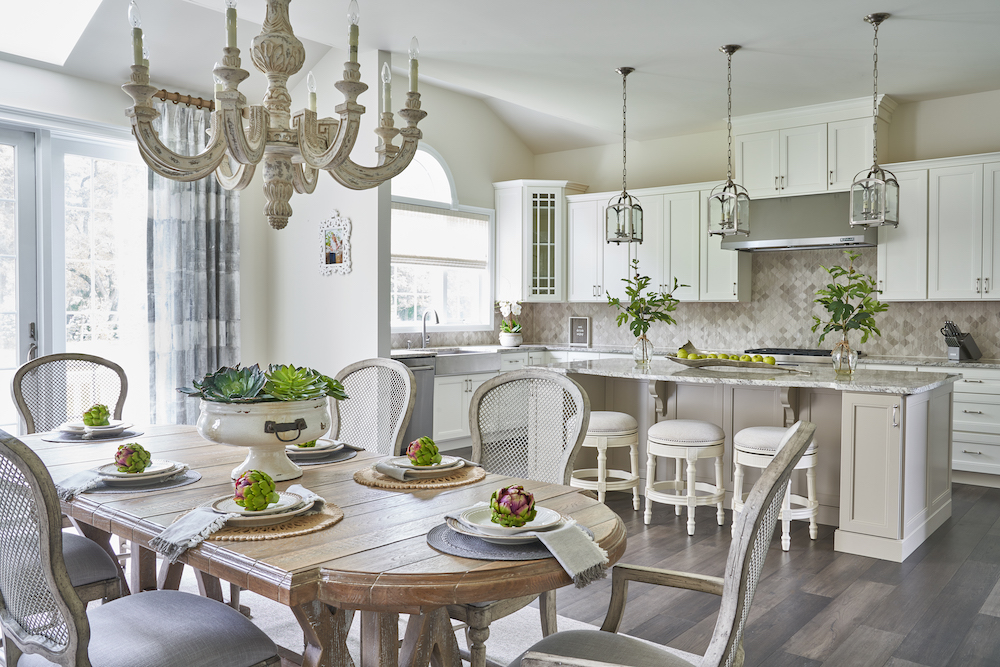 Design by Yelena Gerts
Photography by Marco Ricca
They say imitation is the sincerest form of flattery. When Manhattanites Vincent and Alessandra planned a new construction home in Franklin Lakes, they chose to imitate the Staten Island home he'd grown up in. That house now belonged to his sister, who'd made several renovations in a "French country" style. "The way everything was designed it was a comfortable feel— and what we wanted for our home," says Vincent.
So the couple did the logical thing: They hired the designer who'd made those renovations, Yelena Gerts, principal designer/owner of House of Style & Design in Holmdel. But like any pro, Gerts wasn't content with emulating herself. She used the other home merely as a starting point for a new creation unique to the couple and their two young children.
While French country is elegant and comfy—a delightful mix of patterns, ruffles and distressed woodwork—Gerts evolved it into "modern country," with contemporary elements that satisfied the couple's desire for a bit of an edge.
Right from the start, they knew their October 2018 move would be a big transition, requiring a designer's touch. They were relocating from a modern one-bedroom city apartment to a five-bedroom place in suburbia. Today they couldn't be more pleased with the way Gerts made their dream a reality (even incorporating some builder's-selection items in a way that's not cookie-cutter).
Cherished for its 30-foot-high ceilings and airy space, the family room is a natural favorite, although it came with a decorating challenge: a towering brick mantel that, according to Gerts, had to be tamed stylistically or it would rule the décor.
"We needed to scale it down," says Gerts, who gave the mantel its match with soft and elegant embroidered window treatments climbing to the ceiling. She completed the magic with picture frames to add scale and dimension, along with a sectional in high-performance material (for the kids), greige walls and a distressed look for floor and finishes.
Her clients love beiges and browns, says Gerts, so she really went to town with 20 to 30 different shades of these hues (and cream too). Rugs and pillows are layered for maximum effect, and even the abstract art is neutral.
The dining space and kitchen are connected to the family room, so Gerts "treated it all as one space." The table has that distressed wood typical of French country and is just right for a family that loves to entertain, with an add-on that fits 10 people easily. She cleverly chose chairs with a mesh backing so as not to block the view of adjacent rooms. Yet one of the most outstanding features is right overhead: a distressed chandelier with an antique feel.
The family's love affair with warm colors has free rein in the kitchen with soft cream cabinets, a greige island and granite counters delightfully infused with several shades of beige. The backsplash ties everything together with its taupe pattern in travertine, as does a woven wood window shade and a trio of lanterns for lighting décor.
"We wanted to keep it modern and country at the same time," says Gerts of the bedroom, where grass cloth in a geometric motif delivers a contemporary wow, while the rest of the room is wrapped in grass cloth in soft beige and gray. A velvet custom area rug gives that luxury feel, while the bedding delivers country-inspired patterns. For "getting away from it all," the master has its own sitting room, which continues this intriguing style story. And for a twist in the master bath, Gerts introduced a drop-in tub, marble-look flooring with border for a custom vibe and gray wallpaper that complements the bedroom motif.
Vincent and Alessandra love their new family-friendly design—and the way Gerts took them by the hand stylistically. "Coming from a smaller apartment, it was a big task—it was daunting," says Vincent, marveling that nevertheless "she brought it all together so well."