Andrew M. Spector, D.M.D., FAGD, FICOI, FIADFA
Gentle Dentistry, P.A.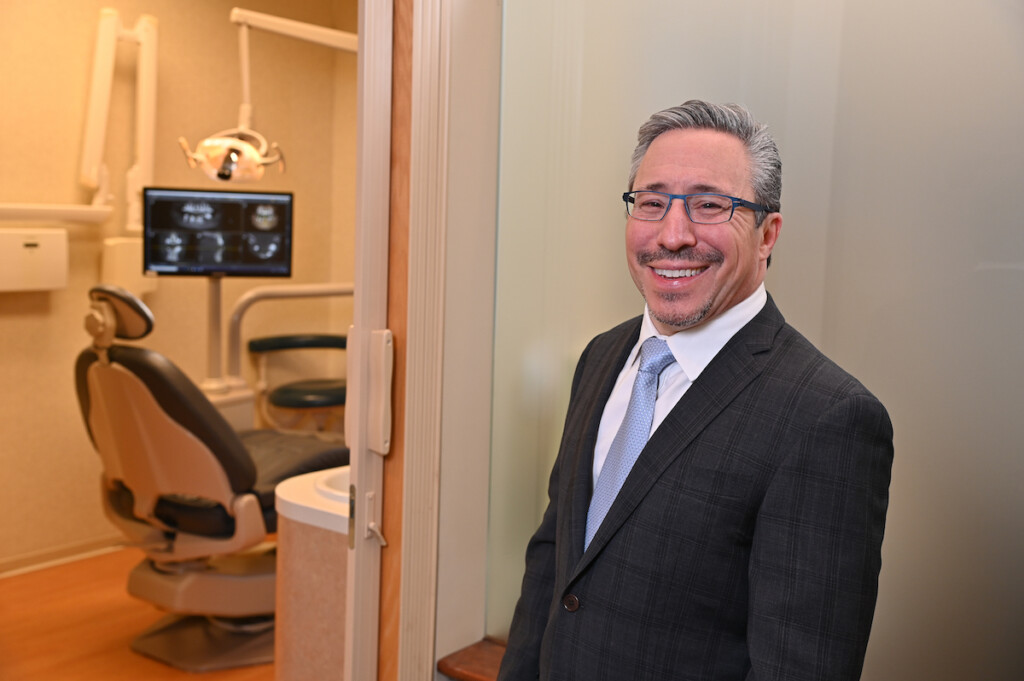 173 Terrace St., Haworth, NJ 07641 • 201.384.1611 • www.GentleDentistry.com • www.BergenHybridge.com
For over 60 years, this Bergen County legacy has been emulating its name, "Gentle Dentistry." With a "patient always first philosophy," Dr. Andrew Spector provides minimally invasive dental care supported by today's most advanced technologies. A trusted expert in restorative, implant, and cosmetic dentistry, Dr. Spector specializes in two-visit smile makeovers and is celebrated in the field for his expertise in complete technology-driven care. "Our treatment goals revolve around one concept, utilizing technology and techniques that can simplify even the most complex procedures for our patients," says Dr. Spector. Combined with a distinguished team of associates, specialists, and a highly trained compassionate staff, this full-service, multi-specialty practice is uniquely qualified to handle all of your dental needs under one roof.
With a focus on prevention, the team at Gentle Dentistry uses state-of-the-art preventive programs to keep every patient's needs at a minimum. They strive to perform the fastest and most accurate treatment during each phase whether your care includes dental implants, full-mouth rehabilitation, cosmetic dentistry, periodontal, or general care. "It's our never-ending mission to make your family's dental care effortless and to ensure that every case is completed to the utmost of perfection," says Dr. Spector.
Gentle Dentistry P.A. offers a comprehensive list of services including two-visit smile makeovers, CerecTM single-visit crowns, SoleaTM CO2 laser drill free fillings, LANAP (laser-assisted bone regeneration), minimally- invasive guided implant surgery, and oral cancer screening. Further, the practice offers outstanding results in snoring and sleep apnea treatment through the use of 3D airway imaging, seamless communication with your sleep medicine physician, and comfortable oral appliances. In addition to family care for all ages, Gentle Dentistry also offers implant alternatives to dentures, minimally invasive "microscopic" root canals, and oral surgery.
"When consulting with a patient who is interested in cosmetic care, my first priority is to listen so that I can craft the smile that together we envision," Dr. Spector adds. "Our digital previews allow the patient to "try on" the smile and experience how a well-done smile makeover can change their lives." His long-standing relationship with a New York based world-renowned aesthetic lab helps create unique and personalized smile designs that have become his signature.
Dr. Spector is a passionate educator and renowned lecturer. He has trained over 3,500 dentists on the newest techniques and restorations and teaches hands-on, nationally-recognized coursework to aspiring esthetic and implant dentists around the world. Dr. Spector has been awarded Fellowships in the Academy of General Dentistry, The International Congress of Oral Implantology, and The International Academy of Dental-Facial Aesthetics, and is a graduate of the Americus Center for Aesthetic Dentistry. His stellar training includes a two-year residency program in Full Mouth Rehabilitation and a two year degree in Surgical Restorative Implantology at New York University. He has also served as Clinical Associate Professor at New York University, teaching surgical and prosthetic implantology.
A visit to Gentle Dentistry will forever change the way you look at dental care.