Angela Evans
The Food and Nutrition Services staff plays a vital role at Saint Peter's University Hospital, and the kind and courteous Angela Evans is a key member of that staff.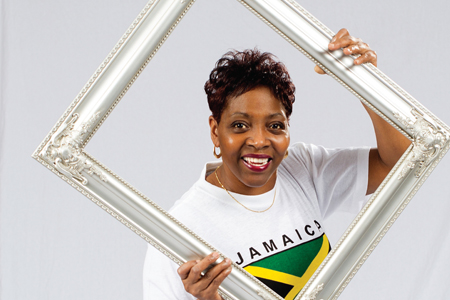 Patients consistently give her high marks in satisfaction surveys and she prides herself on treating everyone with the utmost respect when she delivers meals. Evans lives in New Brunswick with her husband, Ulyesses. They have three grown children and eight grandchildren.
How do you help "lift up" patients in the hospital? As I'm bringing in their meals, I try to inspire them, give them hope for whatever they are going through. I go to the room, announce my name and seek to establish a rapport. I let them know God is with them, that I pray for them. I am very big on respect. I try to live my life respecting others.
Tell us about your interests outside of work. I really like decorating. When my daughter gave birth to one of our grandsons, she asked my husband and me to come down and decorate the baby's room. We painted it and put up a border, and my husband made a wood carving with the baby's name. Then we redid the room when the child got older —with a theme of cars, which he loves. I also enjoy fresh flowers. I don't have time to garden now, though, because I have been working a lot, but I used to garden and hope to get back to it.
Where did your interest in decorating come from? When I was a little girl, my grandparents painted houses for a living. Their home was very nice—they had plastic on the chairs in those days—and I believe it made an impression. My grandmother had a big influence in my life. She was from the old school. She told us, "When you get older, whatever you do, do your best at it. Put God first, then family, then do your job the best you can. And respect people, because it comes back to you."
—D.L.