Anything Was Possible
An Allendale family's yard could become whatever they wanted. That was the tough part.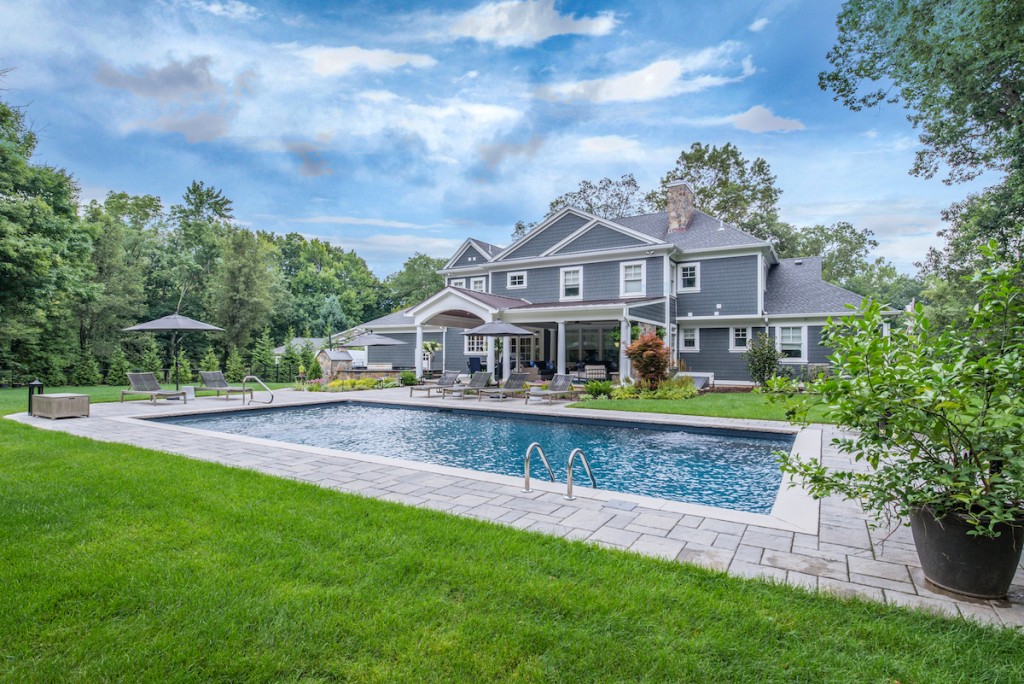 Is there such a thing as having too many options? For Rich Cording Sr., owner of CLC Landscape Design in Ringwood, the roughly half-acre backyard of an Allendale home was filled with creative opportunities— the land was flat and open—and that almost became a hurdle.
"It was nothing but a seeded lawn," Cording recalls. "We do tons of jobs working around existing features, but a blank slate is definitely exciting. This one was difficult because there were so many possibilities to deliberate over."
The homeowners, the Distaulos, were a small but growing family, and an in-ground swimming pool and entertainment area were at the top of their wish list. But checking things off didn't come quickly. Months of back-and-forth questions and answers went by before the CLC team came up with the perfect plan that maximized the space and met the family's expectations.
"Everyone verbalizes their wants the best they can," Cording says. "We have to take a Socratic approach. Everyone has a design idea inside them; we just have to pull it out."
Instead of placing the pool on one end of the lot, where the designers initially planned, it was installed by The Pool Boss of Wayne in the middle of the yard. CLC then wrapped the pool with a brick paver patio that extends to the porch area. Lounge chairs surround the shallow end of the pool so that sunbathing adults can keep an eye on little ones splashing in the water.
"The patio setup grew out of how they wanted to use the space and the pool," Cording says. "That's the same thinking we used when we designed the porch."
Built by Park Ridge-based Cavalucci Construction, the covered porch is an extension of the home's kitchen and dining room, which are accessible via sliding glass doors. Wicker sofas with plush cushions, selected by decorator Dana Mole' Flynn of her eponymous Ridgewood firm, serve as seating for guests wishing to warm up by the outdoor fireplace, while the adjacent dining area has room for eight al- fresco diners. And there's no need to haul food from the inside—Eastern Outdoor Furnishings of Totowa constructed an outdoor kitchen, complete with grill and pizza oven.
"We wanted to create an inviting space and bring the inside out," owner Ondrea Distaulo says. "I didn't really want the pizza oven—that was my husband—but he uses it all the time."
Cording's team also developed a carefully considered landscape plan that enhanced the property's privacy. They created a 3-foot-tall berm around the perimeter of the yard using dirt excavated from the pool project. On top of the berm, Cording planted trees and evergreens. "Essentially, if you have a 7-foot tree, it will look like it's 10 feet tall," he says. "That's important because there are a couple of neighboring houses that peek through the woods."
Finished at last, this outdoor space became Exhibit A for taking the time to figure out what you want and get it right—even when the canvas you begin with refuses to make any of your decisions for you.
"We love our yard," Distaulo says.
"It turned out amazing. It's more than we ever imagined."
By Darius Amos
Design by Rich Cording Sr.