Apple Butter BBQ Ribs
Fire up the grill! These flavorful, protein-rich recipes are sure to be crowd pleasers.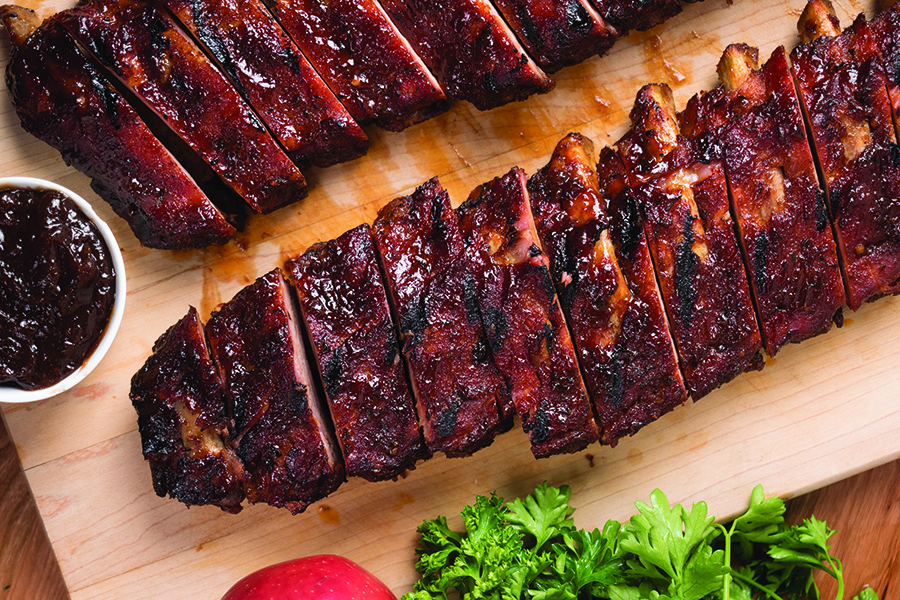 Ingredients
2 full slabs of baby back ribs
2 Tbs. brown sugar
1 Tbs. paprika
1 tsp. cayenne powder
½ Tbs. salt
½ tsp. black pepper
1 tsp. ground ginger
1 tsp. dried thyme
applewood chunks
For the Apple Butter Barbecue Sauce
1 cup apple butter
½ cup ketchup
½ cup brown sugar
1 Tbs. apple cider vinegar
1 Tbs. yellow mustard
1 tsp. Worcestershire sauce n salt and pepper, to taste
Directions
Preheat your grill for indirect: Place an aluminum foil pan filled with water under the grill grate and toss a chimney of hot coals alongside.
With a butter knife and some paper towels, remove the membrane under each slab of ribs by inserting the knife between the membrane and one of the bones. Pull the membrane with a paper towel to remove it completely.
Mix the brown sugar, paprika, cayenne powder, salt, black pepper, ground ginger and dried thyme in a small bowl then apply the rub on both sides of the ribs with your hands so it penetrates the meat.
Place the ribs on the grill grate in indirect heat and toss a few applewood chunks onto hot coals. Close the lid and cook for two hours at 300ºF. Add all the Apple Butter BBQ Sauce ingredients into a saucepan and simmer for 10 minutes.
After two hours of cooking, wrap the ribs in aluminum foil with 1 cup of the Apple Butter BBQ Sauce on top of each. Cook for another hour at 300ºF. The ribs are done when the meat has shrunk about 1 inch from the bones. Once fully cooked, remove from foil and sear over direct heat for 30 seconds per side to caramelize the BBQ sauce.
If I intend to use a BBQ sauce containing sugar, like the one in this recipe, I reduce the amount of sugar or take it out of my dry rub. Too much sugar means the meat could burn or become overcaramelized before it's fully cooked." —Robert Austin Cho, chef/owner, Kimchi Smoke, Westwood