Are The Kids Alright?
The pandemic has spurred an uptick in mental health issues among children of all ages. Here's how you can help a child who may be suffering.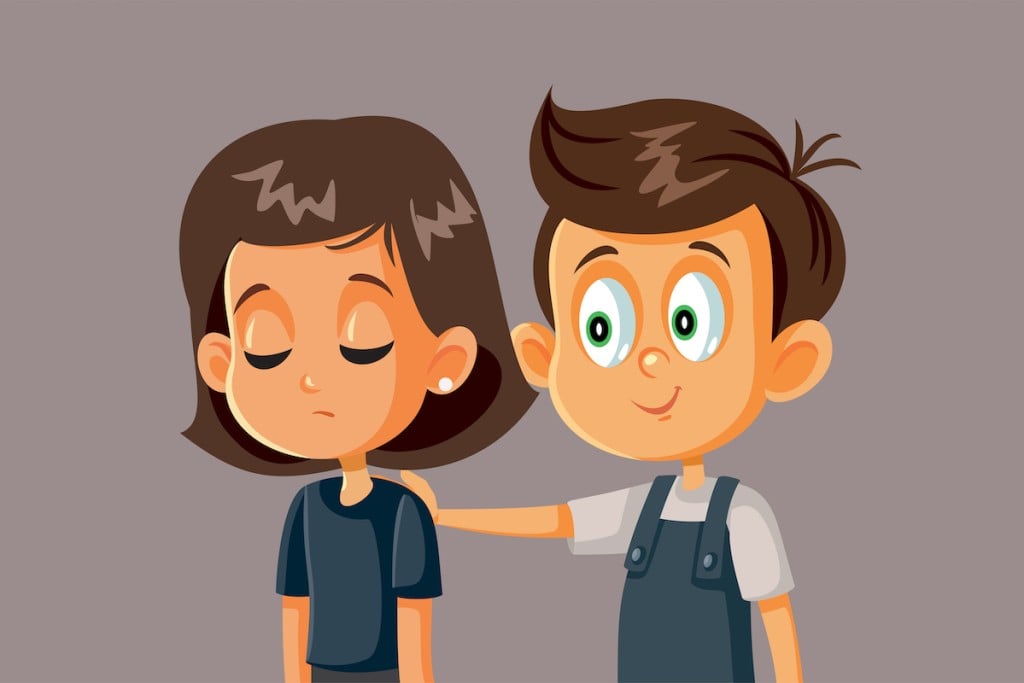 Anxiety, depression, substance abuse, self-harm, eating disorders, suicidal ideation. All of these troubling phenomena are on the rise among children across the U.S., a situation that's very much evident in Bergen County. Demand for mental health services among young people here is so great that Bergen New Bridge Medical Center in Paramus, one of the area's largest mental health providers, recently launched an eight- to 10-week inpatient therapy program for teens. Long waiting lists—for therapy and for hospital beds in mental health facilities—reflect the urgent demand for treatment, often unmet.
Therapists and school counselors who deal on a daily basis with children's mental health report that, since the beginning of the pandemic, they've been encountering all of the above-mentioned issues in ever-increasing numbers. "We're not seeing a change in the issues themselves, but what we have seen is just so many more parents and kids reaching out for help," says Joe Galasso, PsyD, founder and director of Baker Street Behavioral Health in Closter, Hasbrouck Heights and other North Jersey locations. In many cases, the severity of those issues has changed too. "A lot of children are needing hospitalization right away upon their first episode of mental health symptoms, or engaging in self-harming behaviors or more drastic means of trying to cope," says Jessica Warren Frazier, LPC, a counselor with the mental health practice Thriveworks in Paramus. This past February, PerformCare, the behavioral health company that works with New Jersey's Department of Children and Families, registered its highest-ever monthly volume of calls requesting children's mental health services: 14,698. And the mobile teams that respond to the most critical calls had, by mid-March, already been dispatched 4,201 times, as compared with a total of 2,582 during the same period last year—a sign that the crisis may be growing.
Given the sheer number of young people affected, some experts are referring to this mental health crisis as "the parallel pandemic," citing a host of causes. One of them, says Galasso, is the disruption of children's normal routines. "Kids crave structure, they crave routine and they crave guidance," he notes, "and all of that has been unsteady for two years." Isolation has also taken a toll. Jessica Verdicchio, LCSW, supervisor of wellness and equity at Northern Highlands Regional High School, observes that connecting with peers through social media can't take the place of in-person interactions, especially among teens. And it's largely those complex, in-person interactions that help adolescents process negative emotions. The lack of in-person schooling also removed an important source of support. "For many students, school is a positive outlet, allowing them to make connections with trusted adults and teachers and coaches," says Verdicchio.
Remote learning did more than isolate kids; for many, it made learning itself a frustrating experience. Dominic Canova, PsyD, a mental health counselor who treated children from all over North Jersey at St. Joseph's emergency department in Paterson, notes that many of the young people he's spoken with in the ED cite distance learning as a direct cause of their anxiety. "They tell me, 'I can't learn this way,'" he says. For both school and social interactions, students have had to rely on cell phones, tablets, computers and other screens, a problem in itself, even as life has started to move toward something approaching normal. "I see many kids who've become dependent on their electronics," says Rick Kaufman, founder of the podcast Vertical Momentum, which addresses the issue of fostering children's resilience. As North Arlington's municipal alliance coordinator, he works with children through the town's D.A.R.E. (Drug Abuse Resistance Education) program and notes that "if they've been doing nothing but watching YouTube videos for the past two years, it's hard to get them to do things like play outside." In addition, children who spend hours on their electronics— sometimes long into the night—can develop sleep disturbances, which exacerbate other emotional difficulties.
Even more stressful, says Verdicchio, is the loss of what she calls "milestones"—sporting events, proms, in-person commencement ceremonies. And many kids have suffered even more wrenching losses: of loved ones and family members who contracted COVID and died or were hospitalized for long periods. Given all of this, it's not surprising that, in his State of the Union address, President Biden spoke directly about the crisis in student mental health, noting that children's "lives and education have been turned upside-down."
At this point in the pandemic, it's uncertain whether the worst is behind us or we're simply in the eye of the hurricane. But either way, the "parallel pandemic" is likely to continue for some time, and parents and educators shouldn't assume that a return to so-called normalcy means kids will simply get back on track without additional help. At a Trenton meeting in March, Christine Norbut Beyer, commissioner of NJ Department of Children and Families, offered a stark summary of the situation: "The lasting trauma caused by COVID," she said, "has created some deep scars on our state's collective psyche."
"I think there are going to be lingering effects of this for some time to come," says Marjorie Sommer, LCSW, a therapist in Ramsey who's worked extensively with children. With the return to in-person schooling, she's witnessed many children suffering from a reshuffling of old friendships. For some, she says, "now that restrictions have lifted, the social group they knew during remote learning has dispersed, and they're at a loss socially." In addition, a return to school has meant renewed academic pressure for many.
If you worry that your child, or a child you're close to, is suffering, there are steps you can take to help him or her overcome the mental health issues created by the pandemic:
Pay attention. Thanks to COVID, life has become rife with distractions, and even if you're working remotely, concerns ranging from Zoom meetings to COVID testing to the rising price of gas may be deflecting your attention from your family. But this isn't the time to look away. It's critical, Galasso advises, to note any significant changes in your child's behavior. If you see changes in eating or sleeping patterns, if children aren't connecting with old friends, if they're struggling at school or have lost interest in learning, if they've become secretive or if they simply don't seem like their old selves, it's important to have a conversation with them. "
"Trust your gut," says Galasso. "If you feel like there's something wrong, do something about it."
"Ask questions in a supportive way," advises Verdicchio. "Sometimes teenagers, in particular, don't reach out for help, but parents can lay the foundation for communication by asking open, nonjudgmental questions: 'I noticed you haven't seen much of Tommy lately—what's up with that?'" If you're seeing major, negative changes in your child, Galasso says, seek professional help immediately. "For kids in particular, we can have good outcomes if we intervene quickly."
Find help. One positive outcome of the pandemic has been a lessening of the stigma surrounding mental health issues. Therapists like Jessica Warren Frazier are reporting that many kids are actively seeking help on their own, either at school or through the therapeutic community. "Kids knowing how to access mental health services has been really helpful," she says, noting that many of her younger patients have talked about how their schools, on reopening, have been offering extra mental health support on site. If your child's mental health issues are severe, you'll probably want to consult with a therapist who specializes in the treatment of children, adolescents or young adults. But, says Frazier, simply talking with a trusted adult can be helpful to kids whose problems appear less acute and can help them—and you—figure out what the next step should be. "Maybe that person is you or your spouse," she says, "or an aunt or uncle, a teacher or a social worker at school, someone in your church or someone else in the community who can guide them to getting the resources they need."
Talk to your child's school. Find out what mental health resources are available. As noted earlier, many schools have brought on social workers and other counselors to help students cope with the stresses of the pandemic. Some have added educational programs designed to help kids help themselves and their peers, while others have even partnered with nonprofits to add an additional layer of support. Northern Highlands Regional High School, for example, is part of a pilot program with The Jed Foundation, a nonprofit focused on mental health in high schools and colleges. (It was founded in 2000 by Phil and Donna Satow, who lost their son Jed in 1998 to suicide.)
The partnership began before the pandemic, in 2018, after two graduates of the school died by suicide in their freshman year of college. The foundation helped the school identify problems in its approach to mental health, created a speaker series for parents on topics related to student mental health and trained the student body to identify and reach out to peers who may be struggling with mental health issues. Verdicchio says that working with Jed has made an enormous difference in the school's ability to help students suffering during the pandemic. One of the most important outcomes of the program, she notes—and one that all schools should be aiming for—is the normalization of mental health issues and of help-seeking.
"We want students to know that it's OK to reach out for help, and teach them how to do that," she says. Northern Highlands has a wellness center focusing specifically on mental health, and students are encouraged to make appointments with counselors from the center. They're not just helping themselves, notes Verdicchio, but also learning the critical life skill of reaching out for help.
The Jed Foundation recommends that parents become involved in their children's school by asking if it has a written plan to support students' mental health (it should) and finding out what resources for help are available at the school. "The basis for all the good, positive work that we do here," says Verdicchio, "is fostering a community where students are encouraged to make connections, both with people in the school and outside the school, with family and friends. Connection is key."
By Leslie Garisto Pfaff