At Home With…Harlan Coben
The international man of mystery and suspense explains how he adjusted to the pandemic and writing for Netflix—and why he gets a kick out of embarrassing his kids.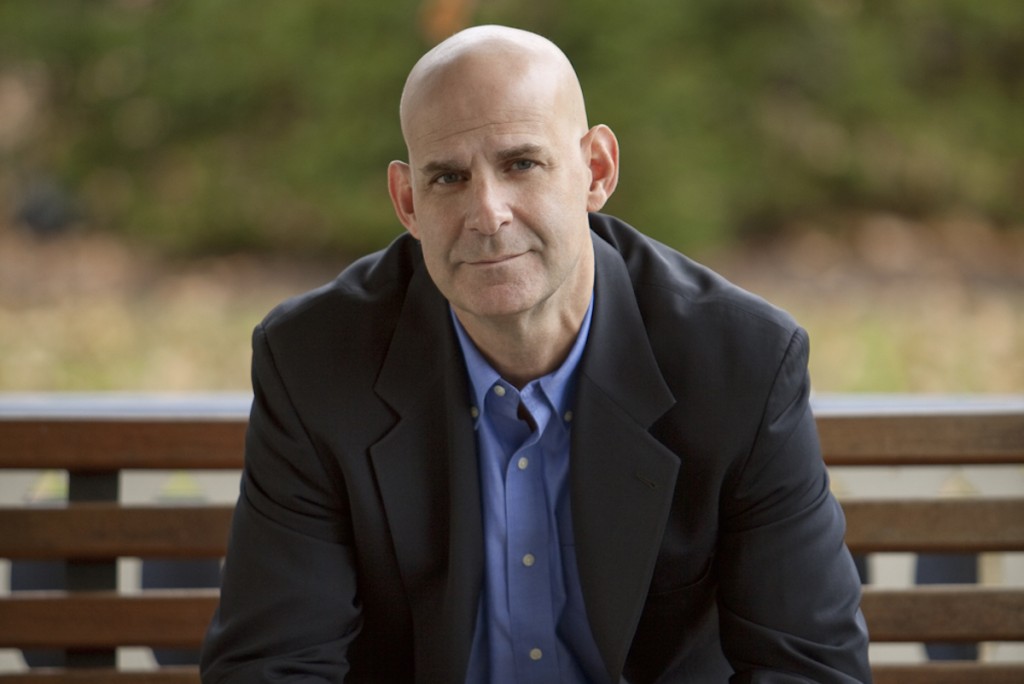 For most workers, making the transition to a work-from-home life last year was tough. But neither the physical task of finding desk space nor the mental challenge of isolation fazed Harlan Coben. It was business as usual for The New York Times best-selling author, who for years has mostly worked out of his home office in Ridgewood.
In between taxiing his now-grown kids to and from school while his wife Anne worked, Coben, 59, has written some of the world's most-read thrillers and suspense novels, including the Mickey Bolitar series for younger readers. So he didn't miss a beat when the pandemic hit: Coben completed his latest book, Win, under lockdown orders and continued his work with several TV streaming services. He's currently in the second year of a five-year deal with Netflix, in which 14 of his novels will be turned into original series or films. The most recent series, The Innocent, premiered in April—just a few days after Amazon Studios placed an order for a young adult pilot show based on Coben's 2011 Mickey Bolitar novel, Shelter. He's been busy, but Coben found a moment to chat with BERGEN.
How did you get the idea for another New York Times best-seller?
Win takes place in New York/New Jersey. Win [Windsor Horne Lockwood III] was a minor character in other books, but now he takes over the lead. The story has a lot to it, a bunch of things I've been interested in. I recently watched a documentary on the [Isabella Stewart] Gardner Museum heist [in Boston in 1990], and this book has an art heist, '60s radicals, a hoarder, people living in secret locations. Rather than rely on straightforward research, I like to talk to and visit experts. For Win, I met with a man who runs one of the country's famous galleries about restoring art as well as heists.
Was it difficult writing the novel during the pandemic?
About two-thirds of it was written during COVID. I didn't have the same hardship that others had while working from home: I could still do my job as I usually do. Most writers are natural introverts, so we're used to being socially isolated.
Did you find it challenging to promote your books during lockdown?
The Boy from the Woods came out at the start of COVID [published March 17, 2020], so that tour was canceled and we did virtual events. Of course, there was a lot to iron out in the beginning, but the events went well. We were able to add a new dimension to them by having conversations with people like Michael J. Fox and John Grisham. Win is the second book that we've [promoted] virtually. But I do miss going to bookstores and seeing readers in person.
What else did you miss during the pandemic?
Going out and seeing people. I look forward to eating at restaurants again. I missed going to Baumgart's in Ridgewood and walking over to and dining at places in Ho-Ho-Kus. I love Just Janice, Café Amici, St. Eve's and Ho-Ho-Kus Sushi Café.
And I really missed walking up and down the streets of Ridgewood. I get ideas that way. I was hiking in the Ramapo Mountains one day when I saw a boy by himself. Then I wondered: What if he lived in the woods alone and knew nothing else but the woods? That's how I got the idea for The Boy from the Woods.
But you used the pandemic to work on your Netflix projects. Was the transition from novel writing to TV easy?
My kind of storytelling is best suited for streaming services like Netflix. TV years ago was 22 episodes a season, 44 minutes per episode. For streamers, you have a great deal of flexibility— you can have five episodes, eight, 12, whatever. People can watch and binge at any time. It works more like a novel, and people can watch it like [reading] a novel. My stories and writing work better this way than in a full 90-minute movie or an old-fashioned network show.
What's one of your favorite aspects of TV work?
One of the real appeals of Netflix is that we can place a story in other countries and use towns that are not well known so the rest of the world can see. That's what we did for The Innocent, which has a Spanish director, Oriol Paulo, and Spanish actor Mario Casas. [The original novel took place in New Jersey, but the story was re-set in Spain for the Netflix adaptation.]
How much work is it to adapt a novel for the screen?
It depends on the show and what country it's playing. For the English-language shows, I do much more daily work. For The Innocent, having Oriol was great—I worked on the script and editing, but I did less work. For each show, it depends on what they need and how much I need to intrude.
And now Amazon Studios is jumping on board for a series catering to a younger audience.
I love that they want to turn my Mickey Bolitar stories into a YA [young adult] show. It's really an exciting possibility. I've seen the pilot that's written, and filming will start soon.
Mickey Bolitar finds himself in perilous situations, as do many of the young characters in your novels. Do your own kids [Charlotte, 27; Ben, 24; Will, 22; Eve, 20] ever wonder what's going on in your mind when they hear the story plots?
[Laughs.] They joke around and try to figure out which one of them a character is based on. But in the end, they know it's just for entertainment; they really love the stories. They've always been supportive of my writing. One of my sons and his girlfriend recently binged The Innocent, and he said they loved it.
And one of your kids is even helping you.
Yes, Charlotte writes with me—she did episode five of The Stranger, which originally did not have a teen component to the story. She has the ideas, and I rely on her for that. She has become a really talented TV writer.
Your children come up frequently on your Twitter account—but it's usually when you're telling "dad jokes" on Twitter. Do you appreciate their unfavorable reactions?
If you're not embarrassing your kids and making them groan, then you're doing something wrong. They enjoy rolling their eyes at me. The worse the joke, the better.
Is Father's Day big at your home?
I like a mellow Father's Day with family and dinner—as long as we're spending the day together. Celebrating me at times seems weird; I tell them, "We're celebrating that you made me a father." I like to give to them on Father's Day.
There will be jokes though, right?
Maybe. I did just see a comic that had a cartoonist telling Darth Vader that he drew another piece about him. And Darth Vader says, "I am your fodder."
By Darius Amos