At Your Service
Now when you arrive there's a valet to park your car.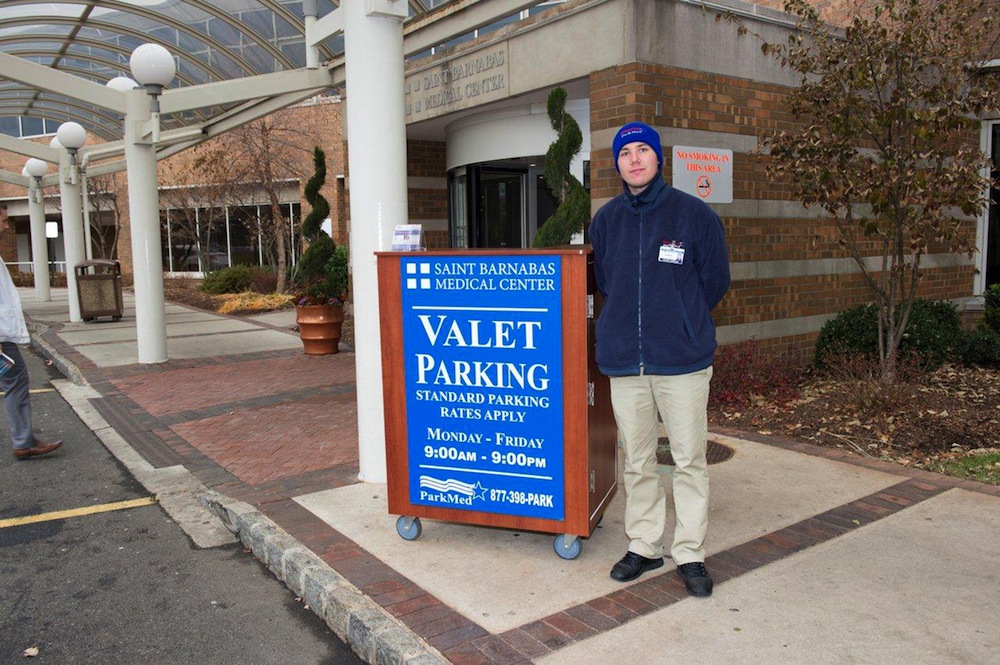 Any unexpected trip to the hospital is fraught with worry. Whether it's illness, injury or even a happy event like giving birth, the last thing patients and their families want to think about is finding a place to park their car before getting medical attention. That's why Saint Barnabas Medical Center launched a new valet service this past fall at three of its principal entrances.
"Parking is a challenge here, and it always has been," admits Eric Carney, vice president of operations for Saint Barnabas. "Coming to the hospital is a very stressful situation, and there is often a lot of anxiety. We wanted to relieve patients of the burden of simple things like finding a parking spot, in order to create a better and more convenient experience."
Valet service is offered at the East Wing entrance for outpatient services, the main entrance for inpatient care and the entrance to the Radiation Oncology Department. The valets work for an outside company called ParkMed, which deals exclusively with health care clients. "They are trained to deal with sensitive issues that patients may experience, and they recognize needs like privacy," Carney says. "They don't work at parties one day and hospitals the next. They also train with Saint Barnabas to fit into our culture."
That training includes visits to the departments they are serving. "It is important they know what it's like in the Cancer Center, for example," Carney says. "They meet the staff and get specific instruction on the needs of those patients."
The service is complimentary, though standard parking rates still apply. The valets are at clearly visible podiums and wear ParkMed uniforms with hospital ID badges. Visitors simply pull up and hand over the keys, and they are given a parking ticket to reclaim their car later. Tipping is not expected or solicited, Carney says, but it would be accepted.
The valets do more than park cars, he says. "They serve as front-door ambassadors too, directing patients and assisting when needed. Pregnant women near delivery just drop their cars, and the valets escort them into the hospital and help guide them to the correct location. That part of the experience has been really well received."
Valet services are offered at these times and locations:
Main entrance: Monday–Friday, 9 a.m.–9 p.m.
East Wing: Monday–Friday, 8 a.m.–5 p.m.
Radiation Oncology: Monday–Friday, 8 a.m.–4 p.m.