Backyard Bliss
A sloped corner property and strict regulations in Ridgewood didn't prevent one creative landscape designer from giving his clients the outdoor space of their dreams.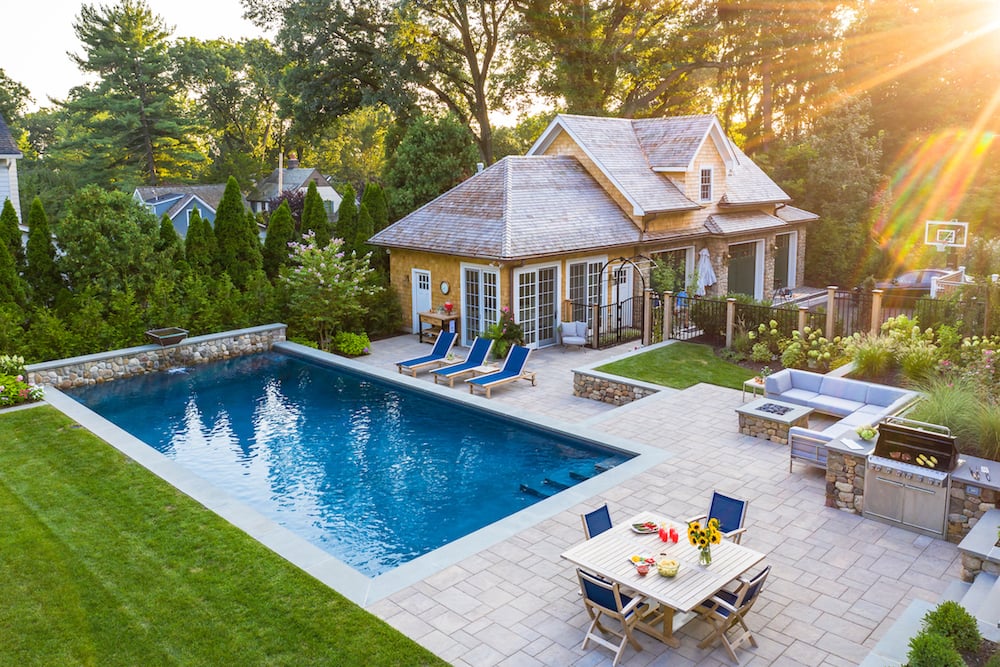 Design by Thomas Flint
Landscape Design and Development Photography by Adam Pass Photography
The Cliffords bought a historic house typical of Ridgewood to raise their family in—it was built in the early 20th century and had charm, but needed a few modern updates. Once their home renovation (and restoration) was complete, they sought to create a backyard to match, one that was functional and fit in harmoniously with the unique style of the house.
A previous landscaper's proposed plan didn't cut it; he suggested a too-square pool and didn't provide enough creative input about how best to make use of the convoluted space. So the homeowners enlisted the help of Tom Flint of Thomas Flint Landscape Design and Development in Waldwick to get the job done.
Going in, Flint realized this project would be a challenge. "It's a corner lot so there were two front yards which made placement of the pool tremendously difficult," Flint says. "We were also limited to the shape, length and width of the pool because of town ordinances." Another issue was that the property was not level—the home was situated quite a bit higher than the newly-renovated pool house structure in the back.
The solutions? Put a raised wall in the backside of the pool,"which enabled us to push the pool right up against the setback and give us some additional length," Flint says. Flint and his team, namely Andy K., who he says conceptualized most of the ideas for this project, also created a dramatic multi-tier patio and raised the pool so there'd be just a few steps to walk up from the pool house and a few to walk down from the main home, rather than one arge, intimidating staircase.
One of the finished product's most unique features is undeniably the lawn panel that's parallel to the pool, and its purpose is twofold; it serves as spillover for extra tables and chairs when the Cliffords host large parties, and is an area on which their five early-teenaged kids can run and play and jump into the pool. And function certainly was the name of the game throughout the space, as a built-in barbecue and natural gas-burning firepit were deliberately grouped close to the dining area, sitting area and lounge chairs "to prevent the need for different patios and spaces," Flint says. All the easier for entertaining.
Aesthetically speaking, the homeowners wanted their outdoor space to look like it was built alongside the home and not an afterthought. "The stonework was crucial because the home was built in the early 1900s and is constructed of the materials that are native to Bergen County, which is a granite fieldstone," Flint says. Thus, the team worked tirelessly to replicate this traditional style of stonework and make it look as seamless as possible—even the custom barbecue area was constructed out of the same stone as the house. "I feel we were able to give the clients a beautiful, well-designed space that is fitting of their lifestyle and of their home's character," Flint concludes. "We made everything work."