Bacon-Wrapped Filet Mignon
Fire up the grill! These flavorful, protein-rich recipes are sure to be crowd pleasers.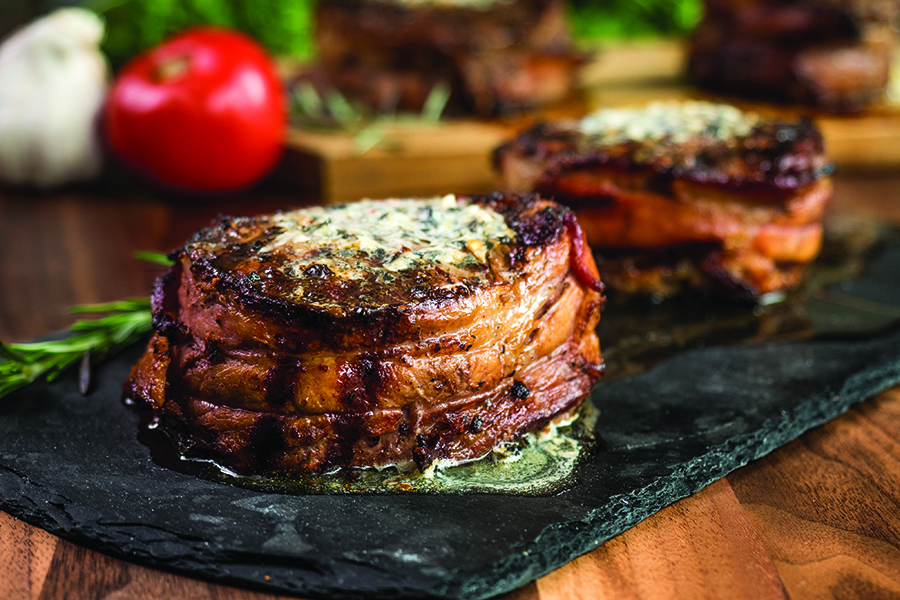 Yields: 4 servings
Ingredients
4 beef filet steaks, 2 inches thick
4 to 8 slices of bacon
3 Tbs. coarse sea salt
3 Tbs. freshly ground black pepper
2 Tbs. dried onion flakes
For the Compound Butter
16 oz. butter, softened
2 Tbs. oregano
zest of one lemon
½ Tbs. hot pepper flakes
1 Tbs. minced garlic
Directions
Mix all of the compound butter ingredients in a bowl then spoon onto parchment paper or plastic wrap. Roll into a log of about 2 inches in diameter and chill in the refrigerator for at least 1 hour.
Preheat your grill at maximum temperature. Season the steaks on both sides with the salt, black pepper and dried onion flakes. Wrap 1 or 2 slices of bacon around each steak and tie them securely using butcher string.
Grill the steaks over high heat for 4 to 6 minutes per side with the lid closed. Flip the steaks a quarter turn for the bacon to face the grate and grill for 15 seconds per side or until the bacon is brown and lightly crisp. Use an instant-read thermometer toward the end of cooking to achieve desired temperature: 120º for rare, 130º for medium rare. Remove steaks from the grill.
Cut four slices of compound butter up to ¼-inch thick and place them on each steak. Let the butter melt over the steaks for 8 to 10 minutes before serving.