Barbados Beckons!
You'll find adventure and beachy bliss in the land of Cou-Cou.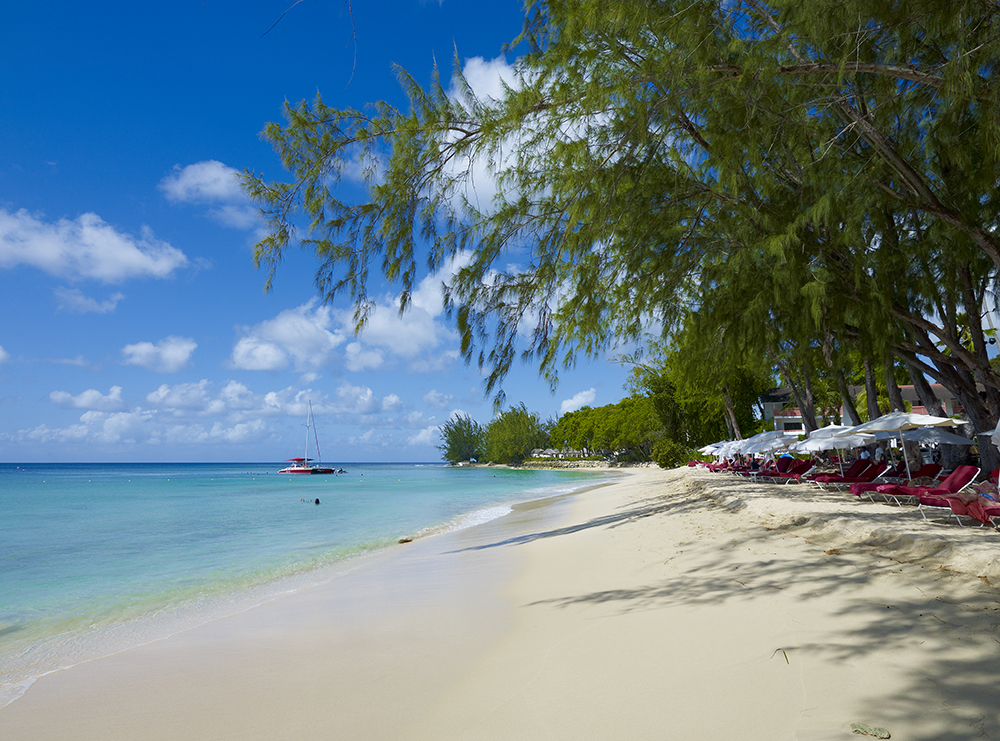 It's the birthplace of the singer Rihanna. And the rich and famous—Elton John, Gwyneth Paltrow, Tiger Woods—have been jetting here for decades. But despite the glitz, Barbados is the perfect laid-back getaway for those looking for an authentic island holiday.
A coral island located where the Atlantic Ocean meets the Caribbean sea, it was discovered by the Spanish and was a British colony until 1966. Today the common-wealth is divided into 11 parishes, all but two hugging the coastline. Not surprisingly, the island's claim to fame is its beaches; there are 60, all open to the public. On the western shore, known as the platinum coast, you'll find calm waters perfect for snorkeling and kayaking. In stark contrast, the east coast features a rugged coastline with crashing waves, a surfer's paradise.
Our home-away-from-home was the newly renovated colony club, an AAA four-diamond resort with a wellness focus situated within seven acres of lush tropical gardens. There are complimentary daily yoga, pilates or zumba classes, and the resort also provides in-room yoga mats, cooking demos and a complimentary breakfast daily. On arriving, we were treated to a "cumila," a refreshing mock-tail made of cucumber, mint, agave, lemon and sparkling water. We were promised it would aid digestion. I can't confirm that, but I can promise it's good!
The resort has its own organic vegetable garden, which guests can tour, and much of the food offered is garden-to-plate. There is also a "bait-to-plate" program in which a resort chef takes guests out on the water for a fishing excursion, then prepares the day's fresh catch. The laguna restaurant on the property offers international fare plus local favorites. Seafood is big here: Mahi-mahi, kingfish, snapper and flying fish are prepared in every way imaginable. (flying fish served with cou-cou, a mixture of cornmeal and okra topped with creole sauce, is the national dish.)
For those who need time to unwind, there's no better place than the resort's beach. Sunscreen is provided lest you burn, and cold towels and cucumber slices are offered to keep you cool. Staffers like Annette, who works in guest activities, and Michelle, the food and beverage guru, check on you through the day and offer canapés of tomato, mozzarella and pesto or frozen grapes on a skewer. It would be easy to veg here for days on end, but the island beckons. Indeed, you'll be enchanted by its undeniable charm once you're beyond the cacophony of auto dealerships, dingy gas stations and low-slung commercial buildings that front the main highway.
Live large by living like a bajan—that is, a Barbados resident. Hop on a bus to go nearly anywhere for less than a dollar. Spend Friday night dining beachside in the fishing town of Oistins, where you'll gorge on fresh-grilled fish, cold banks beer and lobsters as big as your arm. The atmosphere is like a huge block party with eating, drinking, singing and dancing. Be sure to wander down to the bandstand where you'll find old-timers, couples and kids jiving to good ol' calypso tunes.
Feel the need to shop? Bridgetown, barbados' capital city, offers everything from tiny boutiques to luxe jewelry stores. There are also local vendors selling fruit, veggies, meats and local spices, plus crafts. Pelican Village on the outskirts of town is a great spot for batik, rum cakes and pottery.
If you're more of an off-the-beaten-path traveler, consider a Jeep safari tour, which will take you to spots accessible only in 4×4 vehicles. You'll zoom along gullies, traverse forests, climb hills and look out over cliffs at some stunning scenery. Entertaining guides will regale you with local lore and island history and make frequent stops for photo opps alongside sugar plantations, remote beaches and lookout points. Our island Safari guide even stopped at a local food stand to purchase pudding and souse, a dish of pickled pork with spiced sweet potato, so we could all sample it. Of course, for a truly authentic experience you'll have to wash it down with a rum punch.
Speaking of rum, tour at least one of the island's three rum distilleries, then stick around for free samples and some terrific rum punch. Rum has been distilled on Barbados for 300 years. It's the Caribbean's lifeblood, and there's no sign that will end any time soon. There are hundreds of rum shops, where bajans gather to play dominoes and catch up on gossip.
Ready to party? The Golden Anchor in Holetown is a great spot. Here you'll find locals and tourists alike listening to everything from reggae to jazz. You'll be blown away by the local musical talent on the island. Who knows? Maybe you'll discover the next Rihanna. In any case, you'll be glad you discovered the joys of beautiful Barbados.