Bark-Worthy Bakeshop
The Bubba Rose Biscuit Company creates organic, homemade canine treats.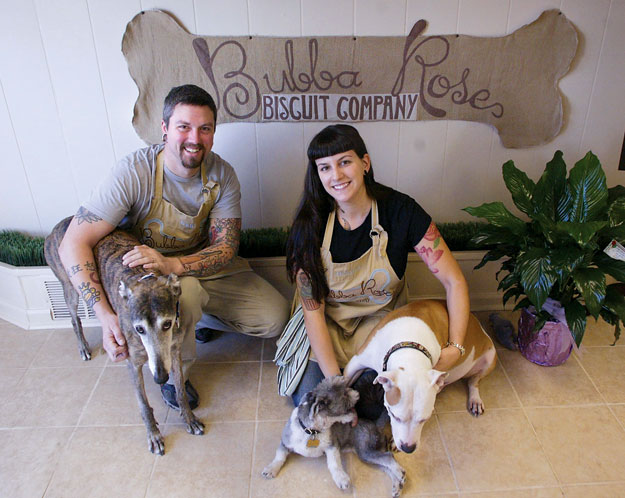 Part of the credit for the Bubba Rose Biscuit Company (862-209-4677, www.bubbarose.com) must go to Rose, Bob and Weeble.
They're the dogs (a greyhound, a rescued pit bull and a Shih Tzu with a heart condition, respectively) who inspired Jessica and Erik Talley to begin their business creating organic, homemade canine treats such as customizable birthday cakes ($24.95), individual "pupcakes" ($6.95) and a variety of cookies, among other tasty offerings.
The Muddy Paws cookies, for example ($5.95 for 16), feature carob and peanut butter, while Valentine's Day brings heart-shaped Old School Romance treats, with red chicken, yogurt and carob. The store also sells broken cookies, labeled "Table Scraps," for half price.
"We launched just before the pet food recall in 2007," says Jessica. "Owners were reassured that we are very particular about our ingredients, which are all from the U.S." The items contain no chemicals, sugar, salt or artificial flavors or colors. Meat-based treats come from free-range animals with no hormones, antibiotics or nitrites.
"When you walk by the store, it smells so good you can't possibly not go in and buy your dog a treat," says Morristown resident Nicole Vonderheide. "My three dogs even know the phrase, 'Want to go to Bubba Rose?' They head right for the door."
A portion of Bubba Rose's profits goes to local animal rescue operations. And the Talleys recently created their own nonprofit, the All Heart Fund, to raise money to cover costly medical expenses for adoptable pets. Credit Weeble-now gone but not forgotten-for that.