Bathroom Bliss
Home is where the spa is for two physicians who treasure relaxation.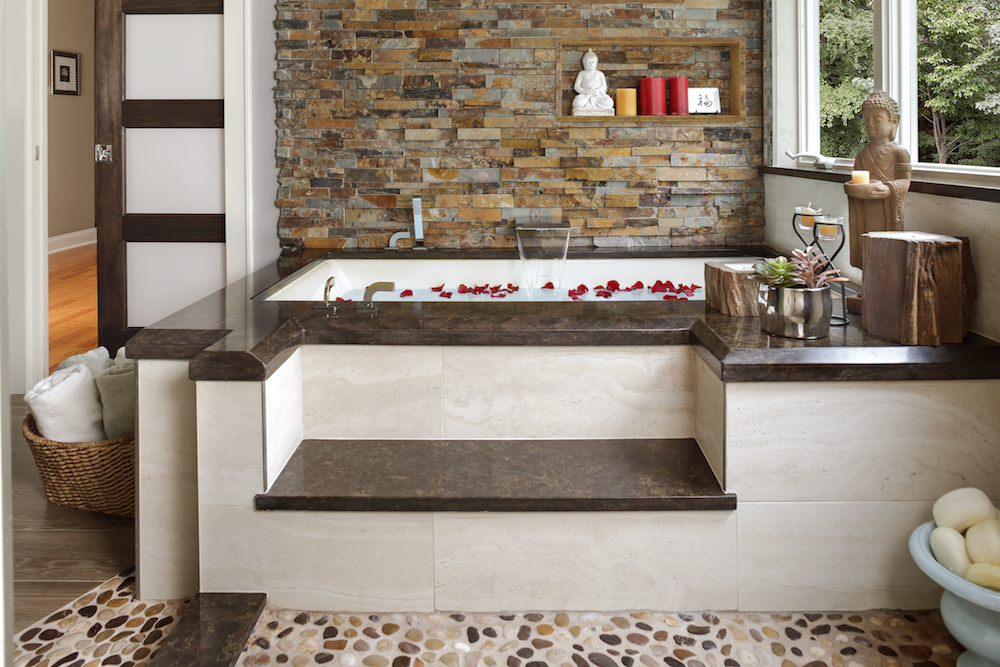 By Donna Rolando
Design by Aparna Vijayan
Photography by Peter Rymwid
A Wyckoff couple with busy schedules as doctors turned their master-bathroom remodel into a prescription for a peaceful and stress-free life. Uma, a pediatrician, and husband Samir, a cancer surgeon, wanted more than just to transform the room from cookie-cutter to wow. Their colonial's new space had to be both stylish and soothing. So they brought on board Ridgewood's Ulrich Inc. to create a luxury home spa with countless ways to rejuvenate—for when at last it's "me" time, after hours spent helping others.
"My old bathroom was 17 years old," says Uma, who recalls the plain vanilla décor that, coupled with age, made the room ripe for change. This time, she says, "I was looking to have something very Zen, where I would spend a half hour to 45 minutes a night and just feel very peaceful."
The mother of two teens loves the new room's soaking tub with its waterfall-effect faucet and heated back and neck rest and massage, not to mention the Toto bidet toilet that's so luxurious the couple remembers missing it during a recent trip to Costa Rica. But the "spa" and its open airy shower with water coming from "seven different directions" could easily be called a family favorite, says Uma.
The redesign also had to tame stress with a functional design that met the demands of everyday life. Both doctors use the bathroom to get ready for their work day; they wanted a space that was easy to share.
To meet these varied requirements, designer Aparna Vijayan started with a single inspiration. For the accent wall beyond the tub, she chose a textured stone facing with dramatic layers of slate, amber and brown. Uma had admired something like it at a resort and thought natural stone said "spa" better than man-made, she says. In that single accent, Vijayan saw more than the perfect stage for mood-setting candles and Asian art, matching the bedroom's decor. It was the ideal launchpad for colors in the rest of the spa, from the creamy tone of the shower's large-format tiles to the Emperador Dark marble lookalike (it's easy-to-clean quartz) for the tub area and window sills. Simple maintenance was also a priority for these relaxation-minded homeowners, so Vijayan used quartz for all the counters and designed the room sans a shower enclosure for a tropical resort vibe and no hard-water stains.
To create an "organic" effect in the shower area, Vijayan teamed up river pebbles in a free-flowing pattern with the look of cedar planks extending to the ceiling. (Relax, it's really porcelain.) She also maximized the connection to the backyard's beauty with tempered and frosted windows that require no blinds or shades for privacy.
For a bathroom meant to be shared, Vijayan set the "throne" apart in its own room with a frosted glass pocket door and storage and added a double vanity to keep a spacious flow. (To say the toilet is easy to care for is an understatement—it cleans itself!) The vanity is also a winner for its floating cabinets, which have a way of accentuating a room's size, and "his and hers" sinks in amber glass, which are one piece with the counter. A glass mosaic brings shine to the vanity backsplash and works the same magic on the window trim. And, in addition to more natural illumination, the designer added seven high-hat lights that almost double the room's fixtures.
Says a contented Uma: "The end result is exactly what I wanted."