Be Smarter With Sweets
Don't swear off the sweet stuff in 2020! These lower-in-calories desserts will keep both your cravings and your waistband at bay.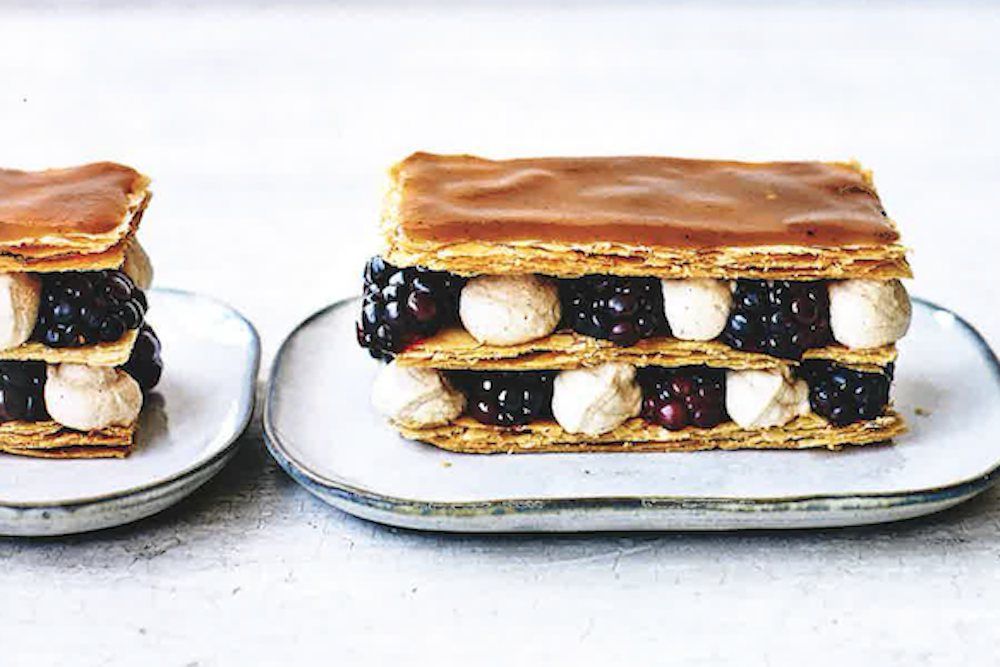 COFFEE AND BLACKBERRY MILLEFEUILLE
Yields 6 servings
INGREDIENTS
plain flour, for dusting
5½ oz. ready rolled puff pastry
3 Tbs. ground coffee
4 Tbs. boiling water
2 oz. soft ricotta
½ oz. caster sugar
3½ fl. oz. double cream
10 oz. maple syrup
1¾ chestnut puree
3½ oz. blackberries, halved
DIRECTIONS:
Preheat the oven to 350°F. Have two large baking trays and two large pieces of greaseproof paper ready.
Flour a flat surface and a rolling pin. Roll the pastry out until it is 16 inches long. Sandwich between the pieces of greaseproof paper on one baking tray, and weigh down with the other baking tray on top. Bake for about 10 minutes, or until golden brown and crisp. When ready, remove from the oven and allow to cool.
Meanwhile, prepare the coffee cream. Mix the ground coffee and boiling water together and leave to infuse for a few minutes. Strain through a cheesecloth, muslin or clean tea towel into a jug, squeezing out as much of the liquid as possible.
Mix together the ricotta and sugar until smooth, then stir in the coffee. Whip the cream until soft peaks form and then fold through the ricotta mixture. Transfer to a piping bag fitted with a small round nozzle and refrigerate until needed. Mix together the maple syrup and chestnut purée and set aside.
Trim the edges of the pastry and cut it into 20 rectangles, roughly 4-by-2 inches. You will have 20 pieces but only need 18, so use the best ones. To assemble, place 6 blackberries on a sheet of pastry and pipe cream in between. Top with more pastry and repeat. Place a final sheet of pastry on top and spread over a thin layer of the maple syrup and chestnutglaze. Repeat and serve immediately.
"Most cheeses are high in saturated fat, which can lead to high cholesterol and cardiovascular disease. But ricotta isn't as high as most other cheeses and is also a great source of lean protein and calcium for bone strength. When used in baking, it is best to use the full-fat version, but if having as a snack or eating more frequently, opt for the part-skim type."
—Robin DeCicco, holistic nutritionist, Power of Food Education, Ramsey and Englewood

CHOCOLATE ROULADE WITH PASSION FRUIT MASCARPONE
Yields 10 servings
INGREDIENTS
5½ oz. dark chocolate, minimum 70% cocoa solids
6 medium eggs, separated
5½ oz. caster sugar
pinch of salt
¾ oz. cocoa powder
5 oz. non-fat Greek yogurt
3½ oz. mascarpone cheese
1 oz. clear honey
½ oz. icing sugar
seeds of 4 passion fruit
salt
DIRECTIONS
Preheat the oven to 350°F. Line a 9-by-13-inch Swiss roll tin with greaseproof paper.
Place the chocolate in a heatproof bowl set over a saucepan of simmering water, ensuring the bowl doesn't touch the water. Stir occasionally and when melted, remove from heat and allow to cool slightly.
In a large bowl, whisk together the egg yolks and sugar until pale and thick. Stir in the cooled chocolate. Whisk the egg whites with a pinch of salt until soft peaks form, then fold a few spoonfuls into the chocolate mixture and then fold in the rest, working gently so as not to knock out too much air. Be patient—it will come together as you fold it. Sift over the cocoa and gently fold again.
Pour into the prepared tin and bake on the middle shelf of the oven for 20-25 minutes, until firm and a little crispy. When done, place damp tea towel over the tin and allow to cool. This stops the roulade from drying out too much, which can make it crack when rolling.
Mix the yogurt, mascarpone and honey until smooth. Lay a piece of greaseproof paper on a flat surface and sift over the icing sugar. Gently turn out the roulade and peel away the paper. Spread over the mascarpone, then the passion fruit pulp. Cut a shallow line 1 inch from the long edge of the roulade—this makes it easier to fold. Roll tightly, using the paper to help you. It will crack a little but this is fine. Slice and serve.
"Though perceived as a dessert, dark chocolate is actually a health food. Try to choose one that is higher than 70 percent cacao and lowest in sugar—the more ' dark' the chocolate is, the less sugar it contains. Cocoa powder is also known to be part of a heart-healthy diet and contains cholesterol-lowering properties."
—Robin DeCicco, holistic nutritionist, Power of Food Education, Ramsey and Englewood

LEMON AND JUNIPER PORTUGUESE CUSTARD TARTS
Yields 12 servings
INGREDIENTS
5½ oz. caster sugar
Peeled rind of one lemon
15 juniper berries
6 fl. oz. semi-skimmed milk
1 vanilla pod, halved and seeds scraped out
1 oz. plain flour mixed with
1 fl. oz semi-skimmed milk to form a paste
4 large egg yolks, beaten
butter, for greasing
13 oz. packet ready-rolled puff pastry
1 tsp. ground cinnamon
grated zest of 1 lemon
icing sugar, to dust (optional)
DIRECTIONS
Place the caster sugar, lemon rind and juniper berries in a medium saucepan with 3¼ oz. water. Bring to a rolling boil over medium heat, stirring to help the sugar dissolve. Simmer for 5 minutes, then remove from the heat and strain.
Heat the milk with the vanilla pod and seeds in a saucepan until just about to boil, then strain and gradually whisk into the flour paste. Slowly pour in the sugar syrup, whisking continuously. Allow to cool slightly, then whisk into the beaten egg yolks in a bowl. Cover with plastic wrap and set aside to cool completely.
Lightly grease a 12-hole muffin tin. Unroll the pastry, dust with the cinnamon and rub it in, then sprinkle over the lemon zest. Tightly roll it up lengthwise, like a Swiss roll. Cut 12 round discs 5/8-inch thick.
Preheat the oven and a baking tray to 475°F. Lightly dust a surface and rolling pin with flour. Flatten each disc with your hand (with the swirls facing upwards), then roll out big enough to be pressed into each muffin hole with a little above the rim.
Fill each tart with the cooled custard until ¾ full. Place on top of the hot baking tray and bake for 18-20 minutes. Keep an eye on them—you want the top to be blistered and the pastry to be golden and crisp. Cool slightly, dust with icing sugar, if using, and serve.
"Instead of buying puff pastry in a store, buy online—there are lots of healthier pastry doughs online, including options that are grain-free or coconut oil-based so they're considerably healthier. Others have just five ingredients or only take 10 minutes to make. You can really choose the one that fits you best. "
—Bess Berger, registered dietitian nutritionist, ABC Nutrition by Bess, Teaneck