Be There
From talent shows and an evening hike to outdoor concerts and river cruises, there is something for everyone this summer in Bergen County.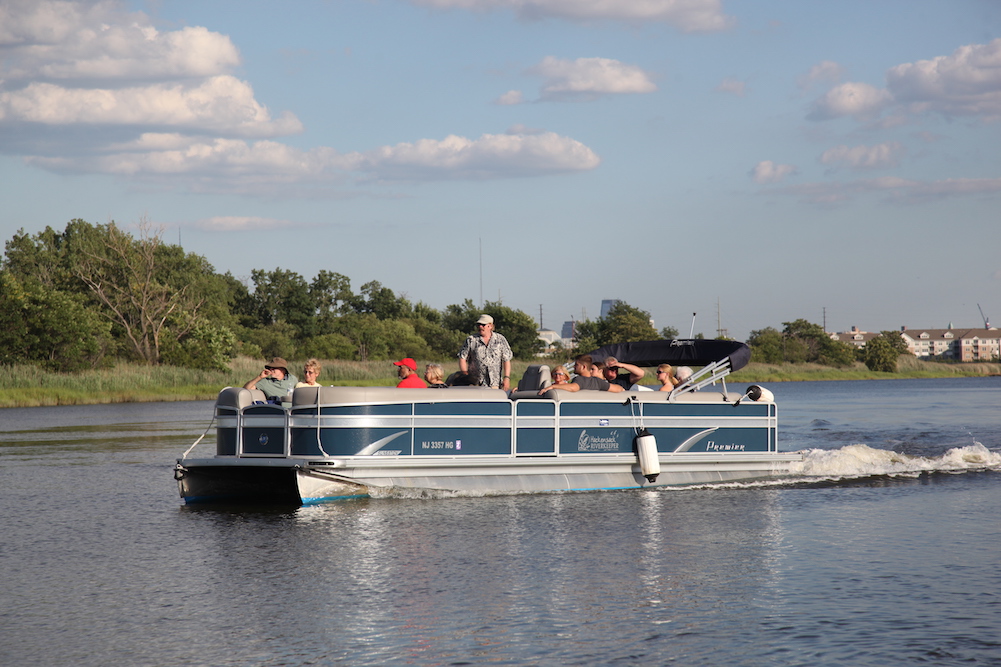 AUG 1–SEPT 2
The WILDLIFE EXHIBIT at the Hiram Blauvelt Art Museum in Oradell is now open to the public. "Wildlife" features the artwork of renowned artists Albert Earl Gilbert, Leslie Delgyer, David Turner and William Turner, each of whom bring his/her own unique approach to capturing wild animals in their natural habitats. The museum's hours and admission rates can be found at blauveltartmuseum.com.
AUG 4, 11, 18 & 25
Every Saturday until Labor Day, there will be MOVIES & MUSIC UNDER THE STARS at the Community Center Outdoor Stage in Fort Lee. The event will begin at 7 p.m. each weekend, and attendees are asked to bring a chair or blanket to sit on. Admission: FREE. Learn more about this summer-long event at fortleenj.org.
AUG 12
Fair Lawn's SUMMER CONCERT SERIES is still going strong and will feature the North Jersey Concert Band from 8 to 10 p.m. at Memorial Park. The band will be performing everything from "classical to pop music…Bach to the Beatles" for local residents to enjoy. Attendees are asked to bring their own chairs to sit in, and in case of inclement weather, the concert will be held at Memorial Middle School. Admission: FREE. Find out more at fairlawncommunitycenter.org.
AUG 12
Ready to run wild? You can explore the 150 acres of the Flat Rock Brook Preserve during a 5K TRAIL RACE at the nature center in Englewood. The race will begin at the visitor center at 8:30 a.m., and after a short street run, the course will continue along the shaded forest trails of the preserve. Registration: $27 (ages 18+), $22 (ages 12-17). Register online at flatrockbrook.org.
AUG 16
Showcase your special skill at the FAIR LAWN LIBRARY'S GOT TALENT in the Maurice M. Pine Public Library's Meeting Room from 7 to 8 p.m. You can sing, play an instrument or perform any talent you'd like. Audience members should come prepared to be entertained! Admission: FREE. Performers need to sign up in advance and can do so by calling the library at 201.796.3400.
AUG 18
After making a triumphant return to television, American Idol is taking its show on the road with AMERICAN IDOL: LIVE! The tour is coming to the Bergen Performing Arts Center in Englewood, with a show at 7:30 p.m. The event features this season's talented top 7 finalists like Catie Turner, Michael J. Woodard and Maddie Poppe, and special guest Kris Allen (winner of season 8). Tickets: $49-$129. Purchase online at bergenpac.org.
AUG 18 & 19
Bring your little ones to an OPEN COCKPIT WEEKEND at the Aviation Hall of Fame in Teterboro from 10 a.m. to 4 p.m. each day. You can explore and sit inside the cockpits of the very rare Lockheed Bushmaster, a Convair 1958 and a MASH Bell helicopter…to name a few. Full access to the museum is included in the admission price. Admission: $9 (children and seniors), $12 (adults). Learn more at njahof.org.
AUG 18
Rock out to country classics at the KENNY CHESNEY: TRIP AROUND THE SUN TOUR at MetLife Stadium in East Rutherford. The concert—which also features Thomas Rhett and Old Dominion—begins at 5 p.m., but the MetLife parking lots will open at 1 p.m. (at a cost of $30 per vehicle). Tickets: $70. Order yours at metlifestadium.com.
AUG 19
Spend your Sunday searching for new and used goodies at a FLEA MARKET at the Elks Lodge (128 Baldwin Ave.) in Hasbrouck Heights from 8 a.m. to 5 p.m. The market is held every third Sunday of the month, with new and interesting vendors in attendance each time. You never know what you might find! Admission: FREE. More information can be found at hhelks1962.org.
AUG 21
Meet new people and have some fun at the EIGHT-MINUTE DATING event at The Cornerstone in Hillsdale. Starting at 7 p.m., participants will go on eight eight-minute dates, enjoy appetizers and drinks, and play icebreaker games. There will be a raffle for a mystery prize at the end of the event. Admission: $29.95. Find the restaurant's full events calendar at thecornerstonenj.com.
AUG 23
Grab your gal pals and head over to The Terrace in Paramus for a GIRLS NIGHT OUT from 5 to 9 p.m. There will be fitness, beauty, real estate and travel vendors, as well as photo booths, psychic readers and enter-to-win raffles. Step out on the pink carpet and get your photo taken by "paparazzi" then head inside for appetizers and cocktails. Tickets: $25. Visit fungirlsnightout.com for more information.
AUG 24
Catch a showing of BLACKBIRD, performed by the Defining Moments Theatre Company, at the Hackensack Performing Arts Center from 8 to 10 p.m. The play, written by David Harrower and commissioned by the Edinburgh International Festival, follows the life of a 56 year-old man named Ray who has just been released from prison. Tickets: $16. Purchase online at hacpac.org.
AUG 25
Explore the Hackensack River on an ECO-CRUISE with the Hackensack Riverkeeper. On this excursion titled the "Meadowlands Discovery," participants will visit various wetlands including the Mill Creek Marsh, Kingsland Creek and the Berry's Creek Canal. The highlight of this cruise is a trip through the Sawmill Wildlife Management Area, which is home to various shorebirds, waterfowl, herons and more. Ready to reserve your spot? Call Captain Hugh Carola at 201.968.0808 or visit hackensackriverkeeper.org.
AUG 26
Take part in a FULL MOON HIKE from 7 to 9 p.m. along the trails of the Tenafly Nature Center and reconnect with nature. Participants will be guided by TNC experts and stop for a rest at the crossroads of the Purple and Allison trail. Please bring a flashlight with you, and arrive at the TNC Visitor Center 15 minutes before the hike begins. Registration: $5 (member), $10 (non-member). For more information and to re-register, visit tenaflynaturecenter.org.
Send event listings to: BERGEN, 110 Summit Ave., Montvale, NJ 07645; or email us at editor@wainscotmedia.com. Listings must be received two months before the event and must include a phone number or website that will be published. Share events online by clicking the "Submit an Event" link below the Community Calendar at bergenmag.com.