Be There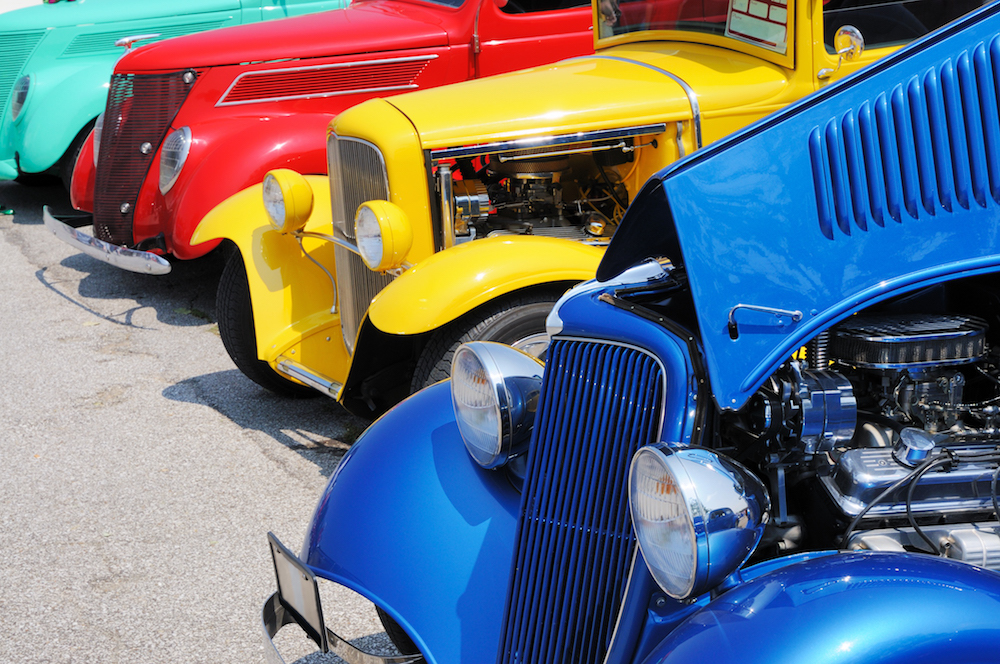 SEPT 1 Wrap up your summer with a scenic race the whole family can participate in— CLOSTER'S DOM MIRCOVICH MEMORIAL 5K RUN/WALK & KIDS FUN RUN. The event starts at Memorial Park on Harrington Avenue at 8 a.m.—awards will be given out at the end to the top finishers in various categories. Registration is $10 for kids or $20 for adults at runsignup.com.
SEPT 5 Take an afternoon to hang out with other active seniors at BERGEN'S ANNUAL SENIOR CITIZENS PICNIC at Van Saun County Park in Paramus. The festivities commence at 10 a.m. and carry on until 3 p.m., and include a craft fair, a zoo, lunch, music and entertainment. Admission is FREE. Visit co.bergen.nj.us for more information.
SEPT 6 Check out some pimped-out rides from 5 p.m. to 9 p.m. at RIDGEWOOD'S ANNUAL CAR SHOW, held on the streets of East Ridgewood Avenue. Over 400 vehicles, like muscle cars, hot rods, exotics and motorcycles, will be on display. Make sure to check out the awards show and live music too! Admission is FREE and car registration is $25. See oldride.com for more details.
SEPT 8 Sample some of the best food-truck cuisine in the county at TRUCK-TEMBER FOOD FESTIVAL at Veteran's Field in Ridgefield. For just a $5 cover charge, you'll gain access to 20 food trucks, craft beer, live entertainment, a kids' zone and raffles from 11 a.m. to 7 p.m. Visit @ridgefieldpba330 on Facebook for more details. And feel free to bring your pup along— this fest is dog-friendly.
SEPT 8 Are you an artist at heart? Display your masterpiece at EDGEWATER ARTS AND MUSIC FESTIVAL, Bergen County's largest juried art competition. The show is held at Veterans Field on River Road from 11 a.m. to 6 p.m. Artists should apply via edgewaterartsnj.org—$5,000 cash rewards will be given out in seven categories like Photography, Mixed Media, Craft and more.
SEPT 9 Continue on your artistic streak by attending the CERAMIC TILE TRAY CRAFT WORKSHOP at Mahwah Public Library. Over the course of two hours (the class kicks off at 6:30 p.m.), Sorin Lungu from Creatively Yours will teach all participants unique techniques for painting ceramic tiles, including crackle paint, specialty paints, lace, stamps and stencils. Admission: $20 non-refundable fee for supplies. Register in advance at the library's check out desk.
SEPT 11 Give back to your community in honor of those we lost on 9/11 with Paramus's 9/11 NATIONAL DAY OF SERVICE AND REMEMBRANCE volunteering event. Volunteers will help the Center for Food Action assemble snack packs for local students in need from 11 a.m. to 12 p.m. at Bergen Community College in Paramus. See cfanj.org for more details and opportunities.
SEPT 11 Back-to-school season stressing you out? Sample Ramapo College's internationally acclaimed MINDFULNESS-BASED STRESS REDUCTION course with a FREE orientation session from 7 to 9 p.m. at their Mahwah campus. The full eight-session course teaches participants mindfulness via breathing and gentle body movements and how to incorporate mindfulness practices in their everyday life. To sign up and learn more, visit tinyurl.com/KrameMBSR.
SEPT 14 Whether or not you've yet to see Rocketman, you won't want to miss PIANO MEN: A NIGHT OF BILLY JOEL AND ELTON JOHN. Tribute artist Lee Alversen will perform live hits from two of the greatest piano players of our generation at the Castle Theater in New Milford. The show starts at 7 p.m. sharp and. tickets start at just $12. Find your seats at Castletheater seatyourself.biz.
SEPT 14,15 Treat yourself to the finer things in life and raise money for some worthy causes at the first-annual BERGEN COUNTY FOOD & WINE FESTIVAL at Westfield Garden State Plaza in Paramus. This is a 2-day event for which you can purchase single day tickets or a weekend pass. Saturday's festivities are from 12 p.m. to 5 p.m. and include a burger competition, and Sunday's tastings, competitions and cooking demonstrations run from 1 p.m. to 6 p.m. Visit bergencountyfoodandwine.com for more details.
SEPT 16 Kick off football season with the NEW YORK JETS and watch them face off on their home turf against the Cleveland Browns for their second game of the 2019-2020 season. The game commences at 8:15 p.m. and tickets vary in price but start at as low as $29. For tickets, see metlifestadium.com.
SEPT 17 If you're planning a wedding in the near future (or know someone who is), get some inspiration from the pros and local vendors at the ELEGANT BRIDAL WEDDING EXPO, the top bridal show in the tri-state area. The Bergen event is being held at The Fiesta in Wood-Ridge from 7 p.m. to 9:30 p.m. Admission is FREE. See elegantbridal.com for details.
SEPT 17 If you have a child diagnosed with special needs and aren't sure where to begin, you'll learn a lot at the 90-minute SPECIAL EDUCATION 101, a bootcamp class led by retired special education teacher and lawyer Lynne D. Feldman. Feldman will tell parents what the state and federal government can offer them and their children and share helpful tips on how to navigate this confusing time. The class will run from 7:30 p.m. to 9 p.m. at her office in Saddle River. Email lynn.lawteach@ gmail.com for the address and to learn more.
SEPT 21, 22 Ring in the fall season at BERGEN COUNTY'S FALL HARVEST FESTIVAL, held at Van Saun Park in Paramus. With rides, animals, face-painting, a wide variety of food and craft vendors and live music and entertainment, there's something for everyone at this annual celebration. On Saturday, the festival will run from 10 a.m. to 6 p.m. and on Sunday, from 10 a.m. to 4 p.m. Admission is FREE, courtesy of Paramus's department of recreation. See festivalnet.com for more information.
SEPT 22 Throw it back to the '80s and see JOAN JETT & THE BLACKHEARTS live in concert at Bergen PAC in Englewood. The Rock and Roll Hall of Famer and her band will perform their hits including "Bad Reputation" and "I Love Rock n' Roll." Ticket prices vary for this 7:30 p.m. show but start out at $69. Visit bergenpac.org for tickets.
SEPT 26, 27, 28, 29 Enjoy classic carnival fun with your family at the ST. PETER THE APOSTLE CHURCH CARNIVAL, held on the church grounds on Fifth Avenue in River Edge. There will be rides, games, raffles, food, prizes and more. Sheets of tickets are $25. Check out saint-peter.org for more info on hours and to buy your tickets in advance.
SEPT 27 Treat your little ones to a festive fall night out at PUMPKIN PICKING MOVIE NIGHT at Demarest Farms in Hillsdale from 5:30 p.m. to 8 p.m. The admission price of $16 per person over the age of 2 includes the viewing of Spookley the Square Pumpkin, a hayride to the pumpkin patch, a pumpkin of your choice, petting zoos, an adventure playground and more. Head to demarestfarms.com for details.
SEPT 28 Healthcare providers and members of the community are invited to the 2nd annual BUDDIES OF NJ RESOURCE & COMMUNITY WELLNESS FAIR. Local dentists, doctors, massage therapists, social workers and more will be on hand at this FREE event held from 11 a.m. to 3 p.m. at Franklin A. Smith Resource Center in Hackensack. There will also be free health screenings including STD and HIV screenings, since the event is put on by an organization that provides support to people living with HIV and AIDS. Call 201-489-2900 for more information.
SEPT 29 Whether you're a current runner or just aspiring to be one, prove your strength and improve your stamina by participating in the FRANKLIN LAKES SCENIC HALF-MARATHON OR 5K. 5K registration is $25; the half marathon is $75. Both picturesque races start at 8 a.m. and will begin and end at the Franklin Lakes Community Center. Visit franklinlakes.org to sign up.
SEPT 29 If you missed the first two MUSIC AT THE BARN CONCERT SERIES shows this summer at the historic Wortendyke Barn Museum in Park Ridge, you'll definitely want to be there for the September one. Enjoy the musical stylings of Sharp Edge, a local Rock n 'Roll outfit, from 4 p.m. to 6:30 p.m. Admission: FREE. Head to co.bergen.nj.us for more info.