Be There
From festivals and fundraisers to concerts and competitions, there's something for everyone this month in Bergen County.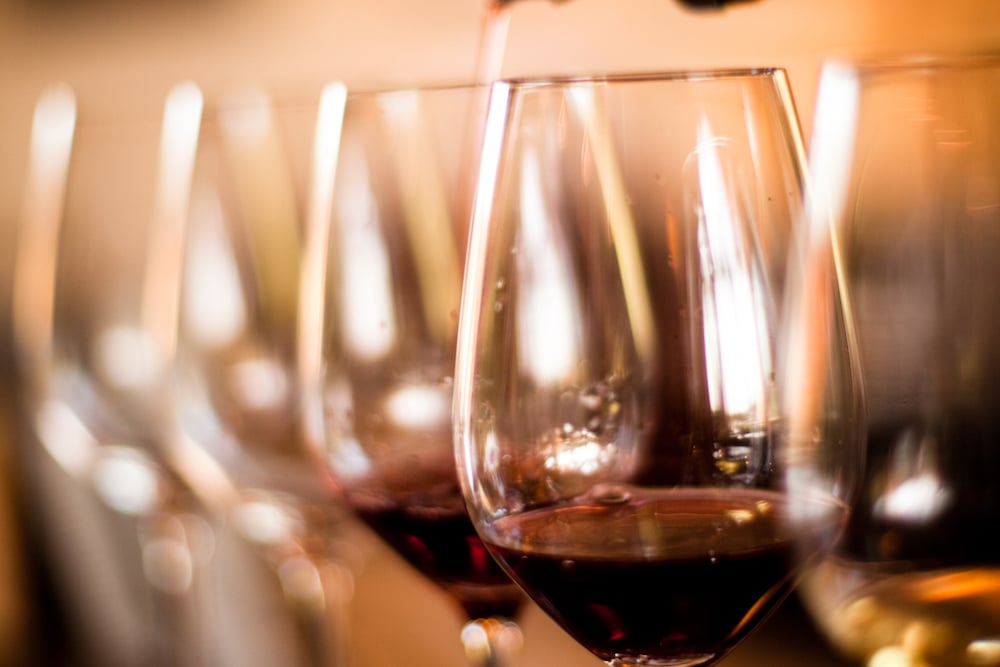 OCT 3 Join the staff and other readers of BERGEN magazine at our intimate BERGEN WINE & FOOD EXPERIENCE, held at the Edgewood Country Club in River Vale. During this three-hour event (the festivities begin at 6 p.m.), we'll be celebrating (and sampling) all the best food, spirits and craft beers from the county's top chefs and restaurants. Bergen Wine & Food Experience also will be educational, providing participants an opportunity to learn about wine and fine dining, as well as demonstrations. General admission is $65 while at-the-door admission is $75. You must be 21+ to enter. Get your tickets at bergenmag.com.
OCT 4 Come to The Old Stone Music & Coffee House in Franklin Lakes for drinks, live music, dessert and good times. The Crosby, Stills & Nash-esque rockband TIMEPEACE will be performing classic songs from the '60s to the '80s live on stage. Doors open at 7:30 p.m., and there is a cover charge of $10 per person. Check out theoldstone.net for more info.
OCT 4–5 A famous Chucky actor is coming to our hood—just in time for the spookiest season of the year. Join Alex Vincent of Child's Play at opening weekend of the 2019 HAUNTED ORCHARDS AT DEMAREST FARMS in Hillsdale. On both days from 6-10 p.m., take a haunted hayride into the orchard and find ghouls and creatures lurking at every turn. A meet-and-greet with Vincent and your choice of an autograph or photograph is included in the $25 online ticket price ($30 at the door). Go to hauntedorchardsfarm.com to buy yours.
OCT 5 Runners of all ages and experience levels are welcome at the NORWOOD FAST & FLAT 5K. The course is flat (but the run is fast, hence its name) with stretching stations and water stops at miles 2 and 3. Check-in starts at 8 a.m.; the race starts at 9:30 a.m. Following the race will be a kids fun run (one lap around Kennedy Field) and an awards ceremony. Standard registration is $25 while registration on site will be $35. Proceeds will go toward Norwood Fire Department, Norwood Emergency Medical Services, Norwood Library, Triple Negative Breast Cancer Foundation and other charities. Sign up at runsignup.com.
OCT 6 Give back to a good cause and get some exercise at the American Heart Association's BERGEN-PASSAIC HEART WALK. The walk, which is 3 miles through the Express Scripts' campus in Franklin Lakes, aims to help save the lives of those with heart disease. Registration opens at 9 a.m., and the walk will begin at 10:15 a.m. The event is open to all ages and FREE. Visit www2.heart.org to form a team or to make a donation.
OCT 11 You'll get a little bit of everything with a ticket into the 26th annual SAINT THOMAS LYNDHURST TRICKY TRAY at The San Carlo in Lyndhurst. From 6:30-10:30 p.m., there will be a four-course, sit-down dinner, a cash bar, as well as raffles and prizes that include everything from designer bags to an Apple watch. Entry is $50 per person, and admission price comes with one sheet of level one raffle tickets. Sign up at eventbrite.com.
OCT 12 Known for their catchy doo-wop style, THE DUPREES are back by popular demand for another performance at Bergen Community College in Paramus. The group will be performing its hit songs including "You Belong to Me," "Have You Heard" and "Why Don't You Believe Me" at Anna Maria Ciccone Theatre at 7:30 p.m. Tickets cost $45 and can be purchased at tickets.bergen.edu.
OCT 12 Is it even October if you don't celebrate Oktoberfest? Of course not, so stop on by THE CRAFT SHOW AT OKTOBERFEST at the Demarest Duck Pond for a day of fun. More than 75 vendors will be selling their handmade crafts. There will also be German food, music and craft beer to add to the authentic festival feel. Visitors can take a ride around the duck pond for a picturesque view of the area. All proceeds go to the Demarest Nature Center. Check out demarestnaturecenter.org/oktoberfest for pricing and more details.
OCT 17 If you are interested in learning more about natural medicinal products and how to make them, the HOLISTIC MOMS NETWORK OF BERGEN COUNTY is hosting an interactive meeting on elderberry syrup and gummies. Located at the Fair Lawn library on Level D, the event aims to teach participants about the benefit of medicinal elderberry products and guide them on how to make their own syrup and gummies. The event is two hours long beginning at 10:15 a.m. Registration is FREE of charge at the library's front desk.
OCT 20 The American Foundation for Suicide Prevention (AFSP) continues to pursue its goal of lowering the rate of suicide to 20 percent by 2025 with their OUT OF THE DARKNESS BERGEN COUNTY WALK. The event at Saddle River County Park in Saddle Brook includes pre-walk activities beginning a 10 a.m. including individual buttons and honor beads for those who have lost loved ones to suicide or are struggling themselves. All proceeds go toward AFSP to invest in new research and support survivors of suicide loss. For information about pricing, contact saddlebrookwalk@gmail.com.
OCT 23 Indulge in a variety of cuisines and spirits at The Community Chest's first FALL FEST. Enjoy catering from local restaurants and businesses at the event, which takes place from 6:30–9:30 p.m. at Englewood Field Club. Tickets for ages 21-30 are $40 and $100 for general admission: All funds raised go toward local agencies that help people in need. Visit eventbrite.com and search "fall fest for community chest" to buy your tickets.
OCT 23 Celebrate the 150th anniversary of Little Women close to home at the LOUISA MAY ALCOTT event at Mahwah Public Library. Irene Curran, a retired teacher from Monroe Township, will speak about Louisa May Alcott as an author, woman and trailblazer as it pertains to her most famous work. The event begins at 7 p.m. and is FREE, and seats are on a first-come, first-served basis. Go to mahwahlibrary.org for more.
OCT 25 If you're watching Hocus Pocus on repeat this time of year, then you'll want to watch it with one of the Sanderson sisters herself. KATHY NAJIMY will be at BergenPac in Englewood for a live discussion and Q&A before a screening of the classic Halloween film in which she stars. And you'll want to dress to impress, as Mary Sanderson herself will judge a costume contest. Doors open at 7:30 p.m., and tickets range in price from $29 to $99 (for VIP) at bergenpac.org.
OCT 27 Spend an October afternoon showing your support for those who've been affected by breast cancer at Englewood Health's 2019 WALK FOR AWARENESS held at the Englewood Field Club. Registration and activities begin at 11 a.m., followed by a 12:30 warmup and the walk at 1 p.m. WABC journalist Nina Pineda is the honorary chair and will be in attendance. Go to englewoodhospitalfoundation.org to learn more and to sign up and/or donate.
OCT 31 If you're looking for a way to occupy your toddler on Halloween, bring him or her to the BOO-TASTIC STORYTIME AND PARADE at the Glen Rock Public Library from 10-11 a.m. Dress your little one in costume for a spooktacular story, followed by a fun community parade. Recommended for walking toddlers up until age 5. Find out more at glenrocklibrary.org.