Be There
You'll end 2018 on a high note with these concerts, dinners, holiday celebrations and more happening right here in Bergen County.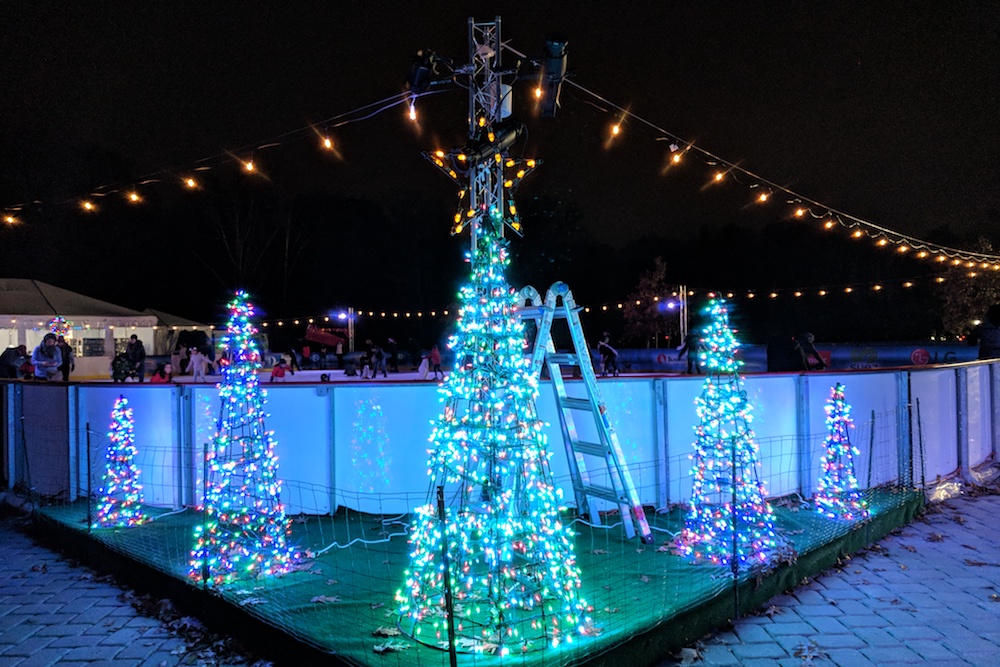 DEC 1 Ring in the holiday season at TICE'S CORNER HOLIDAY FESTIVAL in Woodcliff Lake. From 6-8 p.m., enjoy warm refreshments, carolers, a visit with Santa and a special lighting of both a tree and a menorah. Tickets: FREE. Get additional information at ticescorner.com.
DEC 1 Italian-Argentinian restaurant Campanello Trattoria in Franklin Lakes is hosting a family friendly LUNCH WITH SANTA from 12–2 p.m. After you're done with the meal, get some shopping done at their holiday boutique stocked with unique gifts. Tickets: $15 minimum food purchase required. Visit campanellotrattoria.com for more.
DEC 1–DEC 22 Make a date with Santa every Saturday in December at the annual SANTA IN THE PARK event at Memorial Park at Van Neste Square in Ridgewood. From 12–3 p.m., visit and take photos with Jolly Old Saint Nick and indulge in some Ben & Jerry's hot chocolate. Tickets: FREE. Learn more at ridgewoodchamber.com.
DEC 1–JAN 1 The biggest winter event in Bergen County returns for another year of fun at the WINTER WONDERLAND at Van Saun Park in Paramus. The festivities include iceskating, unlimited carousel and train rides, zoo events, food trucks, visits from Santa and tons more. There will also be an indoor/outdoor beer garden for adults. Tickets: $14 online or $15 at the venue. Children 3 and under are free. Go to bergencountywinterwonderland.com for the complete schedule of events.
DEC 3 Learn where the tradition of Winter Solstice began and enjoy some celebratory treats at Mahwah Public Library's event with CHEF WENDY GORDON AND PROFESSOR SHERRILL WILSON from 6:30–8:30 p.m. Attendees also will make a globe ornament craft. Tickets: FREE, but guests must register in advance. Do so by calling 201.529.7323 or by visiting the library's registration desk.
DEC 4 Put your best career foot forward in 2019 with Supporting Strategies' BUSINESS FUNDAMENTALS BOOTCAMP event at the Holiday Inn in Hasbrouck Heights. Experts in the fields of marketing, finance, law and human resources will discuss how to grow your business, plus you can network with the panelists and other industry leaders throughout the day (12:45–5:30 p.m.). Tickets: $60. Get the scoop at supportingstrategies.com.
DEC 6–9 Your whole family will enjoy the Wyckoff YMCA theater's production of A CHRISTMAS CAROL. Kids and adults in the company tell the classic tale of Ebenezer Scrooge from 7-10 p.m. Tickets: $20 for adults, $12 for kids 12 and under. Learn more and find out showtimes at wyckoffymca.org/events.
DEC 7–9 Is it even December without seeing The Nutcracker? Julie Dance of Midland Park is putting on its annual production of the holiday favorite THE NUTCRACKER at Paramus Catholic High School with the Donetsk Ballet troupe from Ukraine, the award-winning Adelphi Orchestra and ballet students from Miss Patti's School of Dance. Tickets: $40-45, and proceeds benefit pediatric cancer research. Go to juliedance.org for showtimes and more info.
DEC 7 KENNY G'S THE MIRACLES HOLIDAY AND HITS TOUR is making its way to bergenPAC in Englewood at 8 p.m. The Grammy winner will play some of his greatest hits from his three decades-long career as well as put a jazzy twist on some holiday favorites. Tickets start at $64. Learn more at bergenpac.org.
DEC 8 This isn't your typical holiday craft fair. The MOM-PRUH-NUR VENDOR EVENT, run by the PTO at Brookside Elementary School in Westwood, allows entrepreneurial parents to showcase their products and network with other local moms and dads. Browse the goodies from 10 a.m.–4 p.m. More than 80 different vendors are expected. Get more info by emailing mompruhnurcarrie@gmail.com.
DEC 8 & 16 Impress your guests by making some holiday-themed macarons at a hands-on BAKING CLASS taught by a pastry chef at Dana's Bakery in South Hackensack. In the 2.5 hour session from 11 a.m.–1:30 p.m., you'll prepare and bake three dozen macarons and learn some recipes to use at home. The first class's theme is gingerbread, followed by Christmas/Hanukkah. Tickets: $100 per person. Danasbakery.com has all the details.
DEC 10 Need gift ideas for the ladies in your life? Amy Kanarek of Amy Kanarek Designs will lead a hands-on MAKING EARRINGS WORKSHOP at the Mahwah Public Library, where participants will create a pair of beaded earrings in the color of their choice from 6:30-8:30 p.m. Tickets: $5. Adults only. Register in advance by calling 201.529.7323 or visiting the registration desk.
DEC 14 & 29 Solve a hilarious crime and enjoy a four-course meal while you're at it with THE DINNER DETECTIVE MURDER MYSTERY SHOW from 6–9 p.m. at DoubleTree by Hilton in Fort Lee. The "killer" is hiding somewhere in the audience…could it be you? Tickets: $67.95. Adults only. Purchase your tickets at thedinnerdetective.com/fort-lee.
DEC 21 You could use some relaxation on the longest day of the year. Learn reflection exercises that will energize you and clear your mind at the WINTER SOLSTICE DREAMTIME guided meditation class from 7–9 p.m. Tickets: $35 and up, which includes the price of crystals. Email the instructor at lois@loiskramerperez.com for more information; exact location is shared upon registration.