Beauty for Sale
Want to look younger? Correct that flaw? Consider these nonsurgical cosmetic treatments.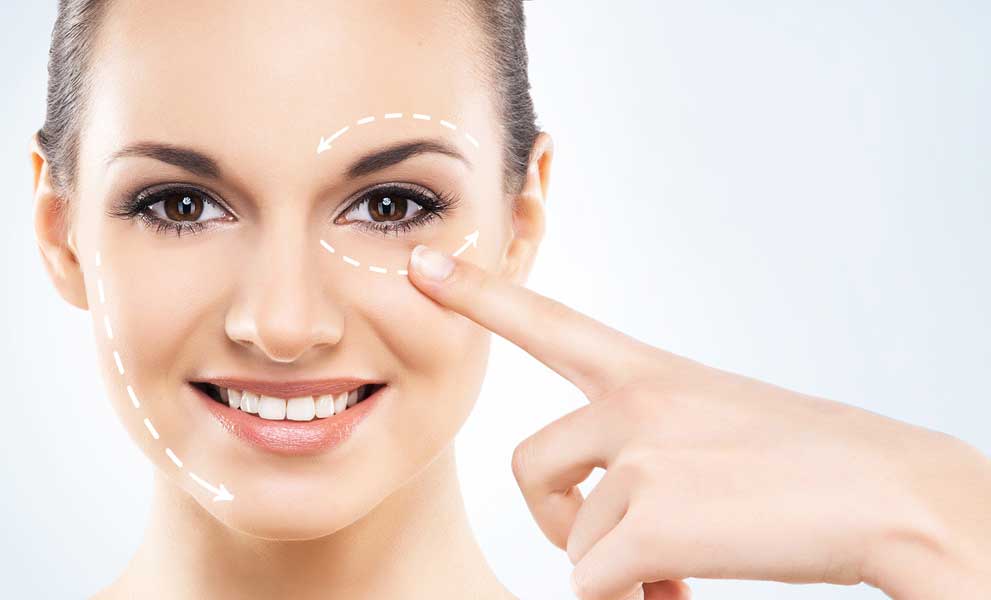 These days, plastic surgeons don't always do surgery. A host of cosmetic procedures that don't involve the scalpel promise to banish wrinkles, veins and scars; tighten sagging skin; give you fuller lips; and even help contour your abdomen and thighs.
For some time, nonsurgical injections of muscle paralysis agents (such as Botox, or botulinum toxin) to relax the muscles that create wrinkles, and of dermatologic fillers (such as Juvéderm) to soften wrinkles by enhancing facial volume, have helped many people improve their looks. As technology has advanced, new procedures and products have become available.
What improvement are you looking for? Check the six kinds listed. For each, there's at least one cosmetic procedure offered in Bergen County that practitioners call cutting-edge. Weigh the potential benefits against the cost and any needed recovery time. And remember that in some cases benefits are only temporary, so the procedure must be repeated.
1. Plump up skin and erase lines
SILK or VOLUMA XC
What they're used for: These injectable products, introduced just this year, reduce the appearance of lines and wrinkles around the mouth and increase the youthful fullness of lips and cheeks.
How it's done: The fillers have a base of hyaluronic acid, a substance that occurs naturally in the body but can also be made in a laboratory. "Silk, from the Restylane family, is a thin, soft filler designed for the fine surface lines in the lower cheeks, the temples, below the lower eyelids and in the body of the lips for softer fullness," explains plastic surgeon Scott A. Spiro, M.D., of Spiro Plastic Surgery in West Orange. "A second new option, Voluma XC from Juvéderm, fills a niche at the other end of the spectrum. It's a thicker product that can help add fullness and subtle lifting to the cheeks."
Time: 15–30 minutes in the office.
Pain: "We pretreat patients with topical numbing cream, so there's very little immediate discomfort and none later," says Dr. Spiro.
Recovery: Treated areas may experience a week of minor swelling, bruising and tenderness.
Cost: Varies widely.
Tip: The effects of a Silk treatment may last from six to 18 months, while Voluma XC's benefits are expected to last a year or longer. "These are opportunities for me to use artistry in shaping a face right here in my office," says Dr. Spiro.
2. Get rid of dark circles and puffiness
PLATELET-RICH PLASMA
What it's used for: Treating fine lines, dark circles and puffiness under the eyes, and other areas of different pigmentation of the skin.
How it's done: This procedure is safe, but can sound a bit scary at first. A tube containing a sample of your blood is spun in a sterile centrifuge to separate the plasma. The platelet-rich plasma is then spread on the skin, and a microneedling procedure is used to cause minuscule skin punctures, needling the plasma back in. PRP thus stimulates your own collagen to grow for total facial rejuvenation.
Time: About an hour.
Pain: None, thanks to topical cream applied to your face beforehand.
Recovery: "There is no recovery time," says plastic surgeon John T. Cozzone, M.D., of Art Plastic Surgery in Paramus. "But there will be some redness on the skin into the next day."
Cost: One treatment, about $750.
Tips: Five to six treatments are recommended, a month apart, to maintain the skin's pristine condition. In a new application, PRP is starting to be used to treat patients' hair-loss problems—the plasma is injected into the scalp. This approach promises to help people with alopecia or thinning hair, even in the eyebrows.
3. Banish wrinkles and scars
HALO HYBRID FRACTIONAL LASER
What it's used for: To improve skin texture, repair sun damage and liver or age spots, remove fine lines and wrinkles and reduce pore size.
How it's done: Laser treatments can be either "ablative" or "non-ablative" depending on the laser's wavelength. With ablative treatments, a light beam aimed at the skin destroys its outer layer (epidermis), prompting the development of a new skin surface that is smoother and tighter. With the non-ablative option, the epidermis is not destroyed, but collagen underneath the skin is damaged, triggering the growth of new collagen, tightening skin and enhancing its appearance. Plastic surgeon Paul M. Parker, M.D., of The Parker Center in Paramus, says the Halo Hybrid Fractional Laser treatment uses a combination of wavelengths.
Time: "The treatment takes about 25 minutes, but patients need to be at the office an hour before to have numbing cream applied to the face," says Dr. Parker.
Pain: For an hour after the Halo treatment, you may experience a sunburnt feeling on the face.
Recovery: You should take it easy the day of your treatment, but can resume daily activities the next day.
Cost: Three categories are based on the aggressiveness of the laser. The most popular is $1,000; there are also options at $900 (nonablative only) and $1,700.
Tip: "After the Halo treatment, maintain your skin's condition by using a sunscreen with a high SPF [sun protection factor] to guard it from the sun," says Dr. Parker.
ALMA PIXEL CO2 FRACTIONAL LASER
What it's used for: To eliminate scars or make them less noticeable and to treat deep wrinkles, age spots and severe sun damage.
How it's done: Laser resurfacing is an established skin treatment; this "new wrinkle" breaks the laser beam into tiny beamlets, which penetrate to the skin's deeper layers, stimulating the body's natural collagen-making process. The ablative laser can resurface scars by causing regeneration of the injured tissue and blending it with other tissue to create an even complexion.
Time: Treatment takes 20 minutes, but patients come in earlier to have numbing cream applied to the face.
Pain: None, because of the cream.
Recovery: Downtime after the procedure is five to seven days. "You will be red for two to three weeks," says plastic surgeon Luis A. Zapiach, M.D., of Art Plastic Surgery in Paramus.
Cost: From $800 to $5,000, depending on the area of treatment.
Tip: Although similar treatments may require a skin test in advance, only a list of allergies is needed with CO2 fractional laser resurfacing, according to Dr. Zapiach.
4. Stop that sag
THERMITIGHT
What it's used for: Relieves sagging skin on the face, neck, abdomen and thighs.
How it's done: It delivers thermal energy under the skin to reverse the pouchy effects of aging on the skin's surface. "ThermiTight is for people who want more results than a noninvasive treatment but do not want surgery," says H. William Song, M.D., of Omni Aesthetics in Oakland. A tiny probe is inserted under the skin, and radiofrequency energy is applied directly to the tissues, causing immediate shrinkage.
Time: Less than an hour.
Pain: None, due to a numbing solution injected under the skin.
Recovery: Swelling or redness may last a few days, but you can resume normal activities the day after the procedure.
Cost: A one-time treatment, $3,000.
Tip: "It does take a couple of months to see the results, but they will last for years," says Dr. Song.
ULTHERAPY
What it's used for: Relieves sagging skin of the brow, chin, neck and décolletage.
How it's done: It uses a focused ultrasound; delivered via a handpiece that moves slowly over the treatment area, the sound waves stimulate the body's production of collagen and thus tighten and lift the skin.
Time: About two hours.
Pain: There is minimal discomfort— "a bit of a burning sensation," says Dr. Song. Patients are given an anti-inflammatory medication such as Advil or Motrin beforehand.
Recovery: There is no downtime, but there may be some swelling.
Cost: Starts at $2,500.
Tip: It can take up to six months to see the final results.
5. improve your body's shape
COOLSCULPTING
What it's used for: Body contouring for the abdomen, hips and thighs.
How it's done: This new device safely freezes fat cells underneath the skin so that they die and are sloughed off by the body. It was created a few years ago by dermatologists at Massachusetts General Hospital in Boston, who discovered that under controlled conditions, subcutaneous fat cells are more vulnerable to cold than other kinds of cells. You'll notice results in one to three months, and a two- to three-centimeter reduction at the waistline can be expected. Two treatments are recommended.
Time: About an hour.
Pain: None.
Recovery: None. You can resume daily activities right after the procedure. "You may feel sore and a bit numb for a couple of weeks afterward, as if you had been exercising every day," says plastic surgeon Jordan P. Farkas, M.D., of The Breslow Center in Paramus.
Cost: Treatments start at $750.
Tip: Not everyone is a candidate for CoolSculpting. "It's not meant to be a weight-loss tool and will not be very effective on someone who is overweight," says Dr. Farkas. "The men and women who choose this treatment should be within 5–15 pounds of their ideal body weight."
6. Eliminate unsightly veins
SCLEROTHERAPY
What it's used for: To remove varicose veins and spider veins.
How it's done: A chemical solution is injected directly into the veins through fine needles. This causes the veins to corrode from the inside so that blood is rerouted through other veins. Nearby tissue absorbs the remnants of the veins.
Time: 15 minutes to an hour, depending on the veins treated.
Pain: Very minimal.
Recovery: There is no downtime.
Cost: Treatments start at $250.
Tip: The not-so-good news? Spider veins may reappear elsewhere. "They can act like roots on a tree, causing another visible vein to come up near or adjacent to the area where one was recently removed," says Dr. Farkas.
Reporting by Danielle Cookson