Beer Gets Crafty
The big brands aren't all this beverage can be, and microbrews will prove it to your palate.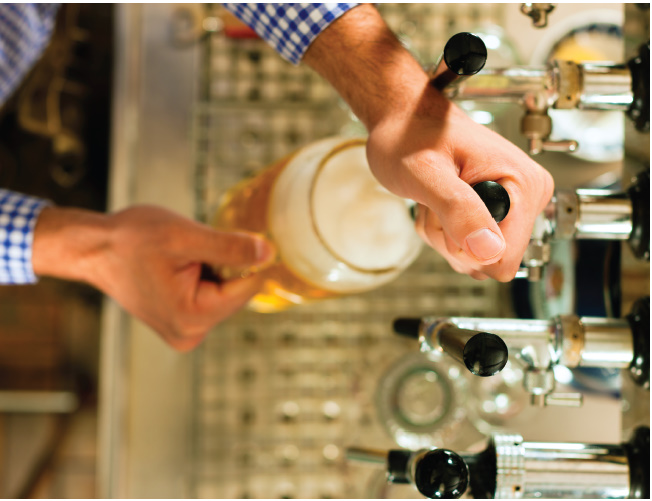 Econ 101 pop quiz:
If most industries are consolidating into a few dominant players, and 45 U.S. breweries produced beer in 1978, how many do so today?
The surprising correct answer—about 1,600—suggests that something special is going on in the world of beer, and it is. The craft beer or "microbrewery" movement is producing a beer renaissance—a proliferation of new brews by small local producers that make up in big taste what they lack in big numbers. Retail liquor shops that have long stocked an array of domestic and international wines are making room on their shelves for a vibrant new collection of artisanal beers. And aficionados of these brews argue that they—and not those giant national brands you see advertised during football games—are the real deal.
They explain that beer is basically water, some type of grain, yeast and hops. Craft beers, like the European ales of old, use barley as the grain of choice, while many of today's mega-brewers substitute rice, corn or other ingredients. Result: Money saved, but flavor lost.
Craft breweries often age beer prior to bottling and selling. Their small scale allows them to alter beer's basic formula with imagination rather than cost calculation. Their use of higher-quality ingredients and their ingenious addition of novel elements such as fruit, unusual hops, cacao, herbs and even vegetables allow microbreweries to branch out and create new flavor profiles, providing more tasty variety for the casual quaffer.
Of course, craft beer is nothing new to the Trappist monks of Belgium. Since the Middle Ages they've been concocting their own brews—"dubbels," "tripels" or "quadrupels" depending on alcohol content, which can run as high as 12 percent. Microbreweries abound also in the United Kingdom (where the term is said to have originated in the 1970s) and in Germany. But American versions of many flavorful European "real" beers have been embraced by consumers, and the U.S. has recently won respect as a beer innovator in its own right.
"The U.S. has become the center of the beer world, and even Europe is looking into the beer culture here," says Gene Muller, the president of New Jersey's largest brewery, Flying Fish in Cherry Hill. And he believes the competition small beers are giving the national brands today makes eminent sense. After all, he says, "if you want the most interesting cheese, you won't buy Kraft Singles."
Just as the U.S. hasn't always dominated the beer world, so has New Jersey been something less than America's brewski mecca. But that may be starting to change. Some 31,000 barrels were brewed in the state last year, and breweries such as Flying Fish (flyingfish.com) and Lambertville's River Horse (riverhorse.com) are making connoisseurs sit up and take notice.
Given my own weakness for Belgian-inspired ales, it's no surprise that one of my favorites is Tripel Horse Belgian Style from River Horse. It packs a powerful 10 percent alcohol by volume, but you'd never know it, and it's both refreshing and extremely flavorful. Another Garden State venture is the Exit Series by Flying Fish, which honors New Jersey's iconic turnpike by naming special reserve beers after different exits. (See exitseries.com for details.) Finally, Cricket Hill, a smaller brewery in Fairfield, boasts an array of craft beers and an owner/president—Rick Reed—who doubles as an evangelist of craft beers. (Check out crickethillbrewery. com for Reed's amusingly infuriated rant on mainstream beer commercials and the watery thinking they represent.)
"Good beer is simply five ingredients: barley, malt, hops, yeast—and passion," says Reed. "The big boys leave out the passion."
New Jersey's top microbreweries:
Flying Fish Brewing Company
1940 Olney Ave.
Cherry Hill
856.489.0061
flyingfish.com
River Horse Brewing Company
80 Lambert Ln.
Lamber tville
609.397.7776
riverhorse.com
High Point Brewing Company
22 Park Pl.
Butler
973.838.7400
ramsteinbeer.com
Cricket Hill Brewing Company
24 Kulik Rd.
Fair field
973.276.9415
crickethillbrewery.com
Triumph Brewing Company
138 Nassau St.
Princeton
609.924.7855
triumphbrewing.com
---
Related Read: No-Guilt Cocktails