Before & after
With family in mind, local designers transform too-bland living spaces into chic, inviting havens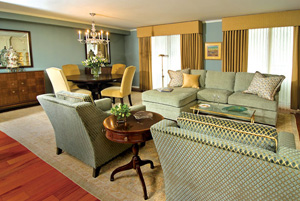 Great Room, Edgewater
BEFORE
Yes, there was the overstuffed, unsightly bookcase. And the dining table stacked high with papers. But the real problem plaguing this Edgewater great room was its lack of focus: "The living and dining areas were both in one room-two individual spaces that really did not relate to each other," says designer Maureen Fiori of Maureen Fiori LLC in Franklin Lakes.
And while elegance was a priority, the couple- anticipating future grandchildren and visits by the "granddog"-also wanted the room to be child- and pet- friendly, all while housing their prized chinaware and pieces of Swarovski crystal.
To make it all happen, Fiori teamed up with designer and organizational specialist Debra Young of Debra Young Designs in Cliffside Park. Together, the pair embarked on what Fiori terms "a complete do-over."
AFTER
The first step in achieving the harmony Fiori sought was finding storage for all the sundry books, papers, plates and crystal that had been cluttering up the space. The solution was threefold. First came a custom floor-to-ceil- ing built-in wall unit, designed with input from Fiori, Young and pros from Ulrich Inc. of Ridgewood, who crafted the piece. The finished product functions as an entertainment center, storage space, filing cabinet and display area.
An added bonus: "This piece adds a lot of architectural detail, of which there was very little in the room," says Fiori. A pair of elegant walnut and bronze Baker chests, meanwhile, house the couple's china.
Fiori then unified the room by covering the floor with a single Sultanabad rug and choosing multifunc- tional pieces that could be used in both the dining and living areas-the dining chairs by Jessica Charles, for instance, can serve as extra seating in the living room, while a desk by Hickory Chair can augment the Ethan Allen dining table to accommodate larger gatherings.
In the living room, a Kravet couch and Dapha chairs reflect the homeowners' appreciation of classic pieces. And the whole space has been designed to withstand jubilant family get-togethers: "The fabrics and furnishings are extremely durable, and we had everything treated for additional stain-resistance."
Music Room, Old Tappan
BEFORE
Although their 9,000-square-foot Old Tappan home was newly built, the owners were less than happy with its less-than-memorable style. "We began with basically a blank slate," says Englewood-based designer Maureen McMahon of Interiors, Designs by Maureen McMahon of the empty space she would transform into a sumptuous salon/music room. A built-in Ubatuba granite- topped bar proved to be neither functional nor attractive, while a plain mirror seemed to serve no purpose in its perch above the fireplace. "It didn't reflect anything!" says McMahon.
Her goal was to set the tone of "luxurious but not overwhelming" that the owners sought throughout the first floor. "This is one of the first rooms you see upon entering the home, and they wanted it to have a striking, elegant appearance," says McMahon. Another requirement: "They did not want neutrals-this is a couple who really appreciates color."
AFTER
Working closely with the homeowners, McMahon revamped the drab space into a salon in a style she calls "soft contemporary." A palette of golds and reds-inspired by artwork previously owned by the family-gives the room a luxe- yet-livable atmosphere. Striped silk window treatments by Duralee subtly echo the wall's faux-painted horizontal stripes, while a striking Oriental carpet by Saxony provides a pop of color underfoot.
"The wife really wanted the carpet, fabric and walls to be the statement pieces in the room- besides the piano," McMahon notes.
About that instrument: McMahon chose a Yamaha baby grand both for its grand visual statement and its functionality. "I told the couple, 'The piano won't just be a piece of furniture that looks lovely-you have children who can learn to play it.'" She was proved right: two of the couple's three children are now taking lessons.
Custom-built black lacquer cubes repeat the piano's sleek style, while a variety of silk Arté fabrics have transformed the homeowners' existing sofa and chair. Table lamps by Arteriors and glass sconces by Hempstead softly light the space.