Bergen Buzz
April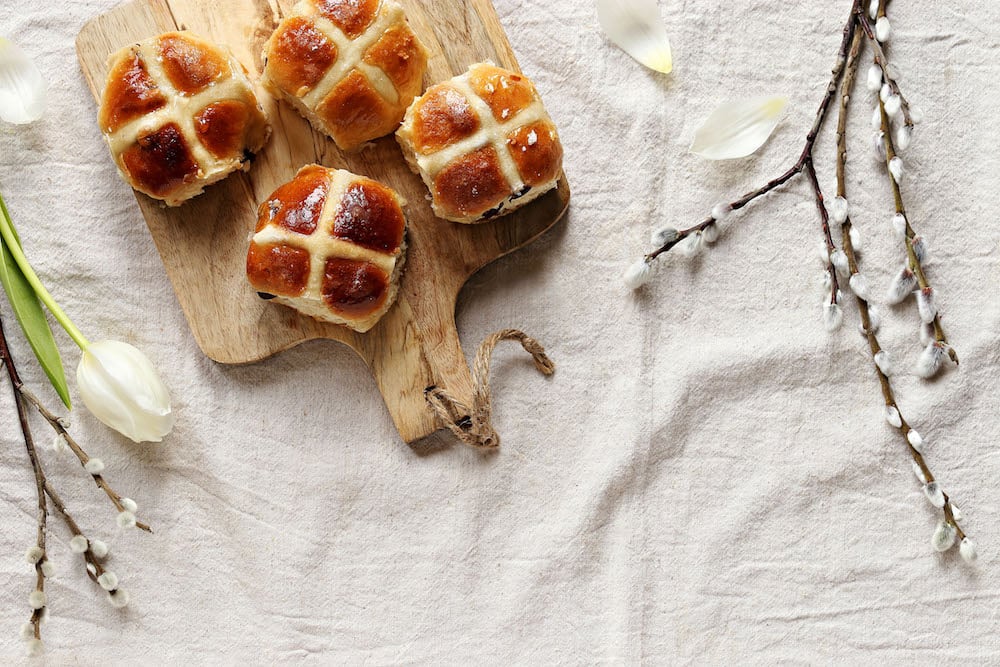 EASTER EATS
Along with going to church and hunting for eggs, you're going to need to chow down on Easter. If you'd rather spend that Sunday, April 21, visiting with the family than slaving away in the kitchen, have your holiday brunch at one of these Bergen spots, which kept popping up as favorites in our unscientific research. Just make your reservations ASAP—these popular places book up fast!
Ho-Ho-Kus Inn, Ho-Ho-Kus
An omelette station, waffles, fresh pastries, fruit and tons more yumminess await at this longtime fave's Easter brunch. You can book a reservation for one of three seating times for extra convenience.
Ho-Ho-Kus Inn, 1 E. Franklin Tpke., Ho-Ho-Kus, 201.445.4115
The Shannon Rose, Ramsey
The pub's Easter brunch has a carving station and a mix of traditional Easter foods such as omelettes, plus Irish favorites like shepherd's pie and mashed potatoes. And there's plenty for the kiddos to eat at the "kids' knee-high buffet" and to do, with an egg hunt around the restaurant and a photo op with the Easter bunny.
The Shannon Rose, 1200 Rte. 17, Ramsey, 201.962.7602
The Cornerstone, Hillsdale
The family certainly won't go hungry at The Cornerstone—it's serving its usual Sunday brunch with a few extra dishes, plus carving, omelette and pancake stations, salads, pastries, desserts and—perhaps the best part of all—the chocolate fondue fountain.
The Cornerstone, 84 Broadway, Hillsdale, 201.666.8688.
Madeleine's Petit Paris, Northvale
This French bistro's Easter buffet has a little something for everyone—such as cold salads, eggs, waffles, duck, chicken and pasta dishes—depending on the time of your reservation. There are six seatings throughout the day, in case you and your crew would prefer dinner instead of lunch.
Madeleine Petite Paris, 416 Tappan Rd., Northvale, 201.767.0063
Biagio's & The Terrace, Paramus
You'll eat like a king if you hit up Biagio's on Easter, with its carving station, sweets table, cold antipastos, Italian dishes and breakfast classics like eggs and French toast.
Biagio's & The Terrace, 299 Paramus Rd., Paramus, 201.652.0201
Easter brunch runners-up:
Bibi'z, Westwood
Sanzari's New Bridge Inn, New Milford
Stony Hill Inn, Hackensack
Twin Door Tavern, Maywood
Blue Moon Mexican Café, multiple locations
DID YOU KNOW? About ten percent of New Jersey's total population is of Irish descent, according to Census' American Community Survey. In Bergen County, Ridgewood has the largest Irish community and Waldwick is the most Irish town, by percentage.
GOOD DOG NEWS, BAD DOG NEWS
Now is a great—and also a weird— time to be a pet owner in Bergen County. Good news first—many municipalities' police departments, including Englewood's and Woodcliff Lake's, have added oxygen masks for pets to their rescue kits. These masks come in three sizes and are specifically created to fit over an animal's snout to help resuscitate him or her in a fire or other emergency. First responders in Allendale, Carlstadt, Fair Lawn, Hackensack, Mahwah and Rutherford are equipped with these lifesaving kits too. Good to know our furry friends are in such good hands!
Also, if you're headed out of town and your pet needs a place to stay, there will soon be two more options. K9 Resorts Daycare and Luxury Hotel, a Fanwood-based five-star resort catering to man's best friend, is planning to open two Bergen County locations over the next few months. The specific towns and timeline haven't yet been revealed, but is it ever too soon to get excited for a vacation, doggy or otherwise?
And now for the bad news. Dog owners in Saddle River could be fined or even jailed if Fido just won't stop barking. An amended town ordinance says you can't let your dog bark, howl or yelp for more than 20 minutes between 7 a.m. and 10 p.m. And the rules get stricter at night, when the limit comes down to 15 minutes. Violators are subject to a fine of up to $1,000, up to 90 days of community service or jail for up to 90 days. Would a judge really send a human to the slammer for his or her misbehaving pup? We don't want to be the ones to find out.
HAPPY PASSOVER, HAPPY SHOPPING
At Passover seders, matzah is eaten instead of bread to honor the fact that the Jews left Egypt so hastily that there was no time for their dough to rise. That's why those who observe the holiday must shun not just bread but anything containing yeast or wheat, or, if they're really observant, corn syrup and the like. Luckily, kosher only local supermarkets are stocked with foods specific to the holiday. "I only shop at Grand & Essex for Passover," says Ariana Dalezman of Teaneck. "It's clean, their food is delicious, and if there are any issues they get back to you right away to make it right. The prices aren't much cheaper than at other stores but they are one-stop shopping." From matzah and meat to cake and cookies, these stores below are all one-stop Passover shopping without the hassle:
Cedar Market, 646 Cedar Ln., Teaneck, 201.855.8500
Emanuel Delicatessen, 52 W. Railroad Ave., Tenafly, 201.266.8666
Food Showcase, 24–28 Fair Lawn Ave., Fair Lawn, 201.475.0077
Glatt Express, 1400 Queen Anne Rd., Teaneck, 201.837.8110
Grand & Essex, 89 New Bridge Rd., Bergenfield, 201.244.9955
Harold's Kosher Market, 67 E. Ridgewood Ave., Paramus,201.262.0030
A+ FOR CRESSKILL
Hey, parents. Want to know what New Jersey thinks of your kid's public school? The Department of Education has released its official School Performance Reports for the 2017-2018 academic year, bestowing a numerical grade between 1 and 100 on each public school in the state. The assessments are based on factors like graduation rate, standardized test scores and overall achievement, and Edward H. Bryan School, an elementary school in Cresskill, received the highest score with a 97.5. Go to njspotlight.com/tables/repcard1718/ to see how each of the schools in your district fared, but don't fret if you're not pleased with the numbers—there's certainly more to a great education than these reports can account for.
DONUT GET TOO EXCITED, BUT…
Donut shops certainly aren't lacking here in Bergen, but can you believe we don't have a Krispy Kreme? We will soon though, as the mayor of East Rutherford confirmed the company will be opening a new outpost in a shopping complex located on Route 17 South. This will only be the third Krispy Kreme location in New Jersey which, frankly, is an abomination. And oh yeah, for added convenience, the East Rutherford store will have a drive-through window. Diet starts tomorrow…
ORANGE YOU GLAD YOU FOUND THIS NEW WORKOUT?
Here's a fitness craze that's HIITting Bergen County. OrangeTheory Fitness, a gym franchise featuring high-intensity interval training (HIIT) group workouts that blend strength training with cardio, opened a new studio in Montvale in December and has plans to expand to Ramsey and Paramus by the end of 2019. And the one-hour workout, which monitors participants' heart rate throughout, is catching on with men and women of all ages and fitness levels. "I started at the Montvale location when they opened and I am obsessed," says Keegan Dowling of Montvale. "I am burning more calories than I ever have, and you can go at your own pace. I'm pregnant and still doing the workouts with no issues."
OrangeTheory Fitness, 44 Farm View, Montvale, 201.285.7818
WE ALL SCREAM FOR ICE CREAM
We still have a few weeks to go before we hit those 80-degree temps here in New Jersey, but is it ever too soon for ice cream? Many Bergen ice cream shops have officially reopened for the season, so you can satisfy your craving way before summer officially begins. Here are a few to note:
FREEZING POINT, LYNDHURST
Get Instagram-worthy rolled ice cream, a snow cone or good ol' frozen yogurt with the toppings of your choice here. Half the fun is watching the staff make the rolled ice cream—they pour liquid ice cream onto a cold surface and roll it up with the fixings of your choice.
• Freezing Point, 525 Riverside Ave., Lyndhurst, 201.438.4438
RITA'S, WOOD-RIDGE
This Rita's location opened in March and closes in October, at which point they sell various flavors of yummy Italian ice, custard, gelati, milkshakes and more.
Rita's Italian Ice and Frozen Custard, 191–2 Hackensack St., Wood-Ridge, 201.728.4033
VAN DYK'S, RIDGEWOOD
This 40-year-old ice cream shop is a longtime Bergen fave for its mix of traditional and seasonal flavors, all of which are homemade. Plus, customers can get the treat in a cone, cup, pint, quart or half gallon. It's a real bummer they're closed from Christmas until early March.
Van Dyk's Homemade Ice Cream, 145 Ackerman Ave., Ridgewood, 201.444.1429
STORE OPENING
When you need new workout clothes for your new workout routine, head on over to Athleta, which held its grand opening at City Place in Edgewater in February. The chain store sells high-performance, on-trend activewear for women, and hosts workout classes, dance parties and other special events right on the premises.
Athleta, 39 The Promenade Building 300, Edgewater, 201.943.1714
PUPPY LOVE
Mia, 12-year-old silky terrier
Owners: Kathy and Rick Piazza, Hasbrouck Heights
This little cutie likes the usual outdoor doggy activities—going for walks, chasing squirrels and rabbits, playing with her tennis ball. But Mia definitely prefers to be indoors when there is thunder or fireworks; those sounds make her cling to her human "parents" for comfort! When being spoken to, Mia listens attentively and makes great eye contact while cutely tilting her head, which is possibly why her human dad always lets her get her way. The silky terrier has a large fur family, including a feline niece and nephew, Penelope and Winston, and a kitty sister, Ortley, whom she "tolerates" even though Ortley sometimes steals her bed. And Mia was destined to join the Piazza family—she shares an April 13 birthday with her human sister, Emily. "She's loved by all who meet her and is obviously the best dog ever," Kathy gushes.
FAMILY AFFAIR
They're making their parents proud. Brother-sister pair Joseph and Jenna Cuccia of 17 Summer in Lodi have been named to the "32 Restaurant Stars On The Rise" list by FSR Magazine, a national business-to-business publication for the restaurant industry. The 30-something co-owners—Joseph is also executive chef— opened their restaurant in just three months and have since been nominated for a James Beard Award and appeared on CNBC's Restaurant Start-Up. Locals love 17 Summer for its open kitchen and seasonal menus, but the family feel is of course nice too.
CAPTAIN COMES TO CLIFTON
Brie Larson, the star of Captain Marvel, could've chosen any movie theater in the country to surprise fans at during the film's opening weekend, but she ended up at AMC Clifton Commons in Clifton. The Oscar-winning actress, wearing a Juicy Couture tracksuit inspired by the titular character, made a surprise appearance at a screening of her new superhero film, where she posed for photos with fans and even got behind the counter to sell popcorn. "I just heard that I was on the cups of popcorn and I wanted to see for myself," she told movie-goers at the IMAX theater. The girl-powered film raked in $150 million on opening weekend across North America. We're sure Larson's trip to the Garden State only helped!
KUDOS ACING THE ACT
An Oradell teen achieved something that few kids ever do: a perfect score on the ACT test. Riley Kiernan, a junior at Bergen County Academies in Hackensack, got a perfect score of 36 on the college admissions exam, and even received a letter of achievement from The Princeton Review letting him know just how significant this was. Coincidentally, Bergen Academies ranked No. 3 on Niche.com's list of the 200 best schools in New Jersey, public or private, for 2019.
WINNING BIG—AGAIN
Here's some happy Jeopardy! news amid reports of longtime host Alex Trebek's devastating pancreatic cancer diagnosis: One of Bergen County's own won big money on Jeopardy! All-Star Games. David Madden of Ridgewood competed on the long-running game show's first-ever group tournament, in which 18 former contestants played in six groups of three. Even better, his team won first place, splitting the $1 million grand prize among them. This chunk of change is in addition to the $432,400 Madden won after a 19-game winning streak on the series in 2005. Celebratory drinks on this guy!
FULL STEM AHEAD
Give the science-obsessed middle schooler or high schooler in your life a head start by taking him or her to the City of Science Festival at Fairleigh Dickinson University. The April 27 World Science Festival event, held from 11 a.m. to 5 p.m. at the Rothman Sports Center in Hackensack, will feature interactive exhibits, hands-on activities, talks and presentations and will allow participants to network with STEM professionals (that's science, technology, engineering and math), including members of the FDU science and engineering departments. Best part? It's free! Learn more at worldsciencefestival.com/education/city-of-science.