Bergen Buzz
May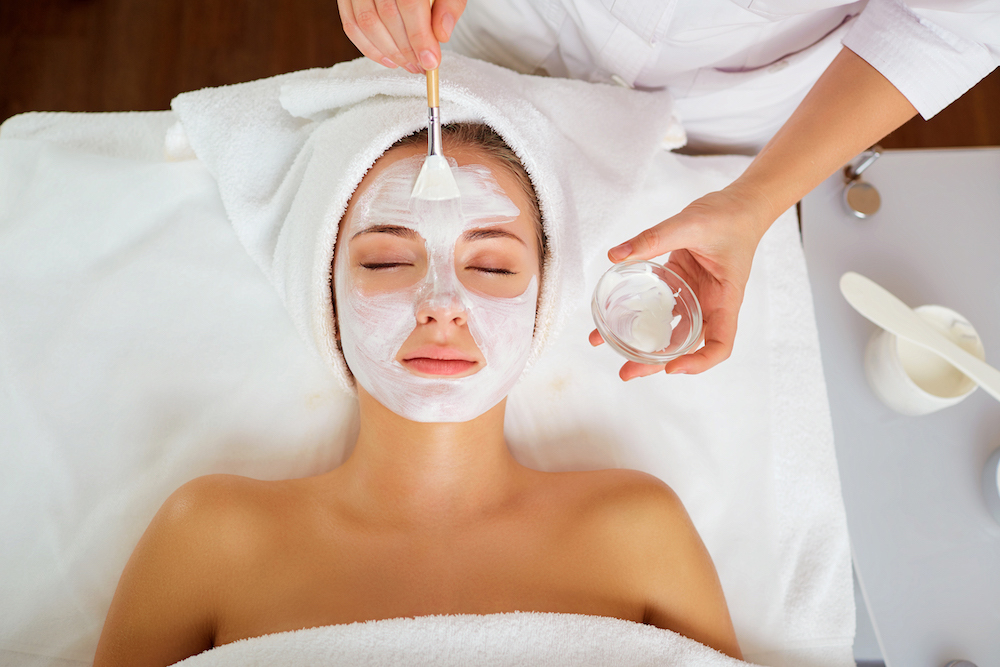 A Spa Day for Mom
Flowers are nice. Chocolates are fine. Jewelry is extremely welcome. (See page 30 for our suggestions there.) But let's be real—what moms really want and need for Mother's Day is some alone time to relax and decompress. And we don't just mean for a one-hour facial or mani/pedi (though we're not opposed). The lady in your life deserves a full-on spa experience and, lucky for her, there are plenty of places where she can get just that here in Bergen. Here are a few we like:
SoJo Spa Club, Edgewater
Yes, SoJo really is as amazing as everyone says. All treatments come with amenities access for two hours, which means you can get a facial or massage and check out the rest of the sprawling 140,000-square-foot facility before or after—it's equipped with indoor and outdoor pools, saunas, massage rooms and Korean scrub areas, all with views of the Manhattan skyline. Heaven on earth, pretty much.

SoJo Spa Club, 660 River Rd., Edgewater, 201.313.7200​

The Fountain Spa, Ramsey and Hackensack
What's not to like about a place that has a "Tranquility Room," where you can relax, veg out, munch on snacks and sip tea? You'll also find serenity with The Fountain Spa's services, massages, facials and peels. The place has an amazing couples massage package too, just in case you don't mind your significant other crashing your Mother's Day alone time.

The Fountain Spa, 1100 Rte. 17, Ramsey, 201.327.5155; 10 Riverside Square Mall, Hackensack, 201.327.5155​

BRC Day Spa and Sauna Resort, Fair Lawn Besides your usual amenities such as sauna, pool, hot tub and steam room, this hidden gem offers many unusual services, like a salt room, an ice plunge and a "Float Pod," in which your stresses will (hopefully) float away as you soak yourself in water and Epsom salts. Ahhh.​

BRC Day Spa and Sauna Resort, 24-20 Fair Lawn Ave., Fair Lawn, 201.797.3002​

Namaste Organic Spa, Ridgewood
​This one is not as huge or aesthetically impressive as the three above, but its services are just as amazing—and there are a lot of treatments to choose from. Namaste offers dozens of different facials and mas-sages specific to clients' needs, in addition to healing therapies such as reflexology and Reiki. And, as the name suggests, every product used here is organic and great for skin.​

Namaste Organic Spa, 30 Franklin Ave., Ridgewood, 201.857.3646​
DID YOU KNOW? Whether you're treating Mom at home or at a restaurant, there's one refreshing beverage that should be on the menu. According to a 2018 Pinterest poll, the most popular brunch item among New Jerseyans is a drink rather than a food item: sangria.​

Mall's Well that Ends Well
Think the excitement's over for brick-and-mortar retail? Here are two reasons to think again:
A dream comes true. The American Dream Mall is finally happening. Developers have confirmed that the huge 3 million-square-foot retail and entertainment center at the Meadowlands will open in "late summer." It will feature more than 400 stores and restaurants, a ski and snowboard park, an ice rink and indoor water and amusement parks.
What's new with Stew? Meanwhile, grocery gold mine Stew Leonard's just broke ground on its 80,000-square-foot location at Paramus Park on Route 17, and it's planning to open this fall. The supermarket chain is known for its one large aisle of dairy products, baked goods, fresh seafood and a butcher shop. We're basically already in line.
We're a Healthy County
On U.S. News & World Report's new annual list of the nation's "500 Healthiest Counties" Bergen comes in at No. 147 out of 3,000 counties evaluated. Counties were ranked based on 10 categories including population health, education, economy, environment and public safety. (If you're curious, Morris and Monmouth counties were Nos. 23 and 298, respectively.)

Our Salad Days
Vegetables are ripening and swimsuit season is inching closer, which could explain why May is National Salad Month. And we don't hate a 31-day period that encourages us to eat our greens and be healthier. Our staff shares its picks for the area's best salads, either make-your-own or straight off the menu.
"Yogybee in Waldwick is my forever favorite create-your-own salad spot. With its array of more than 30 dressings and 50 toppings, it's impossible to create the same thing twice—unless you want to, of course. My OG order is spinach, grilled chicken, organic grapes, walnuts, Asian noodles and fat-free Asian sesame ginger dressing. The place also serves guilt-free frozen yogurt for dessert—it doesn't get much better than that." —Rachel Marsanico, Editorial Intern
"My favorite salad is the citrus and avocado chicken salad at B. Good in Ridgewood." —Daria Meoli, Senior Editor
"I love building my own salad at Cava at Bergen Town Center. Unlike some of its competitors, Cava gives you three types of dips and spreads and unlimited toppings at no additional charge, in addition to a ton of veggie options and proteins." —Haley Longman, Lifestyle Editor
"Food Evolution in Montvale is my go-to. The harvest pear salad has a variety of textures and flavors that mesh well together—I can't get enough of the candied walnuts and poached pears. I like to add grilled chicken for extra protein and to soften the creamy goat cheese." —Darius Amos, Senior Associate Editor
"I almost never order salads out (is that bad?), probably because I eat enough of them when I'm home. My go-to is grilled chicken mixed with greens, cranberries, walnuts and feta cheese with balsamic and a squirt of agave. When I do grab a salad out, it's likely the strawberry poppyseed salad with chicken from Panera in Woodcliff Lake." —Rita Guarna, Editor in Chief

Demarest Mom Does Good
One Bergen County mom is making a difference in the fight against gun violence. Demarest's Sandhya Nankani, who has a 9-year-old daughter, created Literary Safari, an NYC-based studio that provides inclusive, playful and diverse media for families. And with Gun Violence Awareness Day coming up on June 1, Literary Safari has created a set of free, downloadable games and resources to help kids better understand school shootings and lockdown drills. "With tools like this I hope that we have more means and opportunities for educators, families and young people to dialogue around a subject that is not only complex but also really hard to talk about," Nankani says. Also included is a discussion guide written by Demarest middle school teacher Toby Murphy. Learn more at literarysafari.com.

Getting Party-Ready
This issue of BERGEN is all about amazing Bergen-centric celebrations. But what gets us in a partying mood? Below, staffers share their party-prep rituals, plus the beauty and grooming products they swear by.
"If I can't make time to get a facial several days before an event, I'll use the Guerlain Super Aqua-Mask. It leaves my skin smooth, supple and bright, so my makeup goes on more easily and just looks better. And a sure way to feel glamorous is with a great blowout or updo. My favorite spots are Moxie in Montvale and Cuts USA in Wood-Ridge. Post-event, I swear by Guinot Express makeup remover. I've tried several products because my eyes are sensitive, and this one is the best: it's not at all oily, and it does the job." —Rita Guarna, Editor in Chief
"Before an event, I pick up a new tube of 'Better Than Sex' mascara from TooFaced, and black liquid eyeliner from Tarte and get my eyebrows freshly tinted. I pack plenty of Band-Aids and a travel aerosol hair spray in my special-occasion clutch. The Band-Aids are for the inevitable blisters I get from my 'it-is-better-to-look-good-than-to-feel-good' heels, and the hairspray is to combat runs in my pantyhose and keep my 'do Jersey Strong all night long." —Daria Meoli, Senior Editor
"A hot shave before a big event, whether it's a birthday party or wedding, is a must. If I can't book an appointment at Stag House in Glen Rock, I'll do it at home using Kiehl's Close Shavers Squadron line of creams. You really get a close and clean shave, while the extra menthol refreshes your skin." —Darius Amos, Senior Associate Editor
"As a toddler's mom, I find my nights out are few and far between these days, but when I do have a special occasion to dress up for, it's all about the makeup. I'll put on more than usual of my everyday luminizing CC cream from IT Cosmetics and attempt a dramatic smoky eye. Lately I'm loving the new Urban Decay Reloaded palette, which has six mattes and six shimmers in neutral, buildable shades. If I can find the time, I'll also squeeze in a mani/pedi at Grand Nails in Glen Rock—its foot massages are beyond amazing." —Haley Longman, Lifestyle Editor
"Being a Jersey girl, I only catch sun a few months of the year. That's why I prep with Coola Organic Sunless Luminizing Body Serum before an event. Using it develops a radiant and natural-looking tan over time, so a few days of this serum works wonders. That sun-kissed, shimmery and dewy glow gives me an extra boost of confidence." —Rachel Marsanico, Editorial Intern

Live Where You Shop
Paramus is already the shopping epicenter of Bergen County. Now it's becoming the luxury living hub too with the opening of Fifty58, an upscale apartment building right in the center of town. Move right into one of its 45 rentals, each equipped with an open floor plan, high ceilings, spacious balconies and state-of-the-art appliances. Plus, there's a gym, a private lounge and a rooftop for communal use. "After searching for almost a year for the perfect residence, finding the right combination of location, square footage and amenities proved to be difficult," new residents James Bovino and Marco Chinchilla tell us. "We were so happy to find Fifty58 exceeded our expectations and offers the perfect blend of everything we are looking for; beautiful open floor plans, generous space and the perfect mix of common amenities close to everything in the heart of Paramus. It was an easy decision and we can't wait to move into our new home!"
Fifty58, 58 East Midland Ave., Paramus, 201.634.8080, fifty58.com

See Larry Run
Larry Grogin has quite the ambitious summer ahead. On July 19th, the 64-year-old Franklin Lakes resident will set out to run with Strides of Humanity, trekking 3,000 miles from New Jersey to California in 94 days. It's all in the name of charity, as Grogin will be raising money along the way for Paterson- based Oasis—A Haven for Women and Children. "In the crazy chaos of today's climate, we want to communicate that across our big cities, small towns and sprawling countrysides there is good that surrounds us in everyday acts of kindness, love and humility," the chiropractor, licensed acupuncturist and Chinese herbalist tells us. Follow Grogin's journey and stay tuned to stridesforhumanity.org—videographers will be capturing his experiences and ultimately turning the footage into a documentary film.

Way to Go, Champ!
Nick Suriano just helped Rutgers make history. The Paramus resident and Bergen Catholic alum won the 133-pound national wrestling championship for Rutgers University at the NCAA Division I Wrestling Championship as he and teammate Anthony Ashnault of South Plainfield (who won the 149-pound class) became the first national champions in school history. After Suriano, a junior, and Ashnault, a senior, won their individual titles, they got the VIP treatment at a recent New Jersey Devils game, where they met with the players, received custom jerseys and rode the Zamboni during intermission to applause from the crowd.

Culinary Corner
The Wait is Over
You probably heard a while ago that chef Robbie Felice of the acclaimed Viaggio Ristorante in Wayne would be opening up an eatery here in Bergen County. Well, Osteria Crescendo has finally opened its doors in Westwood, with a traditional yet modern Italian menu drawn from locally sourced ingredients. There are also a ridiculous number of craft beers and specialty cocktails. Taste buds, rejoice!
Osteria Crescendo, 36 Jefferson Ave., Westwood, 201.722.1900
The Fickle Fate of Fingers
An eatery devoted exclusively to chicken fingers? Yes, that's Sticky's Finger Joint, which is setting up shop in Bergen Town Center in Paramus. The NYCbased chain puts a creative spin on the childhood classic with flavors such as salted caramel pretzel fingers and General Tso's. Customers can choose from fingers or poppers, baskets, wraps, sandwiches or salads, and more than a dozen different sauces. PSA: You need to try the s'more sauce, featuring the perfect ratio of marshmallow to chocolate.
Sticky's Finger Joint, The Outlets at Bergen Town Center, Paramus, 201.845.4050
Take a Bite
A new casual spot has opened in Hackensack, and it just might be your new hangout. Run by a father/ son duo from Franklin Lakes, Bite Food & Coffee Co. has a plethora of breakfast and lunch options, such as egg sandwiches, avocado toast, grain bowls and pizza. Its aesthetic is on-point too, with a sleek, relaxing interior, gray-and-white marble tables, hanging greenery and sporadic bursts of millennial pink.
Bite Food & Coffee Co., 360 Essex St., Hackensack
Caribbean Cook-Off
The Bahama Breeze restaurant chain held its own Northeast cooking competition of sorts at its King of Prussia, Pa., location and Jhonny Fernandez, a team member at the Bahama Breeze in Paramus, competed on behalf of Bergen County after winning the local preliminary round. The Lima, Peru, native and his eight competitors—including defending champion Augusto Garcia, also of Bahama Breeze Paramus—each had to prepare a signature Caribbean-inspired dish for a panel of judges, who then picked a "Top Chef." "I was honored to represent the Paramus Bahama Breeze in the competition," Fernandez says. "The inspiration for my Jerk Steak and Jerk Lobster dish came from my roots in Peru and experience working with Bahama Breeze. I'm looking forward to continuing to bring my passion for delicious, island-inspired dishes to guests!" Bahama Breeze Paramus is next to Olive Garden at Bergen Town Center on Route 4 East.