Bergen Buzz
September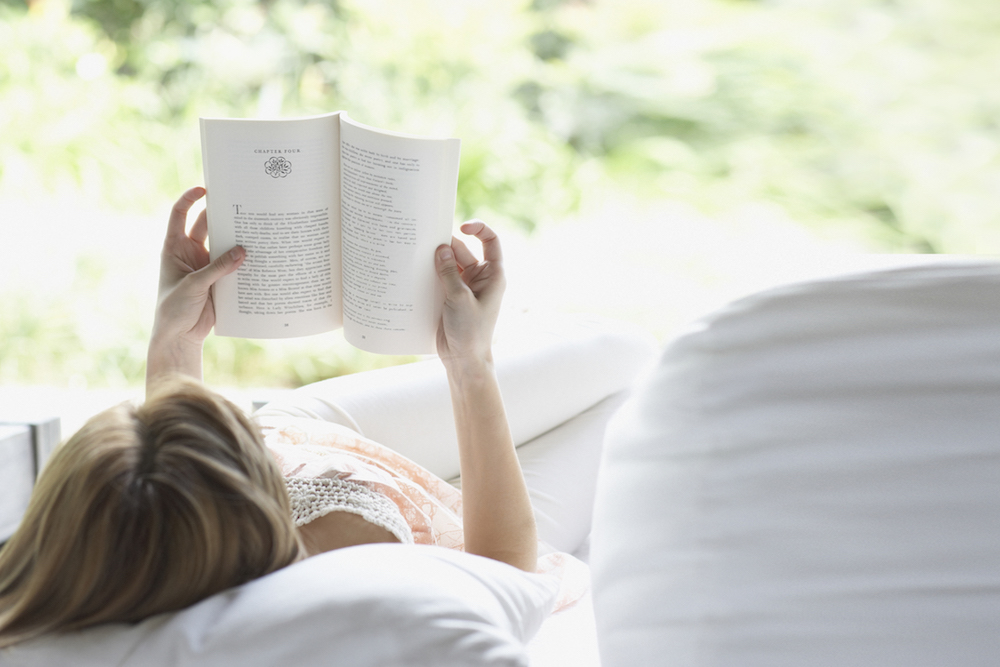 Maybe you can't read a whole book on National Read a Book Day (Sept. 6) or finish it by International Literacy Day (the 8th). But one September event—your kids' return to school—may let you turn off your phone and steal a few minutes curled up with an enticing volume. Why not make it a book by one of Bergen County's own authors?
MARY HIGGINS CLARK This New York Times best-selling author and "Queen of Suspense" raised her five children in Washington Township before moving to Saddle River. Clark has sold more than 100 million copies of her 50+ suspense novels, many of them set in this area, and she still spends much of her time here. (Four of her adult children live in Saddle River, Ridgewood and Hillsdale.) "You can't beat New Jersey for restaurants," Clark tells BERGEN. "The kids and sometimes the grandkids and I love going to Savini's in Allendale, Esty Street in Park Ridge and Nellie's in Waldwick." The 91-year-old shows few signs of slowing down—her next novel, Kiss the Girls and Make Them Cry, hits shelves in November.
HARLAN COBEN This 57-year-old native New Jerseyan has published more than 30 bestselling thrillers, many of which take place in and around New Jersey. Coben, who now lives in Ridgewood with his pediatrician wife and their four kids, has a crime drama on Netflix and another—for his book The Stranger—in the works.
JACK CURRY Sportswriter-turned-TV-host Jack Curry is probably best known as a Yankees commentator on the YES network, but the Jersey City native recently co-wrote the memoir Full Count: The Education of a Pitcher with former Yankee and current YES colleague David Cone. He also co-wrote a book with Derek Jeter in 2001. Curry and his wife have lived for 27 years in River Vale, which he described to BERGEN as a "comfortable, safe town that's quiet and in close proximity to work." His favorite place to grab a bite? Ronnie's Hot Bagels in Hillsdale.
PERCY KEESE FITZHUGH Bergen literati aren't a new phenomenon. Born in the year of Custer's Last Stand, Fitzhugh wrote more than 100 books for kids and young adults before his death in 1950. Many were set in the fictional Jersey town of Bridgeboro and inspired by the adventures of a local Boy Scout troop in his real-life hometown, Hackensack. Livelier than many boys' books of the time, Fitzhugh's popular series such as Roy Blakeley, Pee-Wee Harris and Tom Slade still offer an interesting read.
RICHARD MUTI This lawyer and former Ramsey mayor has written a series of books with New Jersey connections. There's his 2015 Frank Sinatra biography: Cent'Anni: The Sinatra Legend at 100. And the novel Good Lawyer, Dead Lawyer about the killings of Garden State attorneys, and The Charmer: The True Story of Robert Reldan, a true crime tale about a Tenafly serial killer. "At age 60, I was fired from a job I loved, assistant Bergen County prosecutor, for challenging my boss over what I considered a waste of public funds," Muti tells BERGEN. "It was devastating and turned my life upside-down. I wrote an article describing that painful experience, and when The New York Times found my piece to be worthy of publication, I knew I could become a writer." Since then, Muti has published six books, two screenplays and numerous articles. And yes, he's still in Ramsey, living with his wife and dog just blocks from the house in which he grew up.
DAPHNE OZ The Chew host Daphne Oz, who grew up in Cliffside Park with a famous dad (Dr. Mehmet Oz), has written a handful of national bestselling self-help, recipe and advice books. They include The Dorm Room Diet, Relish: An Adventure in Food, Style and Everyday Fun and The Happy Cook. "Cliffside Park was the best of both worlds," the now mom-of-four told BERGEN in a 2016 interview. "My parents chose it because of its proximity to my dad's work at Columbia Presbyterian in New York. They wanted to be near the city but also give their kids space and a more laid-back growing-up experience." Some of Oz and her family's all-time favorite Bergen County joints include "Pier 115, Baumgart's Café, Beyoglu, Istanbul Borek & Kebabs and Three Star Bagels in Fort Lee."
STEVEN MAX RUSSO This Jersey native and Rutgers grad started out in advertising and eventually opened up his own firm in Morris County. But in 2013, after one of his short stories got published online, Russo realized he could have a career as a crime author. His first fast-paced novel, Thieves, is about a robbery and home invasion in Morris County, while his second book, The Dead Don't Sleep, revolves around an aging Vietnam vet—and "about half of the story takes place in my old stomping grounds, Hackensack," Russo tells BERGEN. The latter book is slated for a November 2019 debut.
To enter to win one of five signed copies of Richard Muti's Cent'Anni: The Sinatra Legend at 100 or a hardcover copy of one of Mary Higgins Clark's two most recent novels, I've Got My Eyes On You or You Don't Own Me, go to bergenmag.com/bergenauthors.

Jersey's top dog
The furniture company Joybird figured out which breeds are most popular in each state by looking at data from 2019 Google Trends and the American Kennel Club. And while America's canine faves are Rottweiler, Golden Retriever and Shih Tzu, in that order, it turns out the top dog in our state is the playful and affectionate Maltese.

Ghost of a Chance
If you missed the August auditions to be a part of Six Flags Great Adventure's 2019 Fright Fest, fear not—your ghoulish dreams aren't doomed. On Sept.19 and 26, the Jackson-based park will hold more casting calls for anyone in the tri-state area hoping to be a zombie for the annual festivities. Aspiring zombies are encouraged to be as creepy, quirky and strange as possible to prove they're a good fit, so act accordingly! Applicants must be at least 16, but no prior experience is required. Fill out an application at sixflags.com/jobs, and then trek down to Jackson to show 'em what you've got.
A Promising Season Awaits
The 2019-20 high school football season has begun and so has Dan Sabella's tenure as head coach of the Don Bosco Prep football team. One of the most prestigious programs in the country, the Ramsey-based Ironmen are in good hands under Sabella, who plans to continue the winning legacy with an emphasis on a strong, fast defense. With an overall coaching record of 128-67 and two state championships—one with Bogota in 2006 and another with Paramus Catholic 10 years later—Sabella is going into this season prepared. "I know it sounds cliché, but we want to win the state championship this year," Sabella tells BERGEN. "We need to come together as a team and as a family to play the best football we can come late November and December." There has been a slight fluctuation in the past two years from Bosco's usual overwhelmingly strong performance, so for Sabella, this season will be the ultimate proving ground—and we can't wait to watch it unfold.
In Case of a Hurricane…
Fall is a great time of year, but one not-so-great feature is peak hurricane season, mid-August through November. Are you ready? The biggest mistake residents make in such emergencies, says Sgt. Matthew J. Tiedemann, county coordinator of the Mahwah-based Bergen County Office of Emergency Management (OEM), is "the failure to follow evacuation warnings. People underestimate the power of storm surge and moving water. They think they will be fine in their homes, so they don't leave. Hours later they are stranded in several feet of water and are calling for first responders to evacuate them. So we have to send first responders into harm's way." Evacuations aside, here are tips from the county's OEM on how to prep for a hurricane:
Fill your gas tank and stock your car with essentials such as food and water for three days, blankets or sleeping bags and personal documents including birth certificates and IDs. "Ensure you also have all necessary medications, some clothing, basic toiletry items, chargers for electronic devices and some cash packed in a small bag in advance of a storm in case you have to evacuate quickly," Tiedemann advises.
Secure any outdoor furniture that could fly away and cause damage or injury.
Shutter or board up windows and glass doors.
Listen to the radio or TV for instructions on what to do.
Keep a lookout for downed utility lines, trees and debris.
Phone Numbers for the Fridge:
In case of emergency:
9-1-1.
Public Safety Operations Center (a central dispatcher):
201.785.7762
(201.785.PSOC)
Emergency Management:
201.785.5718
Safety and security (safeguards the public at events and facilities):
201.336.609
Where Shopping's Tops
How can Bergen County maintain its reputation as the best shopping destination in the state? By constantly adding new places to shop, of course. Here are four imminent or recent additions:
A Burlington at Bergen Towne Center in Paramus, which opened its doors in July, sells clothing and accessories for men, women and kids, plus furniture and home décor.
A Toys "R" Us at Westfield Garden State Plaza is slated for a November grand opening. It will be one of just two "reimagined" Toys "R" Us stores to open this year under new ownership after the chain closed its stores in 2018 following a bankruptcy filing. The new store will feature interactive areas, toy demonstrations and an open play space.
A Peserico at The Shops at Riverside. The Italian luxury womenswear brand's store is slated for a holiday 2019 debut.
Be Schooled to be Safe
Big changes are coming to New Jersey public schools, starting now. As of the 2019–2020 school year, every school district in Bergen County and across the state is required to teach students about "safe touch," sexual abuse and assault awareness. This includes everyone in pre-K to 12th grade, and the curriculum will be age-appropriate. New Jersey became the 36th state to adopt this policy when Governor Murphy signed "Erin's Law" in July, named in honor of Erin Merryn, a survivor of sexual abuse in Illinois. "I totally agree with Erin's Law because in many homes, parents are too uncomfortable or afraid to talk to their children about these sensitive topics, and in-school discussion may be the first time they are told that there is a way to get help," says Hope Fallin of Ridgewood, the mom of a high schooler. "But it is imperative that school districts find qualified, trained mental health professionals to lead these discussions and have processes in place to help victims immediately with any abuse that is reported."

A Star in Our Ranks
While many college freshmen are pursuing fraternity parties or Fortnite, one Bergen County Academies graduate is working on a treatment for cancer. Varun Kumar of Woodcliff Lake is a recipient of The David Institute's 2019 Davidson Fellow for Talent Development for discovering a combination therapy treatment that could reverse resistance to Temozolomide, a drug used to treat aggressive, cancerous brain tumors. "It validates my research efforts on drug resistance in aggressive cancers and motivates me to continue pursuing my goals," says the high-achieving 18-year-old, who enjoys tennis, tutoring and swimming when he's not working in the lab. In addition to his title, Kumar was awarded a $50,000 scholarship for his project and will be honored at a reception for all 20 national winners in Washington D.C. later this month. He is set to begin studying molecular biology and data science at Yale University this semester.
Congratul-age-tions
Bergen County only gets better with age. AARP recently awarded two local towns $12,000 grants each as part of their Community Challenge, a program intended to initiate projects across the nation to build and improve upon livable communities for all ages. The winning towns are Teaneck, which will use the money to improve upon its pedestrian walkways, and Westwood, which plans to install a "parklet" in its downtown business district that will give residents a shady spot in which to take a break from a long day of walking and shopping. The "parklet" concept has also been identified by AARP as a way for age-conscious communities to improve open spaces to create accessibility for all residents. Each of these projects must be completed by Nov. 4, so these enhancements are coming sooner than you think! For more information on AARP's Community Challenge winners and funded projects, check out aarp.org.

Scout's Honor
One Bergen Boy Scout already has something impressive to put on his future application for veterinary school. Michael Liguori of Dumont Troop 64 spearheaded a new project as a way to achieve his Eagle Scout rank—he renovated the dog run at the Ramapo-Bergen Animal Refuge, an adoption center in Oakland. With the help of 40 local volunteers, Liguori made the dog run a safer place for pooches by eliminating dangerous ditches, replacing wood chips and banishing flooding.
Jersey's Got Drive
Unimpressed by Jersey drivers? Look again. Insurify, an online auto insurance quotes platform, evaluated 1.6 million car insurance applications, which detail the history of both a driver and his or her vehicle. Based on this data, New Jersey ranked eighth on its list of "states with the best drivers." We're also the state with the fifth-lowest vehicle fatality rate (6.9 per 100,000 population) and the second-lowest speeding rate at 6.24 percent.

Puppy Love
Dog: Monty (or "Montgomery when he's in trouble"), 7-year-old Morkie (Maltese and Yorkie mix)
Owner: Adriana Fernandez of Cliffside Park Fernandez's family had moved away, and she'd just started a career as a physical therapist at an assistedliving home. She wanted to get a puppy to keep her company, and there was "instant chemistry" when she saw a 4-month-old Morkie at a pet store. "He gave me that look saying, 'I want to get out of here!'" she recalls. "They took him out of the cage and he ran in circles around me, stopping only to give me kisses." Monty's owner says the dog dislikes puppies for some reason, but loves being around babies and senior citizens, and she sometimes takes him to work with her to visit with the elderly. Some home residents even have a picture of him in their rooms. "Even people who've told me they don't like dogs love him," Fernandez adds. "He just has a personality that makes you smile. Monty saved my life, my sanity and my heart."

Culinary Corner
Mexican Fusion
The buzz in Fair Lawn is there's a new taco joint in town that's darn good. Taco Buzz opened this summer and is positioning itself as a healthy spot for both vegetarians and carnivores. But unlike other Mexican restaurants, Taco Buzz fuses Middle Eastern influences into its menu too, offering falafel as a protein choice on burritos and tacos and tabbouleh salad as a side. P.S.—The portions are impressively filling too. • Taco Buzz, 12-76 River Rd., Fair Lawn, 201.254.9212
Meet Me in Mahwah
A new Italian restaurant has set up shop in Mahwah, but it isn't your typical Italian fare. Novino has already become known for its homemade pastas and handmade pizzas, the latter of which are cooked at 900 degrees in a Forza Forni rotating wood-fired oven. Try the Toscana, topped with tomatoes, mozzarella, soppressata and chili-infused honey, for a unique spin on the margarita, and complement it with a slice of homemade bread and a fresh salad. Delish.
Novino, 64 Ramapo Valley Rd., Mahwah, 201.529.1900
Southern Comfort
Theresa Jackson has been cooking and catering comfort food in New York City and Atlanta for 30 years. But now, with her daughter Tia at the helm, comes TJ's Southern Gourmet, an Englewood eatery that serves the same scrumptious soul food for which Jackson is known. Menu specialties include mac-andcheese, short ribs, creamed spinach, and fish and grits. Catering and private parties are also offered.
TJ's Southern Gourmet, 58 W. Palisade Ave., Englewood, 201.608.5026
Treat Time
Because no meal is complete without a delicious dessert to top it off, treat yourself to an indulgence from The Cookie Connect. The popular Bloomfield cookie and ice cream store has opened a second location in Ridgewood, bringing its specialty cookie combos and its cereal ice cream bar (yes, that's right) to Bergen County. These goodies are perfect for when those late-night cravings hit, especially because there's delivery via Uber Eats.
The Cookie Connect, 46 Chestnut St., Ridgewood, 201.822.5331