Bergen Buzz
October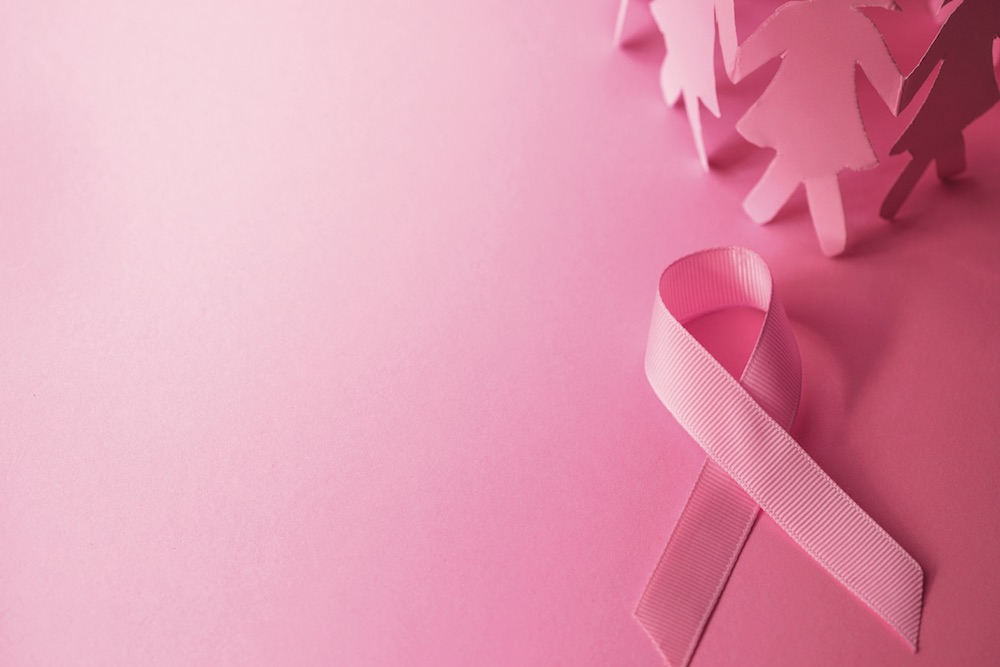 THINK PINK
October is BREAST CANCER AWARENESS MONTH, when both local and national organizations hold events or special promotions to support cancer research and programs. And with so many different ways to get involved here in Bergen County, there's really no excuse not to! Find out how you can help.
WALKING THE WALK

​OCT. 5 As part of Bloomingdale's Pink Breast Cancer Initiative, the Hackensack store will be hosting a special pre-opening 9 a.m. yoga class taught by an instructor from Fire Shaper Tenafly. Admission of $10 benefits the Carey and Marisa Acocella Marchetto foundations and includes a Bloomie's gift bag you can take home. For more info, visit bloomingdalespink.eventbrite.com.
OCT. 12 The countywide breast cancer event is the Making Strides Against Breast Cancer of Bergen County walk, run by the American Cancer Society. The event is held at MetLife Stadium in East Rutherford— registration begins at 8 a.m., followed by an opening ceremony and the walk at 10 a.m. Email bergencountystrides@cancer.org for more.
OCT. 27 Englewood Health Foundation is hosting its annual Walk for Awareness and Susan Lucianna Memorial Dog Walk at the Englewood Field Club. Registration and activities kick off at 11 a.m., followed by the walk at 1 p.m. For more info, check out englewoodhospitalfoundation.com.

PINK STREAK Forget blonde or brunette: When you book your October salon appointment, think pink! As they've done in past years, several Bergen County salons will be selling and putting in pink hair extensions in honor of BCAM. Extensions range from $10 to $25 depending on the studio, with the proceeds for the piece and labor going directly to breast cancer organizations such as the American Cancer Society, the National Breast Cancer Foundation and the Breast Cancer Research Foundation. The extensions are painlessly attached to your natural locks and are a stylish (and temporary) way to show your support for the cause. Here's where to go:

Bellula Salon, 214 Rock Rd., Glen Rock, 201.652.4700
Best Little HairHouse, 234 Westwood Ave., Westwood, 201.666.2284
Headlines by Pantana, 137 Paris Ave., Northvale, 201.767.0097
House of DeCicco Salon, 65 N. Broad St., Ridgewood, 201.857.4971
Elite Salon and Spa, 65 Rte. 17 S., Hasbrouck Heights, 201.288.3136
DID YOU KNOW? Although breast cancer is much more common in women, an estimated 2,470 men will be diagnosed with the disease each year, according to the National Breast Cancer Foundation.

HOMAGE TO AN ICON
No need to wait until the holiday season for a day trip to take in the sights of New York City. The Museum of Arts and Design currently has an exhibit dedicated to the works of Vera Neumann, a textile designer from the 1950s and '60s. "Vera Paints a Scarf" pays tribute to the lifestyle icon's career, featuring items from her fashion line, archived photos and videos as well as paintings inspired by her textile patterns. The exhibit is on display now until Jan. 26.
Museum of Arts and Design, 2 Columbus Circle, New York City, 212.299.7777, madmuseum.org

NEW STEW: A GOOD THING
Holy cow! Stew Leonard's has officially opened in Paramus Park Mall, and none other than celebrity chef and lifestyle guru Martha Stewart was the guest of honor at the media preview party on Sept. 16. The VIP event included free food and wine samples, made-to-order apple cider donuts and photo ops with the other Martha in attendance–a Jersey brown cow named after the star. "I'm just so happy for Stew and Stew that they finally have a store in New Jersey," says Stewart, who grew up in Nutley and is an advocate for farm animal protection. She added that while the produce department already is filled to the brim, she believes they "should make a point of getting only New Jersey tomatoes and blueberries." Smart lady.

FIGHTING FOOD ALLERGIES
Fair Lawn mom Jessica Statham wasn't going to let her 6-year-old son miss out on all the fun just because he has a severe peanut allergy. Thanks to Statham's efforts, 10 parks in Fair Lawn have installed new signs reminding parents to be cautious of what and where they allow their kids to eat in public places, since many allergens are airborne. "Did you know 1 in 3 children has a food allergy?" say the signs, which cost the borough's signage budget $17 each. "You can keep our children safer with these simple steps: 1. No food or drink on playground equipment. 2. Clean your hands after eating." And other local parents are thrilled. "I love being part of a caring community," says Fair Lawn resident Anupama Kinatukara. "As a parent of two kids with allergies, I fully understand what this means to us, and I want to thank all the parents in advance for teaching your kids to abide by this sign. It means a lot to us who have seen our kids suffer due to food allergies, and I would not wish that on anyone else."

HIP, HIP, HOORHAYRIDES!
Is it even really fall if you don't take at least one sip of a pumpkin spice latte or enjoy an Instagram-friendly day picking apples or taking hayrides? We can help you out with that last one, as several Bergen County farms and nurseries are hosting hayrides for the whole family throughout the season. Here's where and when:
DEMAREST FARMS IN HILLSDALE is bringing back its annual Haunted Orchards hayrides, on which riders see ghouls and creepy creatures nestled deep in the orchard. Rides are on Thursday–Sunday nights in October, plus the Wednesday and Thursday of Halloween (Oct. 30–31). Buy tickets and see the full schedule at hauntedorchardsfarm.com.
SECOR FARMS in Mahwah offers daytime hayrides that'll take you on a scenic tour of the festive farm. Once there, take a stroll through the corn maze and pick a pumpkin. Rides are 3–5 p.m. on weekdays and 10 a.m.–4 p.m. on weekends; learn more at secorfarms.com/fall.
LUPARDI'S NURSERY in Closter's biggest draw is its 6-acre corn maze, which debuted on the property last year. But it has a whole slew of fall activities for the whole family, such as a tractor-pulled wagon hayride, a haunted hayride, a treehouse slide and a feeding zoo. Hours are 10 a.m.–5 p.m. Saturdays and Sundays; lupardisnursery.com/fall-fun-2019 has the scoop.
ABMA'S FARM in Wyckoff has hayrides through its 30-acre farm directly to the pumpkin patch, or a special nighttime event that includes a 90-minute hayride and bonfire (which must be booked in advance). Regular hayrides are 3–5 p.m. weekdays, and 9 a.m.–4 p.m. Saturdays. Learn more at abmasfarm.com.
ROHSLER'S ALLENDALE NURSERY in Allendale has old-fashioned hayrides through its nursery and horse farm daily from 11 a.m.–4:30 p.m. There will be barnyard animals, carnival games and a fun corn maze waiting for you when you get off the wagon. Go to rohslers.com/farmchicks for more.

PUPPY LO♥E
Dog: Max, 9-year-old cavapoo (Cavalier King Charles spaniel and toy poodle mix)
Owners: Erin, Eric, Brandon, Emma and Natalie Wicklund of Woodcliff Lake
When the Wicklunds wanted to adopt a puppy, they were leaning toward a cavapoo because the dogs are hypoallergenic and "look like teddy bears." They were on the waiting list for a cavapoo puppy, and the family ahead of them wanted a female. That's when they knew Max was meant to be theirs! And he fi ts right in with his human parents and siblings, napping with Mommy on the patio chaise lounge or patrolling the property by sitting in the grass in the highest part of their backyard. "He is like a lion watching over his territory," Erin jokes. Max doesn't love swimming in the family's pool, but does like floating in it upon his racecar raft. "He sits with his head high and admires the scenery, as well as all the attention it brings," says Erin.

PARAMUS' PLASTIC BAN
Next to abolishing the blue laws, what would be the biggest possible shopping news in county history? Getting rid of plastic bags in Paramus, the largest shopping hub in the state—and folks, it's happening. The borough council voted unanimously in August to join the likes of Glen Rock and Saddle Brook in banning single-use plastic bags and Styrofoam containers in all stores. Businesses will have to dole out recyclable bags instead that they can choose whether to charge customers for. One caveat: As in the other towns, the ban in Paramus will not apply to plastic bags used to wrap produce, meat, fi sh or frozen food, or packaging used for items such as newspapers or dry cleaning. You have until January 2020, when the law takes effect, to load up on the reusable bags.

CHEF CISZAK IS BACK
When one restaurant closes, another one opens. At least that's the case for Thomas Ciszak, the chef/partner of favorite Paramus hotspot Chakra. The "modern American" restaurant closed in August after 15 years in business— nine of which were under Ciszak's helm—but this isn't the end. The chef, his wife Evelyn Ciszak and partner Michael Chin are opening Brasserie Mémère, a French bistro in the heart of Closter that's an homage to his grandmother, who inspired him to cook. The eatery has a lower price point than Chakra and aims to make French cuisine more of an "everyday" experience for Bergen County diners. "People think French food isn't accessible because it's usually expensive and a small portion, but that's a perception," Chef Ciszak tells BERGEN. "Brasserie Mémère is an everyday French restaurant that doesn't have to be a four-course meal with foi gras and cost a fortune." Brasserie Mémère is located on Vervalen Street in Closter Plaza.

YOUR DUTY TO INDULGE
On National Chocolate Day, Oct. 28, a chocolate treat is almost mandatory, and fortunately there are plenty of places to fi nd one here in Bergen County. Check out one of the candy spots below. Bonus: If you pick up some goodies for trick-or-treaters while you're at it, you'll be the favorite house on the block.
CHOCOLATE ETC. in Wyckoff is an old-fashioned candy shop that sells handmade chocolates of all sorts as well as specialty custom gift baskets, chocolate-making supplies and personalized wrappers.

382 Main St., Wyckoff, 201.891.3711, chocolateetc.com

CONRAD'S CONFECTIONERY in Westwood has been selling handmade chocolates since 1928. It specializes in super-cute treats for the holidays, such as milk chocolate haunted houses for Halloween and milk chocolate turkey place cards for Thanksgiving.

107 Westwood Ave., Westwood, 201.664.2895, conradscandy.com

CRITCHLEY'S CANDIES in River Edge offers chocolate-covered fruits and pretzels, assorted dark and milk chocolate boxes and special seasonal treats. You'll fi nd a little something for everyone at this family-owned shop, in business since 1957.

812 Kinderkamack Rd., River Edge, 201.967.1800, critchleyschocolates.com

GODIVA CHOCOLATIER in Paramus is known for its Belgian chocolates, from fruits dipped in chocolate to luxury gift boxes. Tip: Try its Masterpieces and Goldmark collection to help you transition into fall.

2162 Garden State Plaza Blvd., 201.843.2326, godiva.com

HANNA KRAUSE'S HOMEMADE CANDIES in Paramus has been selling homemade candy for more than 90 years, from chocolates to sweets like jelly beans and licorice slices. • 89 Westview Ave., Paramus, 201.843.0337, hannakrausecandy.com
MINDY'S MUNCHIES in River Vale stocks boxes, baskets and platters filled with chocolate goodies, as well as personalized favors for baby showers, weddings, bar and bat mitzvahs—the works.

215 Rivervale Rd., River Vale, 201.664.1650, mindysmunchies.com
KUDOS
YOU GO, TEACH!
"Best teacher" is a pretty subjective thing, but when you're deemed the best by the state Department of Education, that's powerful. And the 2019 "top teacher" honor for our county goes to Leah Jerome, an 11th and 12th grade social studies teacher at Pascack Valley High School. Administrators, teachers and parents selected Jerome for the designation. This local honor puts her in the running for New Jersey's Teacher of the Year award, which will be announced later this month.
A+ FOR SAFETY MEASURES
If bulletproof backpacks and armed guards weren't enough to give you peace of mind that your kids are safe at school, Harrington Park parents are getting even more reassurance. The town's sole self-titled K-8 public school has installed 50 bulletproof REMO Security doors throughout the building. The heavy-duty doors, made in Israel for $2,500 apiece, are the brainchild of Harrington Park parent Omer Barnes and are intended to be a "passive way to create the safest opportunity available for our students and staff," Harrington Park Superintendent Adam Fried tells BERGEN. "You don't think about a door. It's just opened or closed and it's not political, so it has the most impact because its breach-proof. Once that door is locked—it only takes a millisecond and a 5-year-old can do it—we know they're in the safest places they can be." Fried adds that parents have been supportive of these new safety measures, and they've helped reduce students' anxiety as well. Will other Bergen County districts jump on board? "That's not something I could ever say, but I have a vested interest in this county—two daughters who go to school here," says Fried. "I just hope we can have a conversation about it." To learn more about safety measures in our schools, turn to page 74.

CULINARY CORNER
BUENAS NOCHES New Mexican, Colombian and Latin eatery Noches de Plaza has set up shop in Emma's old location on East Palisade Avenue. This BYO restaurant is its second location, with a menu full of authentic salads, wraps, bowls and platters, plus make-your-own omelets and a wide selection of frozen coffee and juices.
34 E. Palisade Ave., Englewood, 201.731.3184
OLD-COUNTRY CULINARY THAIS If you're wondering what's in that bright, can't-miss-it pink-and-purple house on West Church Street in Bergenfield, the mystery is solved: It's a brand-new Thai takeout place called Taan Thai. The chef and her sous chef hail from small villages in Thailand, so the dumplings, soups, noodles, rice and entrées are as authentic as it gets. Take a few dishes to go, or eat at the colorful picnic tables outside.
48 W. Church St., Bergenfield, 201.374.2362, taanthai.com
YOU DESERVE DESSERTERY Elsewhere in Bergenfield, local mom Zainab Illyas has debuted a second location of her Zai's Dessertery, first opened in Dumont. The stay-at-home-mom-turned-baker claims to have the best French-style macarons in the county, but also bakes delicious cakes, cookies, brownies and other indulgences. Tip: She custom-orders for parties too.
Zai's Dessertery, 108 N. Washington Ave., Bergenfield, 201.771.7000, zaisdesserts.com
A TASTE OF MEXICO Last but not least on our tour of new international food spots in Bergen County is Hamburguesa, run by two guys who used to sell these bad boys from a street cart in Mexico City. They make their burgers in-house by mixing flank steak and vegetables, then top the burgers with assorted toppings and fresh buns. Hot dogs, chips and shakes are on tap too.
Hamburguesa, 403 Hackensack St., Carlstadt, 201.640.9179, thehamburguesa.com