Bergen Buzz
Our guide to new ideas, tips, trends and things we love in our county.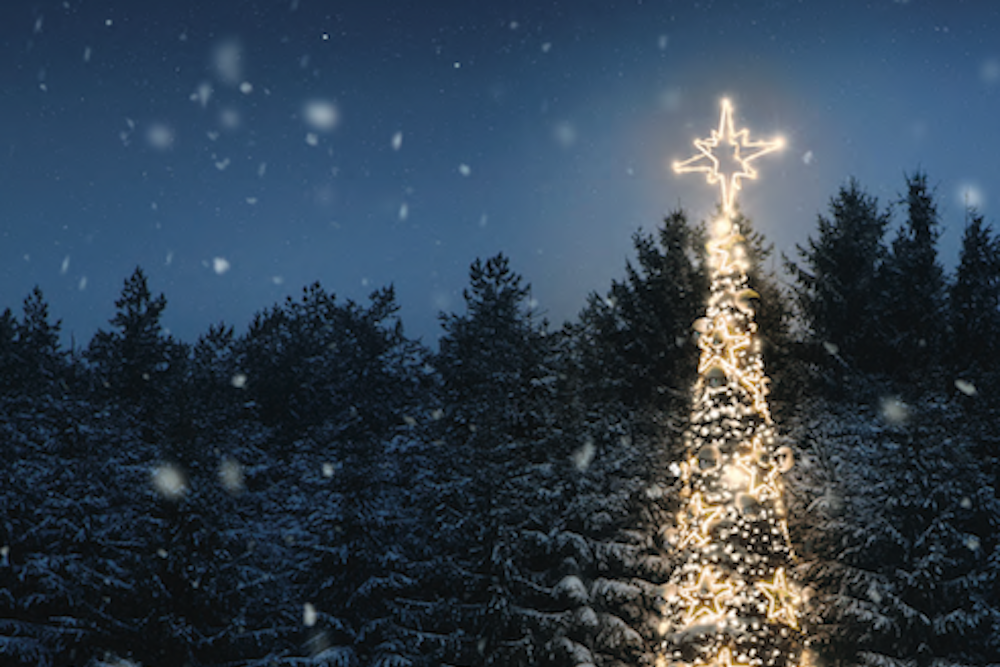 MERRY AND BRIGHT
Regardless of which holiday you celebrate when December rolls around, you can be merry with the stunning light installations that illuminate Bergen's houses and businesses all month long. Here's a quick guide to some of the best and brightest light displays:
BERGEN COUNTY WINTER WONDERLAND. Open since the day after Thanksgiving, the Bergen County Winter Wonderland at Van Saun County Park is your one-stop shop for the delights of the season. Balloon artists, face painting and photo ops with Santa Claus are offered all weekend long until Jan. 5, and check the calendar of events for special pop-ups such as open ice skating and live ice carving. Go to bergencountywinterwonderland.com for tickets and details.

Van Saun County Park, 216 Forest Ave., Paramus, 201.336.7275

ORCHARD OF LIGHTS, DEMAREST FARMS. Pack some cozy blankets and hitch a ride on a wagon that takes you through the 32 acres of light-adorned displays at Demarest Farms' annual Orchard of Lights display, running from Black Friday through Dec. 29. Sip piping hot cocoa and make your own s'mores at this celebration of all things festive. For tickets and more info, check out demarestfarms.com/ orchard-of-lights/.

Demarest Farms, 244 Wierimus Rd., Hillsdale, 201.666.0472

LIGHTS ON LOZIER. Set to music that changes periodically throughout the season, the light display on a residence in Paramus is a treat for the eyes and the ears. Previously a stop on the "Tacky Lights Tour" driving map of incredible home light displays in New Jersey, the Lights on Lozier installation is set to flip on its luminescent candy canes, angels and multicolored track lighting this month. For more info and updates, visit facebook.com/lightsonlozierct.
"THAT CRAZY CHRISTMAS HOUSE." The Weiss residence on Madison Avenue in Ramsey, given its "crazy" title for obvious reasons, kicked off its annual holiday light display Dec. 6. Walk through the immersive installation of string-lit trees and light-up polar bears and enjoy the tunes of carolers as you take it all in. For details and updates, go to facebook.com/that-crazy-christmashouse- 106880227403433/.
DID YOU KNOW? The Rockefeller Center Christmas Tree has come from Bergen County twice since 1933—both times coming from Mahwah. A 75-foot Norway spruce came from a private residence in 1978, while a 70-footer was donated by the Immaculate Conception Seminary in 1980. Soon after the latter tree was lit, a 19-year-old was arrested for climbing to the top.*

MILESTONE FOR MT. FUJI
When you think of hibachi cooking in Bergen County, one name comes to mind: Mt. Fuji. The Japanese steakhouse and hibachi restaurant on Route 17 in Hasbrouck Heights is famous for upscale Japanese cuisine. The family-owned restaurant celebrates its 50th anniversary this month, as its original location in Hillburn, N.Y., opened in December 1969. "Omotenashi is the spirit of Japanese hospitality based on gratitude and appreciation for the guests," says Alpine native Nancy Fujita, whose parents started the franchise. "This is the tradition my husband Yoshi and I carry on today." Recently the Hillburn restaurant has renovated its hibachi seating area, opened the Japanese fusion Y Lounge and introduced a 300-person-capacity event space with sweeping views of the Ramapo mountains. There are also plans to open a gift shop and introduce outdoor dining, so stay tuned!
Mt. Fuji Japanese Steakhouse, 193 Rte. 17, Hasbrouck Heights, 201.288.2800; mtfujirestaurants.com

AND…ACTION!
River Vale native Ken Spooner is well on his way to filmmaker fame. His new independent flick Life with Layla explores New Jersey's opioid epidemic through the lens of 7-year-old Layla and her various family members who battle addiction. The documentary, which debuted at the Montclair Film Festival this past May and won Best New Jersey Film, screened recently at Pascack Valley High School, with ticket sales going toward funding a nationwide screening. "The night was special because we had the opportunity to screen the fi lm in front of my family, former teachers and friends that I made when I first moved to River Vale," says Spooner, a 2008 graduate of PVHS. "It was important to me to bring the film to the Pascack Valley because I have lost childhood friends to the disease of addiction." Spooner and his team are shopping the fi lm around at some of the big streaming giants, so here's to hoping we all get to see this masterpiece soon.

FOR PINK, LESS IS MOORE
Say buh-bye to millennial pink and hello to her softer, rosier cousin for 2020. Montvalebased paint company Benjamin Moore has announced its color of the year, and it's "First Light," a pretty pastel pink. The girly hue can work as an accent color or be painted on an entire wall, but either way it's 2020's chosen color primarily for its whimsical versatility. Andrea Magno, the company's director of Color Marketing & Development, says it's "one of those colors that can live in a lot of different rooms—you can see how it becomes a really beautiful backdrop."
EDITORS' PICKS
'Tis the gift-giving season, and even if you tell your nearest and dearest that you don't need anything this year, surely there's something you want. Our editors share their wish lists this December.
"Even though I crank up the heat, I live in 'this old house,' which means certain rooms are drafty. I love the luxury French linen brand, Yves Delorme, and have my eye on the Pavot Counterpane, an embroidered (with poppies, hence the collection's name) cotton velour throw in a gorgeous shade of blue. It'll be the perfect thing to snuggle up in to watch TV on cold winter nights."
—Rita Guarna, editor in chief
"If Santa wants to bring me a big reward for being good this year, I would ask for the Chloé Marcie convertible belt bag in black. While this ask may be a bit extravagant for a fanny pack, I'm so ready to leave my huge mom bag at home and wear this cool accessory everywhere."
—Daria Meoli, senior editor
"The special edition Polaroid 600 Grand Canyon camera combines two things I love: national parks and the Polaroid format. I travel west often, so it would be fun to use this little gadget while exploring the Grand Canyon and the other great spots in the Four Corners states. It's sold out on Polaroid's website, so Santa better check eBay."
—Darius Amos, senior associate editor
"I've had my eye on the black Spanx Perfect Pants (the four-pocket ankle-cut ones) since before Oprah added them to her Favorite Things of 2019 list. They are slimming and flattering on every body type, probably because they have smoothing tummy-shapers built right in. I appreciate that they come in petite sizes too."
—Haley Longman, lifestyle editor
"I'm a sucker for boots—I've been crushing on the Sam Edelman Hilty black suede ankle booties all season. I think they are the perfect addition to my (admittedly too large) shoe collection."
—Gianna Barone, editorial assistant
HAPPY HO-LEA-DAYS
Look out for a familiar face on the small screen this holiday season when Tenafly native and Glee singeractress Lea Michele stars in the Christmas television film Same Time, Next Christmas on ABC. Michele plays the leading role of Olivia Henderson, who reconnects with an old flame on a Christmas vacation at the resort where they first met. The movie premiered Dec. 5, but if you missed it, you can catch it again on ABC on Monday, Dec. 23 at 8 p.m., on Freeform as part of its "25 Days of Christmas" programming, or on the ABC app. This holiday season has been a busy one for the Bergen performer; she released her Christmas in the City album in late October and also performed at the Macy's Thanksgiving Day Parade.
THE EAGLES HAVE LANDED
Bird watching might be easier on a 70-degree day, but many local enthusiasts get their thrills this time of year. For starters, the beloved adult bald eagles, Al and Alice II, have returned to Ridgefield Park for the nesting season. The pair successfully raised two eaglets last season, and fans are hoping for more success this winter. Ornithologists of all levels are welcome to view the majestic birds of prey (you can oftentimes spot them along the Hackensack River) but are asked to observe local rules about trespassing as to avoid disrupting the birds and the surrounding property. "Winter is the best time to view bald eagles and other raptors such as Northern harriers and maybe even some snowy and shortearred owls as they gather along the rivers and lakes," says Don Torino, president of the Bergen County Audubon Society. "So put on a warm coat and boots and don't miss the great show that nature has for us."
GREATS OF THE GARDEN STATE
Let's hear it for the Bergen County residents who were recently inducted into the New Jersey Hall of Fame. Held at the Paramount Theatre in Asbury Park Oct. 27, the 11th induction ceremony honored four of our neighbors for their outstanding achievements in their fields: photographer Timothy White of Fort Lee; former New York Giants linebacker Harry Carson of Franklin Lakes; the late former basketball player and WNBA coach Anne Donovan of Ridgewood; and J. Fletcher Creamer Sr., the late businessman and chairman of J. Fletcher Creamer & Sons—the latter two posthumously inducted. The ceremony brought out the biggest names in the Garden State across all industries, including lifestyle guru Martha Stewart, rock n' roll legend Jon Bon Jovi and Olympic gymnast Laurie Hernandez. The Hall of Fame is set to construct a physical museum in the American Dream mall in East Rutherford, opening in December 2020.
FOR A GUY? A TIE!
Yeah, the necktie used to be the tritest of gifts for a man. But now that it's optional in many milieus, the tie can be a bold statement-maker. December is National Tie Month, an excuse to celebrate this men's fashion staple. Here's a cheat sheet of all the Bergen County boutiques where you can pick up a crisp new tie for you or the unafraid- to-look-sharp male in your life:
SAL LAURETTA FOR MEN in Midland Park offers ties from high-end sartorial brands such as Boglioli, Edward Armah and Italo Ferretti that make for a chic topper for a sharp holiday-party look.

621 Godwin Ave., Midland Park, 201.444.1666

VERO UOMO in Englewood carries ties from brands like Eton and Pal Zileri and features an on-site tailor to make sure you leave with one that fits you perfectly.

26 E. Palisade Ave., Englewood, 201.894.1424

MONTE CARLO in Westwood is home to ties from fine Italian brands such as Missoni and Bugatchi, and it also has custom tailoring on-site.

123 Westwood Ave., Suite 1, Westwood, 201.594.9777

SOCIETY MEN in Westwood is a hot spot for men's trendy denim and casual wear, but it also carries select ties by Shore & Singer for when you're feeling a little fancy.

256 Westwood Ave., Westwood, 201.722.9300

DAPPER CONCEPTS in Westwood is one of the area's newest men's shops, specializing in bespoke suits and tuxedos made in luxury fabrics from brands like Ermenegildo Zenga and Loro Piana. They also make custom accessories like shoes, ties and bowties to help finish off your look.

54 Westwood Ave, Westwood, 888.478.4863

YOU CHOOSE BERGEN'S BEST
It's that time again! Online voting for next year's Readers' Choice Poll opens on Jan. 13. Visit bergenmag.com/readerschoice2020 and let us know all of your favorite places and things in the county, from bars to boutiques, from dinner spots to day spas. Winners will be revealed in our Sept. 2020 issue and celebrated at the 2020 Bergen Wine & Food Experience, so stay tuned!

CARDS KEPT COMIN'
A belated "Happy Birthday!" to Michael Diederich, the Paramus resident of CareOne at The Cupola nursing home who earlier this year went viral for asking for 102 cards to mark his 102nd birthday. Diederich, a WWII veteran, celebrated his big day Nov. 20 and received more than a thousand in the mail to read that morning. Says Jennifer Van Dam, the home's director of sales and marketing: "He and his wife open the cards together, and it has been bringing them such enjoyment to see where the cards have been coming from and who they are from!" Handmade cards, reportedly, are Diederich's favorites because they "come from the heart."

SIZED FOR THE BRIDE
Bergen County has most every type of specialty retail store, but a plus-size bridal store has been lacking—till now. Brides by Young is a boutique that will open its first New Jersey store (the other two are in Indiana and Illinois) in Liberty Plaza on Route 17 in Rochelle Park. The 5,700-square-foot loca-tion will feature hundreds of gowns in sizes ranging from 14 to 34 from well-known bridal brands such as Pronovias.

CULINARY CORNER
DELHI STYLE
There's a new Indian restaurant in Ridgewood. Ak-shay Jhanjee and his brother Arriav run Delhi Accent, which boasts a menu of authentic foods found in their hometown of Delhi, India, such as lentil dish dal and a moist butter chicken. The ambience is pretty authentic too, with green banquettes, gold finishings and Indian paintings throughout. See our review on page 114.
Delhi Accent, 37 Chestnut St., Ridgewood, 201.444.4910; delhiaccentnj.com
A TASTE OF ROME
If it's Italian you're in the mood for, Harrington Park's Donatella Ristorante is calling your name. The recently opened eatery presents traditional fare from that cuisine—the pasta is cut by hand—and local, seasonal and seafood. P.S. There's a fully stocked bar too.
Donatella Ristorante, 12 Tappan Rd., Harrington Park, 201.767.4245
​AUSTIN ON THE HUDSON
Now you can enjoy Texas-style barbecue with your view of the water at The Pit, which pairs delicious meats like pulled pork, brisket and ribs with scrumptious sides such as mac and cheese and cornbread. If BBQ is not your jam, order some chicken fingers or mozz sticks. Just be forewarned that the space is small, with only a few seats available, but takeout has never sounded so good.
The Pit, 33 Rte. 5, Edgewater, 201.224.0024; thepitedgewater.com

​DON'T WORRY THIS WINTER
Winter is coming, and unfortunately, many of us have to drive in it. While a mechanic can install winter tires on your car and service it for the season, here are five tips you can follow to make sure your vehicle is ready for winter's fury. "There are simple things every car owner can do to prepare for winter," notes Randy Jean-Pierre, a service tech with D&R Auto in Westwood. "You might not think to flip through it, but your owner's manual has tips too."
CHECK TIRES REGULARLY. Tires naturally lose pressure when the temperature drops. The recommended PSI for your tires is located in your car's door jamb.
INSTALL WINTER WIPERS. Quality wipers are made of rubber that will keep ice from collecting on the blades.
KEEP YOUR WASHER FLUID FULL. A single snowstorm can empty the reservoir, so refill it regularly with fluid formulated for winter conditions.
FILL YOUR GAS TANK. A full tank reduces condensation, which prevents gas lines from freezing. It also keeps engines and heaters running longer.
CLEAR DEBRIS FROM REAR WINDOW. Having a working rear defroster will ensure con-densation and snow don't build up, helping with visibility.