Bergen Buzz
Our guide to new ideas, tips, trends and things we love in our country.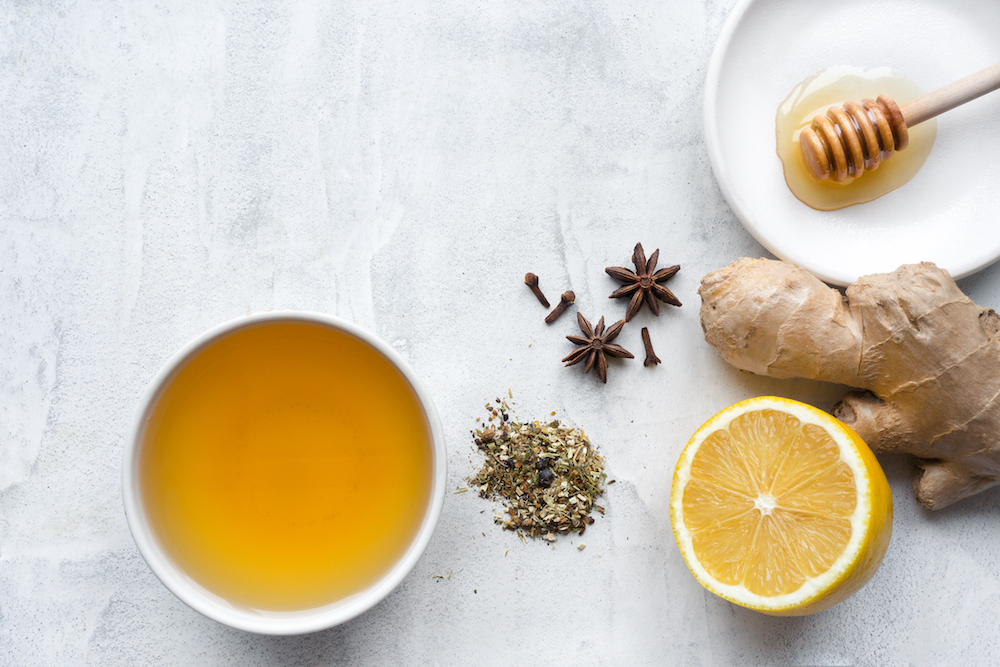 TIME FOR SERENI-TEA
Experts say L-theanine may be the secret. It's the brain-boosting amino acid in tea that, according to healthline.com, is thought to provide an anti-stress effect while it stimulates. The result? Even though tea has less caffeine than coffee, it can provide a smoother, more lasting pick-me-up. So celebrate National Tea Month—January—with a visit to one of these spots:
HARMONY TEA ROOM in Westwood is for those who long for teatime in the English countryside with dainty fin-ger sandwiches and ambiance to boot. Offering 35 tea op-tions, including raspberry champagne and Bourbon Street vanilla, this place just may provide the perfect blend to sip during lunch with your girlfriends—or a British spin on Sun-day brunch.

Harmony Tea Room, 224 Fairview Ave., Westwood, 201.664.2608

​BON APPÉTIT TEA HOUSE in Mahwah is conveniently attached to an adjacent café and bakery of the same name, so you know the pastries are top-notch. Stop in during its public hours or reserve your spot for high tea and treat your-self and your dining companions to a curated meal of soups, salads and savories.

Bon Appétit Tea House, 180 Franklin Tpke., Mahwah, 201.529.1144

GREEN CURA in Leonia brews up its vast array of loose-leaf teas, including a soothing white coconut cream and healthy matcha, to order. The spot also stocks up on tea-making accessories such as traditional matcha whisks and spoons so you can prepare its blends at home like a pro.

Green Cura, 454 Broad Ave., Leonia, 201.944.1248

MAMBO TEA HOUSE in Rutherford makes for a fun twist on a coffee (err…tea) date, as its teas arrive in individual teapots for two. The half-teahouse, half-Cuban restaurant can brew up special blends like piña colada and hazelnut however you prefer to sip—piping hot or over ice.

Mambo Tea House, 98 Park Ave., Rutherford, 201.933.1262
​DID YOU KNOW? A daily cup of tea offers health benefits to older individuals like strengthening bones and lowering the risk of cognitive decline, according to chartwell.com. With 168,111 residents in Bergen County who are 65 and older, we'll drink to that!

A GIANT GESTURE
The young patients at Hackensack Meridian Health Joseph M. Sanzari Children's Hospital got a little holiday cheer last month when New York Giants tight end Evan Engram stopped by to deliver model Hess trucks to the girls and boys. The gifts were part of the Hess Corporation's annual Giving Tuesday efforts with the hospital's Tackle Kids Cancer program. "We are so grateful for this partnership and the support from Hess Trucks and New York Giants for creating memorable moments for our patients," says Amy Glazer, executive director of development at the children's hospital. Engram, a sophomore player for the G-Men, hung out in hospital rooms and took photos with the children and their families while they eagerly assembled their new toys.

SHOWCASE AT SMALLWOOD'S
Art aficionados recently made their way to award-winning watercolorist Philip Smallwood's New Milford studio for an open exhibition of his latest works. Smallwood is primarily known for his "lifescape" pieces that often capture his mother (as depicted in Easter Lillies, pictured here) as well as other subjects in his trademark contemporary realism style. The Bergen-based artist has amassed many awards and honors in his career, including being commissioned by the Duke Ellington Centennial Commission to paint a portrait of the jazz legend himself. Smallwood says he has called New Milford home "long before journeying into the fi ne arts," and the town's proximity to New York City is an added bonus. So, what is it about our area that translates into his work? He says the everyday people and places he sees inspire him to put brush to board.

SMART COUNTY, SMART STATE
These days an emphasis on STEM—science, technology, engineering and mathematics—is all the rage among educators. So it's no small feat that Bergen County Technical High School (Bergen Tech) in Teterboro and Bergen County Academies in Hackensack come in at No. 13 and 14 respectively on Newsweek's list of America's 500 best STEM schools. (Also on the list is
the Dwight-Englewood School, in the 345th spot.) "Each day we aim to develop our students' career and technical education skills as well as their social, emotional, psychological and academic skills," Bergen Tech Principal David J. Tankard tells
BERGEN, putting rankings in perspective. "That metric is how we define success." As for the Garden State itself, safehome.org has designated it the nation's smartest. The website considered such criteria as college degrees, high school
graduation, professional or advanced degrees and college admission test scores. So there's an A+ for us!

FINAGLE A BAGEL!
Breakfast lovers should mark Jan.15 on their calendars—it's officially been dubbed National Bagel Day. Why not celebrate by stopping by one of the bagel stores that are rolling out new fl avors, baking techniques and ways to serve up the high-quality breakfast treats?
BAGELICIOUS in Ridgewood is your spot for classic flavors like cinnamon raisin, onion and pumpernickel, but specialty varieties like pretzel and rainbow are also baked fresh daily if you choose to stray from your go-to. Swap out your run-of-the-mill butter or cream cheese for their bagel breakfast sandwiches like the "Bagelicious Bypass" with ham, sausage, egg and cheese or the lighter "Leadville" with egg whites, hummus and avocado.

19 N. Broad St., Ridgewood, 201.652.9421

EVERYTHING BAGEL in Paramus is home to the "Everything Everything" bagel – baked with traditional "everything" seasoning both inside and outside the dough. They also make specialty-shaped bagels for holidays and seasons, like snowmen during the winter and pumpkins in the fall. "We believe in serving families," says owner Elliot Cohen. "Moms love them!" Cohen also adds that Everything Bagel's fresh-baked gluten-free bagels have become one of their bestsellers.​

Everything Bagel, 483 Rte. 17 S., Paramus, 201.599.9999

BAGEL RUN in Saddle Brook bakes up some delicious bagels, but it's their sweet and savory cream cheese spreads that make their offerings outrageous. With options like cookies 'n' cream, honey walnut and Nutella, it's easy to transform any plain bagel into a dessert-before-lunch treat!​

Bagel Run, 505 Saddle River Rd., Saddle Brook, 201.880.8811

​SONGS AND SCENES AND SELFIES
Music's biggest night, the presentation of the Grammy Awards, happens this month, and some of Bergen County's own will be honored. First up is Bergenfield native (and former New Milford and Woodcliff Lake resident) Jack Antonoff—Bleachers frontman, songwriter and producer and former guitarist of the band Fun—who's nominated for three trophies: Album of the Year as producer on Lana Del Rey's LP Normal F***ing Rockwell; Song of the Year for co-writing that album's title song; and Producer of the Year for his work on Del Rey's album, Taylor Swift's Lover and more. Also representing the 201 are Wyckoff's Kevin, Joe and Nick Jonas, aka the Jonas Brothers, who got a nod for Best Pop Duo/Group for their successful comeback single, "Sucker." Last but not least is Karen O, who grew up in Englewood and is best known as the front woman of the Yeah Yeah Yeahs. She is nominated for Best Rock Performance for her solo single "Woman." Root for our three Bergen buds while you watch; the telecast airs Sunday, Jan 26. at 8 p.m. EST on CBS, live from the Staples Center in L.A.
We've said before that Bergen is basically becoming the new Hollywood, especially since a new film office opened in Hackensack to handle permits and inquiries for shooting films and television shows around the county. The latest big-budget series to be shot on our turf? Netflix's Ratched, based on Ken Kesey's best-selling novel One Flew Over the Cuckoo's Nest. Streets in Lyndhurst were closed off in November while the cast, which includes Sarah Paulson in the title role and Sharon Stone, was filming scenes. Little else is known about the upcoming series, including whether or not additional filming is planned in the area, but here's to hoping!
Who says boy-banders- turned-TV-stars can't be heroes? Blue Bloods star (and New Kids on the Block member) Donnie Wahlberg made a pit stop at the Edgewater Target last month as part of the store's "Heroes and Helpers" program. Along with police officers from Edgewater, Fort Lee, Englewood Cliffs, Cliffside Park and Leonia, Wahlberg wandered the store and took selfies with 110 underprivileged kids who were given $100 each to shop for holiday toys and gifts for themselves and their families.

BIG SNOW GETS BIG NAMES
Snowboarders and skiers alike trekked over to the American Dream Mall in East Rutherford on Dec. 5 to become some of the fi rst to shred the powder at Big SNOW – the complex's massive indoor ski and snowboarding park. The 180,000-square-foot center's grand opening also featured some familiar faces from the two sports, including Olympic gold medalists Lindsey Vonn, Red Gerard, Kelly Clark (aka the most decorated female snowboarder in history) and North Jersey native Donna Weinbrecht. After posing for photos with fans, the foursome was granted the honor of taking the "first chair" on the facility's ski lift before making their way down the slopes. "In the ski world, it's a pretty big badge of honor," said Hugh Reynolds, vice president of marketing for Big SNOW. So, did the park measure up to the gold standard? "They were all pretty impressed. Lindsey and Donna had never skied indoors before, so they were excited. Lindsey said it was awesome," said Reynolds. Hit the powder yourself at Big SNOW, now open at 1 American Dream Way in East Rutherford.

BUY, BUY JANUARY
"Dry January?" More Like buy January. Since the holidays are over and the shopping craziness has died down, the last thing on your mind right now is doing even more spending. But you might want to rethink that, as there are plenty of great post-Christmas deals to be had in the fi rst month of the year. Here are four items that are typically marked way down nowadays. And a bonus? You're simultaneously starting off your 2020 by being a smarter shopper, so check that New Year's resolution off your list!
LINENS: Have you ever heard the term "White Sales?" It originated in the 19th century to describe the month of January, when all types of linens were drastically marked down in price. Though linens are no longer exclusively white, the sales still hold true today, and so now is a great time to restock on towels, sheets, bedding and the like.
FURNITURE: New furniture collections typically come out in February, which means showrooms are trying to clear their stock in January. "Now is typically a good time to buy because we are looking to make room for new product, so fl oor samples would be on sale more than usual," says Mike Kaplan, owner of Palisade Furniture in Englewood. It's an especially good time if you're ordering custom furniture, which is Palisade Furniture's specialty. "After the holiday rush, the factories slow down a bit so orders won't take quite as long as other times of the year," he adds.
WINTER CLOTHING: The bad news is we still have a long winter ahead of us, but the good news is many cold-weather clothing items are on sale right around Martin Luther King Jr. Day. Think parkas, boots, wool coats and accessories like hats and gloves. Plus, if you buy this gear now at lower prices, you'll already be stocked up by the time the chilly weather hits again in nine months or so.
GYM MEMBERSHIPS AND EQUIPMENT: January is the busiest month of the year for gyms, as many get an infl ux of new members who promise themselves they'll get in shape. Expect many local gyms to offer discounted membership rates to new members; many will waive extra fees too. You also might as well splurge on that FitBit or treadmill you've had your eye on, as lots of fi tness equipment is tremendously marked down this time of year too.

A POSITIVE 'TWIN'FLUENCE
Kudos to Donna Brangaccio, the senior vice president of operations and COO of Woodcliff Lake-based McLaren Engineering Group, who is the latest recipient of the YWCA of Northern New Jersey's Tribute to Women of Infl uence or "TWIN" award. The honor is presented to outstanding and high-achieving women in New Jersey-based businesses as part of the YWCA's mission to promote equality and female empowerment in the workplace and beyond. Mother of two Brangaccio—who also serves as a district councilwoman in Clarkstown, N.Y.—was chosen for her 25 years at the engineering fi rm, her management of more than 250 employees and her participation on the McLaren's Women's Leadership Committee, among other internal company organizations. "I think all women should be confi dent, and above all, we should be tireless in our pursuits professionally and personally," says Brangaccio. "I am grateful that McLaren places an importance on enabling its employees to thrive on all fronts." You go, girl!

PUPPY LO♥E
Pup: Rocky, 2-year-old Teacup Yorkshire Terrier
Owner: Stacey Cruz of Closter
Small but mighty Rocky (short for Rocky Balboa) is a rambunctious pup that loves to socialize! According to Cruz, Rocky's hobbies include taking long walks around the neighborhood, cuddling with his humans and playing with other plucky canines. Cruz says she knew Rocky was the dog destined for her when she visited Lancaster, Penn., to look for a pure breed Yorkie that wouldn't upset her allergies. "When I saw Rocky, he was getting picked on by his big brothers and it broke my heart!" Cruz recalls. Since then, Rocky and his mom have been inseparable. Fueled by puppy energy and lots of chicken, Rocky can be found running through the obstacle course at the Westwoof Dog Park in Westwood or shopping for a new chew toy at Petco in Closter. "Rocky means the world to me," says Cruz. "He's the best companion I could've asked for."

CULINARY CORNER
SEGOVIA STEAKHOUSE, a Spanish and Portuguese restaurant with locations in Carlstadt, Little Ferry and Moonachie, has opened a fourth location in Oakland. Its menu is most similar to Little Ferry's and includes tons of steaks and chops, seafood entrees, veal and chicken dishes plus yummy appetizers you don't see every day such as chorizo and escargot.
Segovia Steakhouse, 110 W. Oakland Ave., Oakland, 201.644.0003; segoviasteakhouse.com
ANTIPASTI PIZZA & WINE BAR, is a new arrival in the heart of downtown Englewood, an Italian restaurant run by the Italian/Argentinian family behind El Tango Argentina Grill—and the two eateries even share a space. Expect traditional Italian dishes such as homemade gnocchi, chicken parmesan and calamari from Antipasti, but the restaurant's pizza, cooked in a 700-degree oven with a dough recipe from the family's grandma, truly sets it apart.
Antipasti Pizza & Wine Bar, 24 N. Van Brunt St., Englewood, 201.408.0008; antipastipizza.com
K-POT ALL-YOU-CAN-EAT ROLLING HOT POT had its grand opening in Fort Lee just before the holidays. At this Korean-style eatery you fi rst choose from one of seven broths and multiple protein options and boil them at your table in your own personal pot. Then a conveyor belt of accoutrements and side dishes comes your way with foods that you can drop into your pot, including potatoes, veggies, dumplings and ramen noodles.
K-Pot All-You-Can-Eat Rolling Hot Pot, 1642 Schlosser St., Fort Lee, 201.849.5146; kpotbbq.com

ONE LOVE, ONE ART
No matter where one's travels might take you, there's no place like home. And that's certainly the truth for Cresskill native Marco Santini, an artist who has traveled the world over the past two years to spread positivity through his murals and canvases—but always returns home to Bergen County to do so too. In just the last few months, Santini, whose signature design is his "One Love" logo, which features "love" written in dozens of languages and is meant to "show that despite our differences we still have the world love in all our languages," presented at Miami's Art Basel and painted an abstract version of the heart in a maker space in Puerto Rico, among two standouts. But never forgetting where he came from, the Manhattan resident recently painted an 11-foot heart mural in Englewood, where he was born, and hosted a holiday pop-up-shop selling his creations at nearby City Place in Edgewater. "I still have my 201 phone number and I'm back quite frequently to visit friends and family," Santini tells BERGEN. "It's a lot easier for my 86-year-old grandma to see my work here than come out to the city! It's special to be back home and appreciated and accepted by the community." And the 34-year-old's designs are accessible to everyone regardless of location via his website, marco-santini.com, where he sells his art and customized creations. "My biggest sales have been my custom yoga pants, where I take people's words and write them onto pants, and the custom One Love logo design, painting words around one of my logos," he says. Check out the site to see all of his unique pieces, and keep an eye out for his bold street art while you're roaming around your neighborhood—Santini teases that he is working on "the largest idea I've ever had in terms of creating something for the public," hopefully coming to Bergen County soon.