Bergen Buzz
Our guide to new ideas, tips, trends and things we love in our county.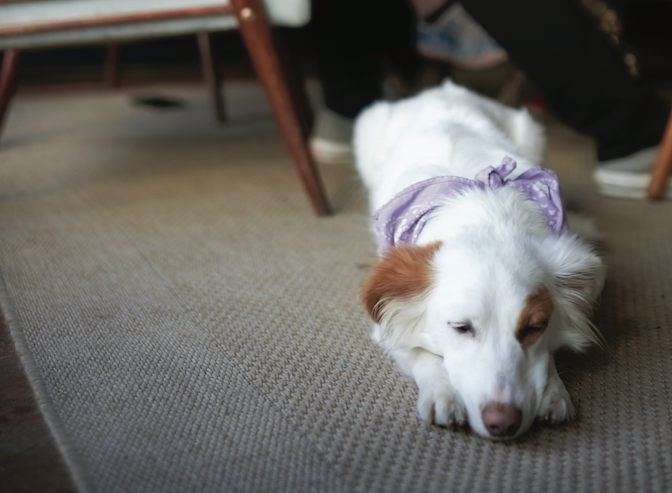 Mutt-Friendly Meals
Bergen County is booming with dog parks and pet stores, but did you know that some of its fi nest eateries welcome dogs? Chow down with your hound at one of these local restaurants, each of which caters to patrons of the two-legged and four-legged kinds:
—AMERICAN BULLDOG COFFEE ROASTERS opened its second Bergen County location in Ramsey last fall and has quickly won renown for its wide variety of roasted coffee and organic soups, salads and sandwiches. Besides those goodies, the cafe also sells homemade doggie treats in flavors such as peanut butter just for good ol' Sparky.
American Bulldog Coffee Roasters, 4 N. Spruce St., Ramsey, 201.574.8070
—PIER 115 BAR & GRILL has six dog-friendly tables and three couches where your pooch can curl up and take a snooze as you enjoy your scenic dinner on the water.
Pier 115 Bar & Grill, 115 River Rd., Edgewater, 201.313.2155
—ALEMENTARY BREWING CO.'S friendly team includes its own doggy mascot, Marjie, and you're welcome to bring your well-tempered pup to keep her company while you sample seasonal brews with your buds.
Alementary Brewing Co., 58 Voorhis Lane, Hackensack, 201.968.1290
—IT'S GREEK TO ME has outdoor seating in the warmer months, where leashed dogs are welcome (as long as they're not blocking the walkways). Waitstaff will even bring a bowl of water for Fido so he can sip while you feast on kebabs and freshly baked breads.
It's Greek to Me, 21 E. Ridgewood Ave., Ridgewood, 201.612.2600
—KUDO SOCIETY CAFÉ, known for its delicious bubble teas, encourages customers to bring their canine dining companions, where they'll be given the five-star treatment (and sometimes are even offered desserts on the house).
Kudo Society Café, 138 W. Central Blvd., Palisades Park, 201.242.0001
DOGGIE SWEET TOOTH? Looking for a spot where Fido can enjoy an after-dinner treat? Woof Gang Bakery, with locations in Allendale and Ridgewood, serves up fresh-baked, canine-approved cookies—no humans allowed!

A LIDL COMPETITION
Bergenfield residents are still buzzing about the recent grand opening of Lidl, a German supermarket chain that debuted its first Bergen County store there Dec. 18. However, locals will have even more grocery-shopping options in 2020 as Aldi, which currently has locations in Lodi, East Rutherford and Hackensack, will open just half a mile away from Lidl later this year. Though Aldi hadn't set an opening date at presstime, the chain has posted applications online for positions on the new store's staff. Asked about having two new grocery stores, Bergenfeld resident Cayleigh Kelly gives it her thumbs-up. "Competition keeps prices down," he says, "and gives consumers more choices."

BOY GENIUS
We have an internationally renowned inventor here in Bergen County, and he's only 11! Mahwah resident Gary Leschinsky recently traveled to Puebla, Mexico, for the annual Le Ciudad de las Ideas—the International Festival of Brilliant Minds—to present his invention, the A-Watch for Allergies. It's a wearable device that detects symptoms of allergic reactions in children. Gary stood among more than 60 speakers of all ages, including scientists, media personalities and technology giants, and gave a 15-minute pitch for his invention to a crowd of nearly 3,000 fellows. Back in 2017, Gary presented his watch to the panel of ABC's Shark Tank, on a special episode of The Rachael Ray Show and even appeared on Late Night with Jimmy Fallon to show off one of his prototypes.
"If my invention can save the life of at least one child," says Gary, "I consider it mission accomplished!" So, how did Mahwah's boy genius celebrate his big speech? Since he is also a ranked chess champion back home in the U.S., he playfully challenged event participants to 10 rounds of the game.

STAY SAFE WITH A WHISTLE!
When fifth-grader Giada Oates was harassed at Hackensack Middle School, the experience inspired her to help fellow students feel safer. How, you ask? The 10-year-old began wearing a yellow whistle around her neck during school hours. She blows it whenever she feels physically or verbally threatened or unsafe. With help from her mom, Toni, Giada then purchased whistles for the school's other girls to blow in similar situations.
"My classmates tell me that without their whistles they would not feel as safe or think they could protect themselves," Giada tells BERGEN. "Girls in grades five to eight show me their whistles when we are walking in the hallways. I have also seen girls blow their whistles when being touched or called names by boys, and the teachers immediately respond."
Toni adds that in general, parents and the administration have been supportive of Giada's efforts too. "The Board of Education has asked for whistles to show support of Giada, and many parents have come up to us and applauded Giada for her initiative to take a stand," she tells us. "They have thanked us for purchasing the whistles and have said their own children feel very empowered and safe wearing the whistles."
"I am hoping that my whistle movement will inspire other girls in Bergen County to fight for their safety," says Giada. "It is my dream to get my message across New Jersey and maybe one day across the United States!"

YOUR NEXT PET?
Friendly creatures aplenty await you at the Bergen County Animal Shelter and Adoption Center in Teterboro. On Feb. 13–15 the shelter holds its third annual "Be My Forever Valentine" pet adoption event—you may adopt a pet for a minimum fee of $20. Deborah Yankow, division director, says last year's event found new homes for 24 animals—15 cats, seven dogs, two guinea pigs and a rabbit—and this year she expects "about 20 dogs and a
large selection of kittens and cats" from which prospective families can choose. Just don't plan to take home your new furry friend that day. "We require a detailed family profile for dog adoptions so we can match up dogs with suitable adopters," Yankow says. "We also require all family members to be present, as bringing a pet into a home is a family affair. Sometimes adopting the right dog for your family can take several visits and some patience, which is so worth it in the end."
Bergen County Animal Shelter and Adoption Center, 100 United Lane, Teterboro, 201.229.4600

DINE OUT TONIGHT…
If one of your resolutions for 2020 is to become more adventurous with food—you know, by eating out at more than just your favorite spots in town—you're in the right county. Fifteen Bergen restaurants made Yelp's list of the Top 50 Places to Eat in North Jersey 2019, a step up from last year's nine. Check out the selections below:
#3—Peck Peck Korean-Style Chicken, Teaneck #12—Terrace Street Café, Haworth (learn more about the dining scene in Haworth on page 30) #16—Steve's Burgers, Garfi eld
#21—Obaltan, Fort Lee
#25—ShabuRo, Palisades Park
#27—Downtown Dhaba, Westwood
#28—Ada Mediterranean Grill, Fair Lawn
#30—Wich-One, Cliffside Park
#35—Osaka Ryu Gin, Glen Rock
#37—Napoli Wood Fired Pizza and Bakery, Cliff-side Park
#40—Samurai Sushi, East Rutherford
#43—Lyndhurst Jerk & Gyro Spot, Lyndhurst #44—Platters Corner, Hackensack
#48—Juany's Café & Grill, Fair Lawn
#49—Lovin' Today, Wood-Ridge
…AND TOAST THE OCCASION!
Now that you've got your culinary bases covered, you'll need a fabulous glass of vino to match, right? Sip your favorite varietal—Feb. 18th is National Drink Wine Day, after all—at any or all of these Bergen establishments named to Wine Spectator magazine's 2019 Restaurant Awards:
The Capital Grille, Paramus
Ruth's Chris Steak House, Maywood
The Oceanaire Seafood Room, Hackensack
Morton's Steakhouse, Hackensack
Bacari Grill, Washington Township
Ho-Ho-Kus Inn & Tavern, Ho-Ho-Kus
Il Villagio, Carlstadt
Elia, East Rutherford
Esty Street, Park Ridge
Fleming's Prime Steakhouse & Wine Bar, Edgewater
River Palm Terrace, Edgewater
Ventanas, Fort Lee

PAW PATROL
Bergen County is saying "heel!" to animal abuse in a big way in 2020. The County Sheriff's Office recently rolled out an animal abuse awareness program designed to keep Bergenites of all ages up-to-date with current laws preventing the mistreatment of furry residents. Grace and Gucci, two Belgian Malinois "K-9 officers," recently visited students at Garfi eld Middle School. With the help of handler Officer Joe Cutrona, the two pups demonstrated how they search for evidence and subdue wrongdoers. The kids were also given a rundown of all the measures put in place to protect local animals, such as New Jersey's anti-tethering law and "hot car" fines for leaving animals in a vehicle during extremely warm weather.
MUNICIPAL MILESTONES
The year 1894 (along with the beginning of 1895) was a hot time for Bergen County—that's when 26 of our notable boroughs were officially formed as independent entities, including Westwood, Oakland and Ridgewood. Some towns recognized the "big 125" with celebrations last year—Westwood went all out with a week-long observance in June, and Little Ferry marked the milestone for three days in September, for example. Now this year brings anniversaries for the Bergen towns listed below. Happy birthday!
South Hackensack turns 85.
Moonachie turns 110.
Norwood turns 115.
Cliffside Park, Teaneck, Englewood Cliffs and Wallington turn 125.
Washington Township turns 180.

SNOW BIG DEAL
Meek Mill just can't get enough of American Dream. The Philadelphia-based rapper has visited Big SNOW, the East Rutherford entertainment complex's new indoor ski park, twice since its opening, once in October for its grand debut and again in December just before the holidays. "Snow but no bluffi ng," he captioned this Instagram photo of himself on the slopes.

OUR HULU STAR'S A WINNER
Back in May 2019, BERGEN interviewed Rutherford's own Ramy Youssef, the creator, writer and star of the new Hulu show Ramy, about life as a 20-something Muslim growing up in the Jersey burbs. From there, the 28-year-old up-and-comer went on to tape his own stand-up comedy special for HBO. Now he has garnered his fi rst-ever Golden Globe nomination—and win! The Bergen County native took home the statue during the Jan. 5 telecast for Best Performance by an Actor in a Television Series, Musical or Comedy for his self-titled series, beating out big names like Ben Platt and Michael Douglas. And he'll have a chance to win again next year, as Ramy is currently in production for season 2. Asked about upcoming episodes, Youssef tells BERGEN: "There are a few very specific Jersey ideas we'll get to explore. As I continue to do different projects, I always want New Jersey to be the backdrop."

CULINARY CORNER
NEED A HOT NEW DATE SPOT?
Enter Hudson Pot, a Japanese hot pot hotspot that replaces the up-scale Japanese restaurant Orama in Edgewater. The trendy eatery, slated to open this month, features shabu shabu, an assortment of meats and veggies cooked in boiling water piece by piece by the diner at the table. There is also a separate cafe inside called Umacha, which specializes in bubble tea, and trust us, it's altogether a culinary experience not to be missed.
Hudson Pot, 595 River Rd., Edgewater, 201.941.5500; thepotusa.com
BRING YOUR MOUTH SOUTH
If Mexican fare is more your jam, book a table at Lola's Tequila Haus, which boasts Tex-Mex eats such as quesadillas, burritos, carnitas, fajitas and tacos. Wash everything down at the fully stocked bar, which has plenty of cocktails based in—you guessed it—tequila.
Lola's Tequila Haus, 335 Paterson Plank Rd, Carlstadt, 201.460.0100; lolastequilahaus.com
SKEWERED DELIGHTS
Or head on over to Hackensack for Greek street food at Simply Stix, which specializes in skewered pork, chicken or beef (aka kebabs) served either in a pita or on a platter. You'll also fi nd salads, sides and spreads to complement your skewers. Note: As of now, Simply Stix is only open on weekdays, but they'll deliver to your offi ce to spice up a boring lunch meeting.
Simply Stix, 163B Main St., Hackensack, 201.880.8853; simplystixnj.com

PUPPY LO♥E
Cudi, a Labrador–pit bull mix, estimated to be 5 years old
Owner: The Marshall family, Leonia
You won't find a canine more lovable than Cudi, a 72-pound, raven-haired wannabe lap dog. Owner Julia Marshall says her family rescued Cudi when she and her daughter Catherine visited him at St. Hubert's Animal Welfare Center in Madison. Eventually, the rest of her clan (son Kyle and husband Glenn) met Cudi and were immediately sold on his swoon-worthy brown eyes. According to Marshall, Cudi was named after rapper Kid Cudi. No word yet on if the pooch can command the mic as well as his namesake, but he's an avid swimmer and runner and, as his owner says, loves to "share." Cudi is known for greeting guests at the front door with one of his favorite toys in tow. His preferred spots to socialize with other pups? The woods at Overpeck Park, Ramapo Valley Reservation and the dog park on Broad Avenue in Leonia. "He brings everybody together," says Marshall. "He truly fills our hearts, whether he's rolling on his back for a tummy rub or sniffing out his Christmas presents under the tree."

RUTHERFORD'S ON THE TUBE
Maybe there's some Hollywood bug hitting Rutherford, as Nick's Towing Service in town was recently featured on primetime TV. The grounds of the towing facility were transformed into the Southold Police Department for three nights during filming of an episode of the freshman ABC drama Emergence. "Kudos to the entire NTS staff for their patience while we moved everyone around to work from our facilities in Wallington and Wood-Ridge," Nick's said in an email. "Special thanks to the Borough of Rutherford, the Rutherford Police Department and Chief John Russo, who worked with us to address traffic concerns, fi lming, nighttime lighting and gunshot sounds." Check out the second episode of the fi rst season entitled "Camera Wheelbarrow Tiger Pillow" to see just how much of the towing shop you recognize in the scene.