Bergen Buzz 2
School's Out, But Art's In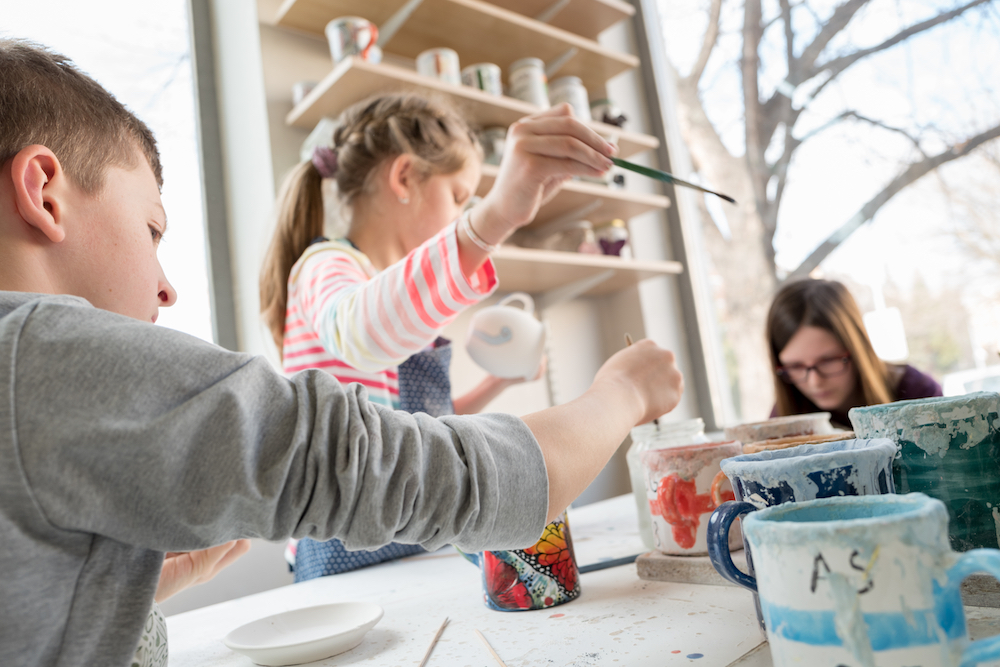 You'll likely need something to entertain the kids over holiday break, right? These local make-your-own art studios will keep your little Picassos occupied…and keep you sane.
Art Brainz Academy
This studio offers a variety of classes— painting, drawing and ceramics—for both advanced and budding artists.
Art Brainz Academy, Waldwick, 201.932.0202
Bazaar Star Beadery
Walk right in to make one-of-a-kind necklaces, bracelets, anklets or earrings with their vast selection of loose beads in all shapes, sizes and colors.
Bazaar Star Beadery, Ridgewood, 201.444.5144
Color Me Mine
Paint and decorate a pre-made ceramic item such as a serving plate, a cartoon character or a seasonal Christmas tree at this popular chain store.
Color Me Mine, Ridgewood, 201.445.4898
Painting Pottery Café
Don't let its name deceive you—Painting Pottery Café also offers clay hand-building, glass fusing, canvas painting, mosaics, wine glass painting and pencil drawing for both kids and adults.
Painting Pottery Cafe, Englewood, 201.871.5958

HOLIDAY SHOPPERS' PET PEEVES
Buying gifts this time of year is never as much fun as it should be—we'd all rather not have to deal with long lines, aggressive customers and "All I Want For Christmas Is You" playing on every store's loudspeaker. Bergen County residents share their other gripes with holiday shopping. "Texting while walking around the crowded mall is just rude." —Thecla Jones, Teaneck
"I hate that stores don't have a separate line for returns. The holidays are a time when people are buying and returning a lot. Make the process smoother by having a separate return line!" —Ariana Dalezman, Teaneck "Trying to find a parking spot during the holidays, especially at Garden State Plaza. I think it literally took us half an hour one time. My husband has no patience." —Fara Simon, Montvale

WAYFAIR another way
Talk about counter-trendy: now a big online furniture retailer is trying out the brick-and-mortar concept— temporarily. Wayfair, which sells thousands of items for every room in the home, has opened a pop-up shop at Westfield Garden State Plaza for the holiday season. The 400-square-foot shop located outside Lord & Taylor carries 300 products, including bestselling furniture and decorative items from Wayfair's online catalogue, as well as some holiday decor. There are also interior design experts on hand to help customers create custom furniture and tackle home design projects. The pop-up is open during the mall's normal business hours of 10 a.m. to 9:30 p.m. (closed Sundays), and it closes for good Jan. 1.

CULINARY CORNER
A BAGEL A DAY…
Everything Bagel surely lives up to its name. The brand-new breakfast spot in Paramus, run by father-son duo Elliot and Andrew Cohen, has your typical fresh coffee, cookies and pastries on the menu, but the Cohens pride themselves on their unique bagels and seasonal flavors—think pumpkin spice for fall and bagels shaped like hearts and shamrocks for Valentine's Day and St. Patrick's Day, respectively. Everything Bagel also takes custom orders and makes novelty bagels to fit kids' birthday-party themes with doughy delights shaped like sports balls or animals.
Everything Bagel, 483 Route 17 South, Paramus, 201.599.9999, everythingbagel.net.
BIENVENIDAS, EL CONUCO
Say "hola" to a new Dominican restaurant! El Conuco has opened its first Bergen County (and second north Jersey) location in Cliffside Park. Conuco means "agriculture" in Spanish; the vast menu features traditional Dominican salads, beef, chicken, seafood, rice, soups and sandwiches, made from only the freshest, most natural ingredients.
El Conuco, 455 Palisade Ave., Cliffside Park, 201.945.9201, elconuco.com.
SAY 'CHEESE'
If you've never tried khachapuri, the traditional Georgian baguette filled with cheese, you've been missing out. Good thing the new Georgian bakery in Fair Lawn offers multiple variations of this delight, plus more yummy options like salads, kebabs, homemade sauces and baked goods.
Shoti Bread House, 14–29 River Road, Fair Lawn, 201.272.1900.
Vote Now!
It's that time again! Tell us your favorite local bakery, burger joint, deli, day spa, salon, sports bar and more. The winners will be revealed in our September 2018 issue. Voting ends April 14, 2018, so visit bergenmag.com/bestofvoting and cast your digital ballot today! Then stay tuned for more info on BergenFest, where we'll celebrate the winners.
OFF AND RUNNING
Were you one of the 3,100 New Jersey residents who participated in the New York City Marathon on Nov. 4—or were you cheering the runners on from the sidelines? Bergen County's finishers made us proud, averaging 4 hours and 57 minutes in the 26.2-mile run. Special kudos to the county's top five finishers, listed below by ranking:
MEN:
Cole Dailey, 35, of Rutherford, whose time was 2:39:09 and placed 158th
Isaac Markel, 25, of Teaneck, whose time was 2:39:51 and placed 171st
Evgeny Beletskiy, 32, of Teaneck, whose time was 2:44:06 and placed 268th
WOMEN:
Caroline Day, 20, of Northvale, whose time was 3:01:05 and placed 1,273rd
Giuseppa Maceri, 38, of Fort Lee, whose time was 3:12:45 and placed 2,398th

DINNER…and a movie
If you missed it when it made its way through the film-festival circuit across the U.S and Italy, now's your chance to stream Closter's own Pizza Shop: An Italian-American Dream. The documentary film, directed by Anthony Osso, chronicles Rudy's Ristorante and Pizzeria, specifically how its owners (and Osso's father and uncle) Charlie and Fred Osso emigrated from Italy and lived out the American dream with their very own restaurant. To pay homage to the film, the developer of Closter Plaza hired muralist Jason Naylor, who created a colorful masterpiece on the restaurant's 23-foot-tall wall that reads, "We love you to pizza." Go to https://vimeo.com/ondemand/pizzashop to rent or purchase the film, and take a trip to Rudy's (55 Vervalen St., Closter) to see the mural in person and taste the pizza