Bergen Buzz
The Joys of Jelly Donuts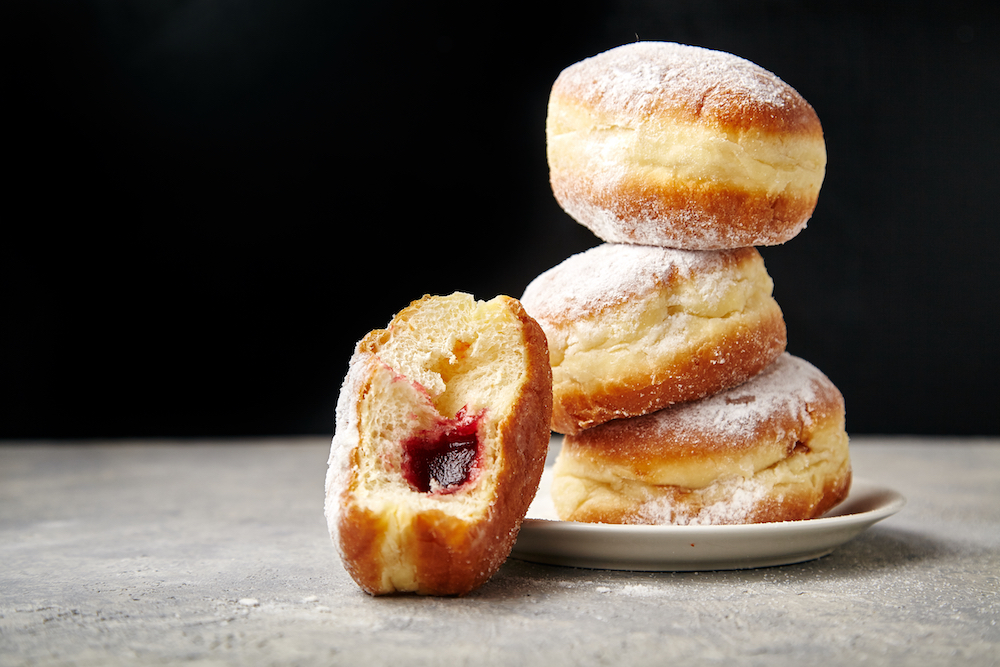 'Tis not only the season for eggnog and gingerbread. It's lucky that Bergen County is the place to get some of the best kosher jelly donuts, known in Hebrew as "sufganiyot," for those eight nights of Hanukkah. Is there anything not to like about fried pieces of dough stuffed with jam and topped with powdered sugar? Better get in line now—the Festival of Lights kicks off Dec. 2!
Butterflake Bakery
Rosh Hashanah, the Jewish New Year, is the busiest time of year for Butterflake Bakery, but Hanukkah is a close second. Customers come from all over the tri-state area to get a bite of their trademark donuts—they even mail orders out via one-day shipping to Boston and Maryland—and it's no wonder given their extensive selection. Jelly custard, caramel, Boston crème, Oreo, lemon meringue, apple pie, churros and the fan-favorite pizza donut are just some of Butterflake's offerings for 2018. They also have mini munchkins for the kids and a "drunkin donut" filled with vodka, bourbon or scotch for the adults. "We love to push the envelope," says owner Richard Heisler. "We also have dreidel cookies, menorah cookies, gingerbread Hanukkah houses. During Hanukkah, we fry 14, 15 hours a day straight. We're on the forefront of creating a wonderful Hanukkah experience when it comes to desserts."
• Butterflake Bakery, 448 Cedar Lane, Teaneck, 201.836.3516, butterflake.com.
Bread Boutique and Café
Bread Boutique & Café's vast selection of Hanukkah donuts was a hit in 2017. This year, owner Tali Siso says, it will expand its menu further with a huge variety of flavors. Besides traditional jelly donuts, customers can choose from "dolce de leche, smores, pistachio, Oreo and chocolate with M&Ms for kids," she says, plus Mediterranean-inspired lotus donuts, which were a best-seller. The treats come in both dairy and dairy-free options and are baked fresh daily in-house.
• Bread Boutique and Café, 15 West Railroad Ave., Tenafly, 917.514.6380, breadboutiqueandcafe.com.
Zadie's Bakeshop
Zadie's of Fair Lawn takes the opposite approach, selling only the traditional jelly donuts, which are fried, filled with custard and topped with powdered sugar. "Realistically we're just trying to put in the maximum effort and quality control," says Adam Steinberg, who co-owns the bakery with his father and brother. Customers who shop at Zadie's year round for cakes, challahs and pies look forward to the donuts, which are only available for the holidays. "The donuts are really popular and we get really good reviews on them," he adds. "We make a pretty darn good jelly donut."
• Zadie's Bakeshop, 19–09 Fair Lawn Ave., Fair Lawn, 201.796.6565, zadiesbakeshop.com.
P.S.: If you don't keep kosher but still want a good jelly donut (for Hanukkah or whenever the mood strikes), try our other favorite donut shops:
• D'Ercole Donuts, Northvale (201.768.0360);
• Glaze Donuts, New Milford (201.483.8634); and
• Donut King, Norwood (201.767.1723).

Two terrific teens
How many teens do you know who've been compared to Stevie Wonder? Hackensack piano prodigy Matthew Whitaker, 17, is one. The musician, who was born blind, has been tickling the ivories since he was three, going on to win Amateur Night at the Apollo at nine and becoming the youngest talent ever to be endorsed by the Hammond Organ Company at 13. Two years later he was named the youngest-ever Yamaha Piano Artist, and he has performed at Lincoln Center, Carnegie Hall, Newark's Prudential Center, the John F. Kennedy Center in Washington, D.C., and across Europe, Asia and the Middle East. Whitaker also opened for the legendary Wonder at the Apollo Theater, performed on The Ellen DeGeneres Show and won first place on Fox's Showtime at the Apollo. Not bad.
Saddle River Day School has a star in its ranks. Basketball player Michelle Sidor scored her 1,000th point as a sophomore and then became the county's first junior to reach 2,000 points. That year she was dubbed "North Jersey's most coveted athlete," and as a senior she's not slowing down. The Hackensack resident has made the state's Top 10 scoring list of all time. After a lengthy recruitment process, Sidor has verbally accepted an offer to play at the University of Michigan after she graduates. Go Michelle!
Leveling the Playing Field
Arenas and stadiums are surely making strides when it comes to accommodating those with disabilities, but Gary Noll is taking it even further. The Wood-Ridge resident, who is deaf, is an avid sports fan who's spent the bulk of his adult life advocating for equalizing the sports experience for the hearing impaired. How? By writing and speaking to guest services, venue managers and others at tristate area arenas about the importance of having closed captioning for the public address announcer at sporting events. He's already had success at Prudential Center in Newark for Devil's games, Red Bulls Arena in Harristown for Red Bulls games and for sporting events at his alma maters, Rutgers and Seton Hall. Next, he's aiming big with Madison Square Garden, home to the Rangers and Knicks. And why shouldn't he?
Color of the year
Greige is here to stay. Montvale-based paint distributor Benjamin Moore has declared Metropolitan AF-690, a grayish beige, its Color of the Year for 2019. The company says the understated hue exudes "glamour, beauty and balance," and we say it'd be the perfect complementary color for any room in the home.
A TRUE LEGEND
Stars, they're just like us. John Legend pulled up in a black SUV to the 7-Eleven on Hackensack Street in Wood-Ridge one morning in October, where two local officers were selling tickets to their fundraiser breakfast. The EGOT winner (that's Emmy, Grammy, Oscar and Tony, the showbiz equivalent of "hitting for the cycle"), likely on his way to Teterboro Airport, didn't have time for chit-chat and declined the officers' invitation to attend the event, but did donate $20 to the cause.
DID YOU KNOW? New year, same NJ Transit problems. Many commuter trains along the Main and Bergen County lines (plus lines in other counties too) will be undergoing route changes and train suspensions at least until mid-January. Check njtransit.com or call 973.275.5555, and plan your commute accordingly!