Bergen Buzz
What's new near you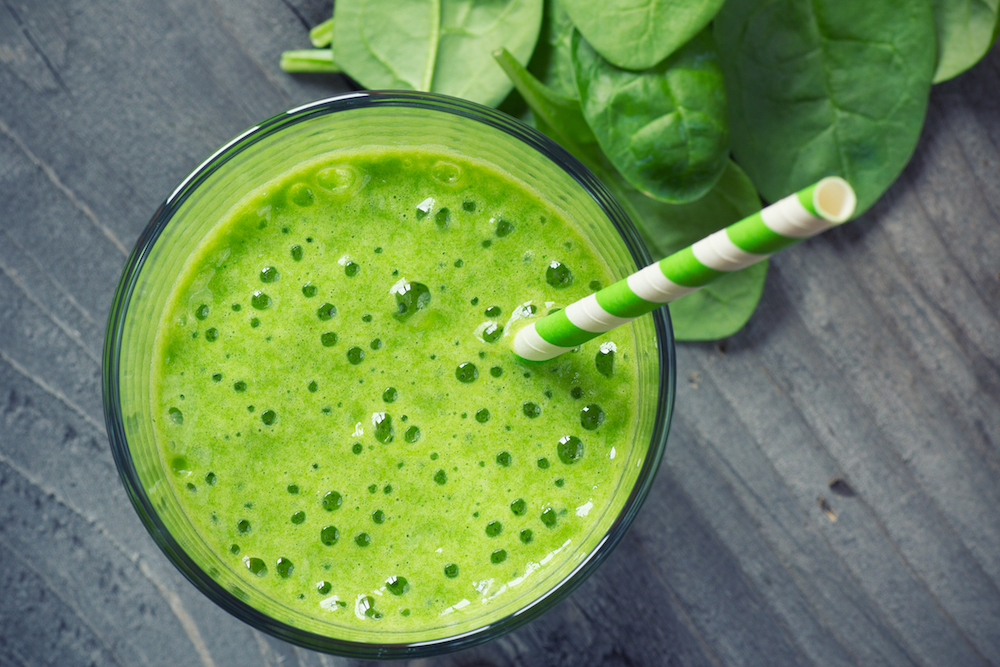 Did you make a pledge to eat healthier this year? Do you want to cut the calories, consume less meat or boost your intake of fruits and veggies? Here's an idea: Start drinking your greens!
On National Green Juice Day, Jan. 26, head to one of Bergen's many juice bars for a delicious and nutritious handpressed beverage. OK, we won't tell if the juice you order isn't actually the color of money, but whatever hue your juice is, it's the thought (and the ingredients) that counts! Here are a few of our favorite places for a drink: Beets Juice Bar, 21 Hawthorne Ave., Park Ridge, 201.746.6047, beetsjuicebar.com. Have this sip: Focus Pocus (carrot, beet, apple, lemon, ginger root and kale). Juice Journey Café, 1 Main St., Edgewater, 201.313.5842, juicejourney.com. Have this sip: Cool as a Cucumber (cucumber, green apple, pineapple and mint). The Market Place, 21 Brownstone Way, Englewood, 201.568.1968, tmpnj.com. Have this sip: Green Life (mint, kale, wheatgrass, green apple, celery and lemon).
Nectar Café, 175 Rock Rd., Glen Rock, 201.857.0825, nectarcafenj.com. Have this sip: Letting Go (pineapple, pear, aloe vera). Super Juice Nation, 127 Vervalen St., Closter, 201.564.7343; 637 Wyckoff Ave., Wyckoff, 201.485.8856, superjuicenation.com. Have this sip: Hydrotonic (pineapple, spinach, parsley, lime, orange and coconut water).
DID YOU KNOW? Fresh winter greens like broccoli, kale, spinach and Brussels sprouts are available at year-round farm markets, including Ramsey Farmers' Market, Abma's Farm in Wyckoff and DePiero's Farm Stand in Montvale.

Girls Will be Girls
Going to the movies and making posters wasn't enough for 7-year-old Katie Sheridan— those were the only activities the Paramus youngster did as a member of the local Girl Scout troop before she left. "She wasn't even there long enough to sell cookies," quips Stacey Sheridan, Katie's mom. But Katie didn't leave scouting altogether: She simply moved on to the Cub Scouts. In October 2017, the Boy Scouts of America lifted a "boys only" rule for its Cub Scout program and opened enrollment to all kids ages 7 to 10. Since then, approximately 56,000 girls have become Cubs, including Katie, who became the first female member of Paramus Pack 245 last year. Today, about 10 girls have joined the pack, which is open to all girls and boys from every Bergen County town.
So why did Katie make the switch? She says she wanted to enjoy the same adventures that her 8-year-old brother, Jimmy, experienced with his den, including camping, hiking and fishing. She's done all of that as well as constructed her own mini sailboat for a regatta and built bottle rockets. "I love doing all the fun activities," she says. "At our last meeting, we did science—and it was the best!"
She's also become an ace at selling snacks and popcorn, a required task to qualify for a scouting scholarship. As for the Girl Scout cookies that Katie never sold, mother Stacey says the family isn't missing out: "We absolutely love Girl Scout cookies in our house and buy them from our neighbors and family members."
Pet Peeves During a Group Exercise Class
You've driven to class, claimed your spot, and now you're ready to get your sweat on—but how are you supposed to concentrate with ringing cell phones, chatty patrons or someone sweating a little too close to you? BERGEN readers share what grinds their gears during a group fitness class.
"There's nothing worse than people checking their cellphones during a class. When you are in class, the last thing you want to see and hear are cellphones. It throws everyone off!" —Dawn Anderson, Oakland
"Weekend classes are hard to get into. It annoys me when people reserve a spot in a full class with a waitlist but don't bother to show up or cancel. It's frustrating to be on the waitlist and find out later that the class had open spots." —Christine Becker, Wyckoff
"It's really frustrating when people hold up the class—either by showing up late or taking forever to set up their equipment— causing everyone to wait and the class to end late." —Daniel Thompson, Fair Lawn
"I don't understand why people feel the need to set up right next to me when I'm the first person in class and there is plenty of space in the room. I end up spending the rest of the class angry and crammed in a corner." —Ryan O'Rourke, Northvale

Kudos: Her voice is heard
You might not be comfortable with the sound of your own voice (who hasn't thought that once in their life?), but thousands of youngsters and their parents are thankful Kirrilee Berger embraces hers. The 19-year-old Teaneck resident, who's held several roles on Broadway and TV—including the CBS All Access drama One Dollar—is now the voice of "Poppy," the head of the kitchen in Nickelodeon's new animated (and educational) series Butterbean's Café. In the show, Berger's character and her friends take pride in serving up healthy snacks and treats to their neighborhood, Puddlebrook.

Bright Like a Diamond
What were you doing when you were 27 years old? If you're lucky, you had a blossoming career like Mark Shami, a Fort Lee resident and Rutherford native who has been named to Forbes' prestigious "30 Under 30" list for Art & Style. Shami's the founder and CEO of The M Jewelers, a 5-year-old NYC-based firm that sells gold and silver nameplate and monogrammed jewelry. The company, which reported more than $5 million in revenue last year, also sells an exclusive line through Urban Outfitters and created special pieces for Nike and Live Nation.
Jewelry actually runs in the family. Shami and his twin sister, Kelly, launched an eponymous collection of custom nameplate necklaces, some of which have been spotted on A-listers like Beyoncé and Ariana Grande. Their father was also in the business: He previously owned a jewelry store on 47th Street in New York. "The jewelry is simple yet elegant," notes Emerson resident Megan Stapleton, who received her first piece from The M Jewelers last month. "I put one of the necklaces on my wish list, and I'm so happy that I got it!"
Get Going Get Rowing
Deadlift form spot on? Top cadence in the cycling studio? Free climb walls with ease? Whether you're part of the fitness elite or simply kicking off a new resolution, make 2019 the year you take up rowing. These indoor classes aren't just trending now, they're quickly becoming a fixture in regular training routines—the low-impact workouts engage the entire body, burn more calories and work up a bigger sweat than indoor cycling, running and other aerobic exercises. A 30-minute row session, for example, can burn up to 300 calories. "It was one of the best workouts when I first tried it at a Crossfit gym a few years ago," notes Denis Coburn of Westwood. "It's great that it's moving into more gyms now so everyone can give it a try." Genuine Self Wellness (10 Serrell Drive, Montvale, 917.363.0640) and Life Time Athletic (10 Van Riper Rd., Montvale, 201.746.4700), among others, offer rowing classes for all ages and abilities. Get on the boat because this workout isn't sinking!
Welcome to the Neighborhood
The holidays are long gone but there's still plenty of shopping to do—for yourself! n Guys, if you think you have what it takes to be the next James Bond, you first better look the part. Charles Tyrwhitt, the British clothier, is now open at Westfield Garden State Plaza, offering timeless menswear pieces—from suits and shirts to socks and shoes—that are luxe and sophisticated enough for 007's closet. But for a look that's a little less Bond yet just as fashionable, UNTUCKit has an assortment of men's and women's tops meant to be worn untucked, of course. The company's new store at Garden State Plaza is now open. n In Hackensack, Barnes & Noble has unveiled a prototype store in The Shops at Riverside.What's in a prototype store, you ask? B&N has moved from its former two-floor space at the mall into a more intimate location. It replaced customer service counters with self-service kiosks, created kid-friendly areas and installed lower-profile bookcases, among other features. "The lounge area is my favorite part," says Lodi's Mitch Rivera, who works at one of the mall's restaurants. "It's a nice place to unwind before or after my shift."
Barre Essentials
Men and women who embrace the barre method of exercise (yes, fellas, you can do it too), rejoice! Bergen County's second Pure Barre studio is now open in Park Ridge, offering 45- to 50-minute classes where participants use a ballet barre to assist them through a series of low-impact isometric movements. The workouts, which are done in small intimate sessions, improve overall strength and balance and are proven to result in long and lean muscle tone—without the bulk. "I've taken a few classes at the Pure Barre," says Melinda Kaufman of Ridgewood. "The workouts might look simple, and in essence the movements are all doable for anyone, but you don't realize how much muscle power you're using. Believe me, you'll work your core like you've never before!"
Pure Barre, 141A Kinderkamack Rd., Park Ridge, 201.746.9288, purebarre.com
It's Show Time
How does one turn a hobby of ranting about politics, current events, sports and pop culture into a career in showbiz? Joel Martinez, pictured, has the answer. The 35-year-old Bronx-born Fair Lawn resident is better known as The Kid Mero, and he's one half of the duo (along with Daniel Baker aka Desus Nice) who are set to star in Showtime's first weekly latenight talk show Desus & Mero. Here's how they got there:
Mero and Desus were highly active on Twitter, each using the social media platform to go off on just about anything. The two finally teamed up in 2013 for a podcast called "Desus vs. Mero," in which the two sat behind a desk made of stacked milk crates and cardboard. Their brash humor and style caught on and grabbed a lot of attention, and they eventually landed an evening TV show on Viceland and a second podcast, "Bodega Boys." When their program on Viceland ended, Showtime came knocking. The show is scheduled to debut Feb. 21 and will air at 11 p.m. every Thursday.

Culinary Corner
Steak Your Claim
Ruth Fertel once said she never liked the name of the restaurant chain she founded, but the business managed to work around it. Good thing. Ruth's Chris Steak House, now open at the Bergen Town Center, is known today for its USDA prime steaks and chops, each served on a sizzling hot plate (500 degrees, so heed your server's warning). The restaurant also boasts an award-winning wine list—with more than 200 varieties—that will pair perfectly with your meal. "There are two names I think about when I want steak," says meat lover Avi Jensen of Hackensack. "There's Peter Luger and Ruth's Chris. Thankfully, one of them is right in our backyard now."
Ruth's Chris Steak House, 83 W. Spring Valley Ave., Maywood, 551.258.0013, ruthschris.com
Get Wrapped Up
Bubbakoo's Burritos started as a small joint down the Shore 10 years ago but it has since expanded into a multi-location operation across the state, including a new spot in Oakland. Chalk up the eatery's success to its made-to-order burritos and bowls, each of which are made with fresh, high-quality ingredients and assorted flavors. "It's a staple at the beach," says River Vale resident and frequent shore visitor Kevin Sheehan. "Now that there's a Bubbakoo's in Bergen, I don't have to wait for summer to get one of their burritos."
Bubbakoo's Burritos, 350 Ramapo Valley Rd., Oakland, 201.644.7944, bubbakoos.com
French Delight
If all you know about French cuisine are croissants and baguettes or quiches and onion soups, stop by Brasserie Bonjour for a better introduction. The menu here is filled with classic French dishes with an American twist, a combo that's sure to please any palate. Order either a sweet or savory crepe (breakfast and brunch items are available any time of day) or fall to the temptation of larger plates such as a croque madame sandwich with duck egg or a cepe rubbed ribeye. "The area has a lot of places to get a burger, sushi, pizza or Chinese food," notes Renato Villegas of River Edge, "so it's nice to have options. A French restaurant is a welcome addition to Bergen."
Brasserie Bonjour, 2 Hilliard Ave., Edgewater, 201.969.8444, brasseriebonjour.com
Shake it Up
Healthy eating has never looked so good! Loaded with fresh ingredients like berries and granola, acaí bowls are nutritious treats that can be eaten any time of the day—not just for breakfast! Bowl Shake, which opened in November, is giving Cliffside Park residents a chance to enjoy this tasty treat, which is just like ice cream, but without the guilt. Stop by for a classic or protein bowl (chia pitaya bowl, anyone?), or go for a fresh juice if you want to drink your nutrients.
Bowl Shake, 674 Anderson Ave., Cliffside Park, 201.917.5515, bowlshake.com