Bergen Buzz
What's new near you!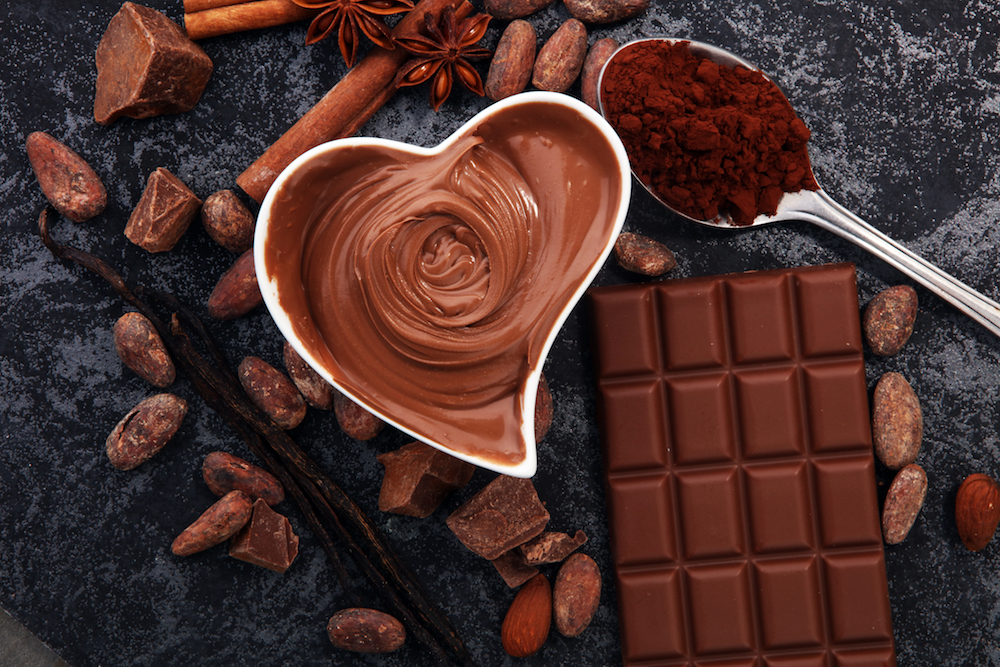 DIY CHOCOLATE
Your sweetheart deserves more than drug-store chocolates or an "edible arrangement" for the umpteenth year. Surprise your honey by making your own chocolate at one of these establishments, for your Valentine—or with your Valentine for a special date night.
Matisse Chocolatier
This Englewood favorite offers all types of chocolate making, such as dipping and decorating pretzels and cookies, making chocolate molds out of the shape of your choice or your first initial or decorating a chocolate pizza. They even have Mommy and Me and Daddy and Me classes if your little one is your Valentine this year.
Matisse Chocolatier, 260 Grand Ave., Englewood, 201.568.2288, getfreshchocolate.com
Making Chocolate
The brick-and-mortar store in Dumont closed in 2016, but owner Ellen Quigley still sells her specialty chocolates online, plus offers chocolate-making classes and events in the area.
Making Chocolate, 201.385.0483, facebook.com/makechoc
Chocolate Etc.
Only in summer do husband-wife owners Jay and Marcia Vidockler take walk-ins wishing to make their own chocolates. But they host chocolate-making birthday parties for children 5 and up year-round; kids (or adults!) can make their own molded chocolates, chocolate pizza or chocolate sushi. Yum.
Chocolate Etc., 382 Main St., Wyckoff, 201.891.3711, chocolateetc.com
DID YOU KNOW? Yoo-hoo, the popular chocolate drink found in many children's lunchboxes, was founded by Carlstadt resident Natale Olivieri in the 1920s. It's believed Olivieri created it because he wanted a beverage that wouldn't spoil in the summer heat.
CULINARY
CORNER WINNING BLEND
It's bold to name your establishment G.O.A.T. Coffeehouse, using the acronym for "greatest of all time." That's one reason we're so intrigued by Lyndhurst's newest coffee joint. Customers will find Counter Culture brand coffee, fresh pastries from Patisserie Vanessa and breakfast delicacies made in-house in this cozy, rustic store. But if you go solely to show off the "greatest" coffee, order an Instagram-worthy cappuccino, macchiato or cortado from the "For Here" menu, each topped with foamy latte art.
• G.O.A.T. Coffeehouse, 288 Ridge Rd., Lyndhurst, 201.528.9959, goatcoffeehousenj.com
BON APPÉTIT
Meanwhile, a French American bistro called Technique has opened in Westwood. The menu is a mix of traditional French food and American dishes inspired by French cooking techniques (hence the establishment's name). And don't be deterred by its menu of only seven starters and seven entrees (plus desserts); there are delicious options for every palate, including steak tartare, escargot and gnocchi, coq au vin and the chef's signature pork and clam cioppino. It's open for dinner Wednesday through Sunday nights.
• Technique Restaurant, 425 Broadway, Westwood, 201.722.1222
LET'S MEAT UP
One thing Bergen County certainly doesn't lack is Korean BBQ joints. Brand-new all-you-can-eat Korean restaurant The Meat Bros. in Fort Lee lets customers cook their meat themselves right at the table, and there's a lot of meat to choose from. The Course A menu has 20+ cuts of beef, pork, chicken, sausage, squid and octopus—or upgrade to Course B for an additional 8–10 options. Yeah, you'll definitely want to come here hungry.
• The Meat Bros., 176 Main St., Fort Lee, 201.944.1326
SLIDE RIGHT IN
Not enough meat for you carnivores? Then head on over to Burgerim in Englewood, a new fast-casual franchise whose burgers, served slider-style, weigh three ounces each. Choose an uno, duo, trio or 16-pack of burgers and select from nine toppings, five sauces and three buns. And brace yourself, because Burgerim will soon open two more locations in Bergenfield and Elmwood Park.
• Burgerim, 2–63 Nathaniel Pl., Englewood, 201.731.3210, burgerim.com

GATHER 'ROUND
Ordinary pop-up shops are so 2018. Garden State Plaza has put a twist on the phenom with The Gathering Shops, a "concept store" catering to millennials. The space features 15–20 emerging designers selling boutique-style clothing, jewelry, home goods, beauty products and more. The best part? The retailers switch out every 2-3 months, so shoppers will always find something new. The Gathering Shops is open now, located next to Justice on the mall's lower level.

YOUR PET PEEVES… AT THE DRUG STORE
You already need relief from aches and pains, but long lines and irritable customers can make matters worse at the drugstore. BERGEN readers sound off on what bothers them at their local store.
"The worst thing about drug stores is waiting in line at the pharmacy next to someone who may be sick." —Tara Montalbano, Bergenfield
"I hate when I'm at the pickup or drop-off counter and the person behind me stands way too close. I don't like people looking or listening in about my prescriptions. Stand back!" —Ann Malbin, Upper Saddle River
"Even if you buy only one item from a big-chain drugstore, you'll end up with a 4-foot-long receipt. Is that really necessary?" —Kimberly Fantini, Dumont
POTUS NJ IQ
President's Day, Feb. 18, is a welcomed day off from work or school, sure, but did you know many of our country's great leaders have ties to the Garden State?
Whether they lived (or died) here or were just down the shore for a visit, use a part of your day off to brush up on your presidential knowledge with this fill-in-theblanks quiz below.
President ___ was born in Caldwell and is the only New Jersey native to become president of the United States.
Presidents ___ visited Long Branch. Seven Presidents Park and The Church of The Presidents is named after them.
President ___ died in Elberon, a small community within Long Branch.
President ___ served as governor of New Jersey and the president of Princeton University, then known as The College of New Jersey.
President ___ was Princeton University's first graduate student. 6. President ___ lived in Saddle River and Park Ridge after serving his terms in the White House.
President ___'s funeral train stopped in Newark on its way to the Midwest from Washington, D.C.
ANSWERS:
Grover Cleveland
Chester Arthur, James Garfield, Ulysses S. Grant, Benjamin Harrison, Rutherford B. Hayes, William McKinley, Woodrow Wilson
James Garfield
Woodrow Wilson
James Madison
Richard Nixon
Abraham Lincoln

A PIZZA YOUR HEART
Is it a coincidence that Valentine's Day falls just a few days after National Pizza Day on Feb. 9? Nope, because nothing says love quite like a heart-shaped slice. While many local pizzerias will make heart-shaped pizza on request (just call and ask in advance), you'll be smitten with the yummy, super-cute pizzas at these places in particular:
Casa Maselli II, 195 KinderkamackRd., Emerson, 201.523.9131
Crecco's Café, 649 Westwood Ave., River Vale, 201.664.7200
Francesca Brick Oven Pizza & Pasta, 234 Rock Rd., Glen Rock, 201.251.1199
Kinchley's Tavern, 586 N. Franklin Tpke., Ramsey, 201.934.7777
Lisa's Pizza, 274 3rd Ave., Westwood, 201.664.8676
Lovey's Pizzeria & Ristorante, 211 Boulevard, Hasbrouck Heights, 201.288.1606
Nino's Pizzeria & Restaurant, 66 E. Madison, Ave., Dumont, 201.385.1999
Nino's Pizza, 456 Broadway, Hillsdale, 201.497.6900
Original Pizza, 4809, 297 Pascack, Rd., Washington Township, 201.666.0227
Rudy's Ristorante and Pizza, 71 Vervalen St., Closter, 201.768.8444
Victor's, 540 Cedar Ln., Teaneck, 201.836.0306
jersey's the fastest
Next time you kvetch about your movie download taking forever, try a moment of pity for the rest of the U.S.A. New Jersey actually has the nation's fastest Internet download speeds at 124.45 megabits per second, according to a test conducted by Speedtest.net. Jersey City has the fastest download speed in the state and is the third-fastest city in the country with 93.97 Mbps. Verizon is the fastest service provider here with 130.91 Mbps.
KUDOS
YOU'RE NOT ALONE
Social media unites us, sure, but sometimes scrolling through your Instagram feed can do more emotional harm than good. That's why two Bergen County college students, JOHN PITERA of Lyndhurst and CHRIS SANTOS of Ramsey, have created Storytellers, a brand-new online community that fosters togetherness among people who feel anxious or alone and/or struggle with mental illness. How does it work? Storytellers users submit their "stories" to mental health professionals, who then connect these individuals with others struggling with similar issues. Storytellers (storytellerssocial.com) launches this spring.
PAINTING PETS
Pascack Valley High School senior HOPE BUZZELLI is giving back with the help of two of her favorite things: painting and pups. The 17-year-old began painting portraits of dogs up for adoption at River Vale's Good Karma Dog Rescue (goodkarmadogrescue.com), and also did one of her family pup, Layla. After one of her portraits was displayed at an art show last summer, 13 other pet owners asked Buzzelli to depict their canines on canvas. Now the teen is running a full-on business and donates part of the proceeds from her paintings to the shelter. Good karma indeed!
ON TRACK FOR GREATNESS
In other Bergen-seniors-kicking-butt news, Northern Valley at Demarest High School's SYDNEY WOODS has set a new county record for the girls' pole vault, clearing 12 feet, seven inches, on opening night of the 2018–19 indoor track season. The University of Pennsylvania-bound athlete now ranks fourth on the all-time New Jersey list.

Adios, Carlos
Carlo's Bakery in Ridgewood, owned by Cake Boss Buddy Valastro, has officially closed its doors after five years in business. Nicole Valdes, spokeswoman for the TLC star's shops, confirmed the closures of that location and another in Morristown. However, Carlo's, which once had 20 franchises across the state, remains open in Hoboken, Wayne and Marlton, so head there if you're looking to satisfy that Cake Boss sweet tooth!
How many have you tried?
Nobody's saying you can't keep going to your two or three fave restaurants. But when you're hungry for something new, why not consult Yelp's "Top 50 Places to Eat in New Jersey 2018"? Nine of them are right here in Bergen; you can Google their menus and book a reservation at one right now:
#3. Samurai Sushi, East Rutherford
#11. Kinyobi. Hackensack
#25. Napoli Wood Fired Pizza & Bakery, Cliffside Park
#26. The Hive Bar & Bistro, Garfield
#36. Casa del Taco, Cliffside Park
#37. Juany's Cafe & Grill, Fair Lawn
#41. Downtown Dhaba, Westwood
#42. El Tango Argentina Grill, Hackensack
#46. Steve's Burgers, Garfield

IT'S A YUMBLING EXPERIENCE
Time tight? Kids hungry? Yumble! This service, which delivers 6–24 healthy prepared meals weekly for kids when parents are strapped for time, is the brainchild of Englewood resident Joanna Parker. In December it drew a $500K investment from reality star Bethenny Frankel when Parker appeared on TV's Shark Tank. Mom-of-three Parker, who moved to Englewood from Manhattan in 2009 with her husband and business partner David, chatted with BERGEN about being a local "momtrepeneur": Yumble started when you began cooking healthy meals for other local moms.
Did you ever think it would go beyond the tri-state area?
I never imagined it would turn into the semi-national success it is today. We had a strong community of early adopters in this area, and we've expanded just through word of mouth. Though we're connecting with a lot more customers now, I feel an extra bond with my New Jersey neighbors—I still get excited every time I see a shipping label for a New Jersey customer.
What's next for Yumble?
The opportunities opening because of Shark Tank have been really exciting. We're getting lots of inquiries for partnerships and business development opportunities, and awareness is spreading a lot faster since we aired. And I'm really excited that Bethenny Frankel is on board—she is a local mom who understands what it's like to juggle a million things.
Do you feel like a celebrity now that you've been on TV?
I'm not sure I'd say that, but I will say David and I have been humbled by the outpouring of support from our community. I take extra time to connect with local New Jersey moms because I feel a special connection here. I often make deliveries personally to customers who live nearby so I can meet them and chat with them.
What do your kids like to eat around town when they're not eating Yumble food?
I love taking them places where there isn't just mac 'n cheese or pizza on the menu. It lets them engage with the food in the same way we hope our Yumble customers do— try new things, explore cuisines and realize eating should be fun. They love Hummus Elite in Englewood and they're fans of falafel, sushi—and yes, pizza!