Bergen Buzz NJ
Best places to bowl in NJ.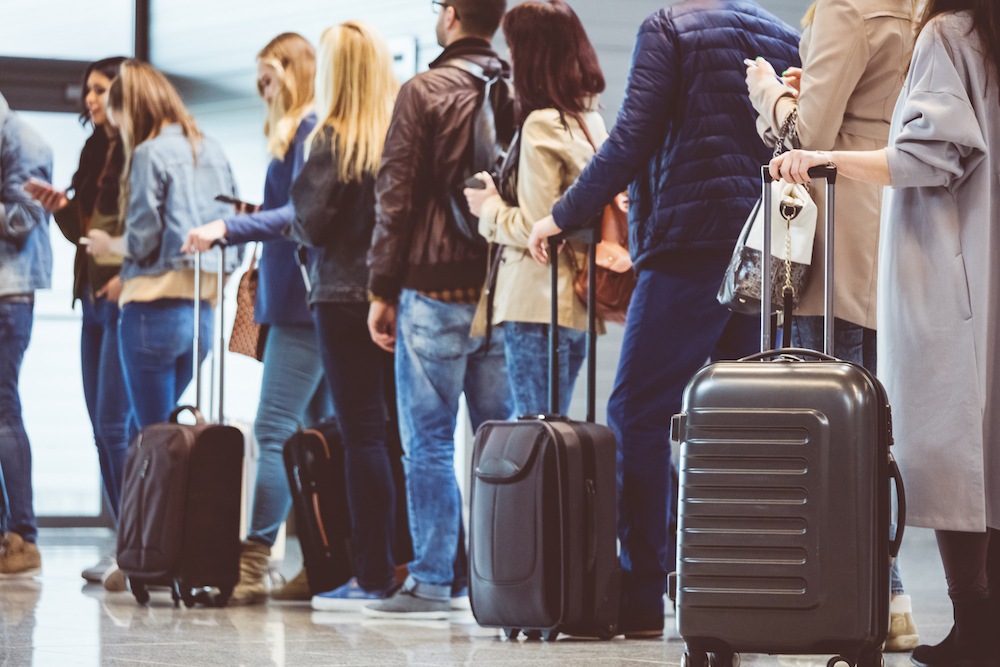 PET PEEVES AT THE AIRPORT
If you're sitting directly behind me on the plane, don't pull on my chair when you go to stand up. It's jarring and incredibly rude. Use the armrest!"
—Aidan McLoughlin, Englewood
No one likes long lines at the TSA checkpoint, but people who don't have their passports and tickets ready slow the process. And by now everyone should know that they have to empty their pockets, take off their shoes and remove laptops from their bags."
—Renato Villegas, River Edge
There's always confusion at baggage claim, especially when you're told luggage will come out at one carousel but the actual claim area ends up changing two or three times before bags finally come out."
—Nick Gentile, Edgewater
No matter how crowded the gate is, there's always someone who puts all their bags on the seats so no one else can sit. And when you ask the person to move them, they give you a dirty look."
—Devin Connor, Ridgewood

WELCOME BACK, HOUSEWIVES
Our favorite Jersey girls are back on screens this month with the premiere of Season 9 of The Real Housewives of New Jersey. Joining Franklin Lakes mamas (and longtime cast members) Teresa Giudice and Melissa Gorga are two newcomers: Jennifer Aydin, a River Edge resident and wife to a plastic surgeon; and Jackie Goldschneider, a freelance journalist from Tenafly who's the mother of two sets of twins. Margaret Josephs and Dolores Catania round out the cast. The new season airs Wednesdays at 9 p.m. on Bravo.

YOU CAN'T BEAT BOWLING
Pretend the number-one pin is the driver who cut you off, or the number-three your annoying colleague. Bowling may not be the athletic ultimate, but it's hard to top as a cool-weather indoor stress reducer. And when all those pins collapse and scatter with that satisfying clatter, that's not a digital effect—that's real! Here are great spots in Bergen with strikes to spare:
Bowler City, 85 Midtown Bridge Approach, Hackensack, 201.343.3545
Bowlero, 22-22 Maple Ave., Fair Lawn, 201.797.5400; 299 Paterson Ave., Wallington, 973.773.9100
Holiday Bowl, 29 Spruce St., Oakland, 201.337.6516
Humdingers, 64 E. Midland Ave., Paramus, 201.701.1900
Lodi Lanes, 58 Terhune Ave., Lodi, 973.471.7100
Montvale Lanes, 14 W. Grand Ave., Montvale, 201.391.3400
Parkway Lanes, 200 Rte. 46, Elmwood Park, 201.791.4680
NEW JERSEY'S SAFEST TOWN?
It's our own River Vale, which reportedly went an entire year without even one reported violent crime. That's according to Safewise.com, the website of a home security firm, which uses the most recent available FBI crime stats. Westwood resident Keith Coburn, 50, lives along the town's border with River Vale and says he reaps the benefits of two safe towns (Westwood ranks No. 20 on the list). "These are two relatively quiet towns where the neighbors look after one another," he says. "Being a tight community helps ward off crime." Other Bergen burgs ranking among the state's 50 safest were Glen Rock (No. 8), New Milford (12), Saddle Brook (13), Mahwah (14), Dumont (17), Waldwick (26), Ridgefield (37), Tenafly (40), Ridgewood (41), Hillsdale (43), Bergenfield (47), Wyckoff (48) and Edgewater (50).