Bergen Buzz: Pet Central
Tips for keeping your cutest pals happy!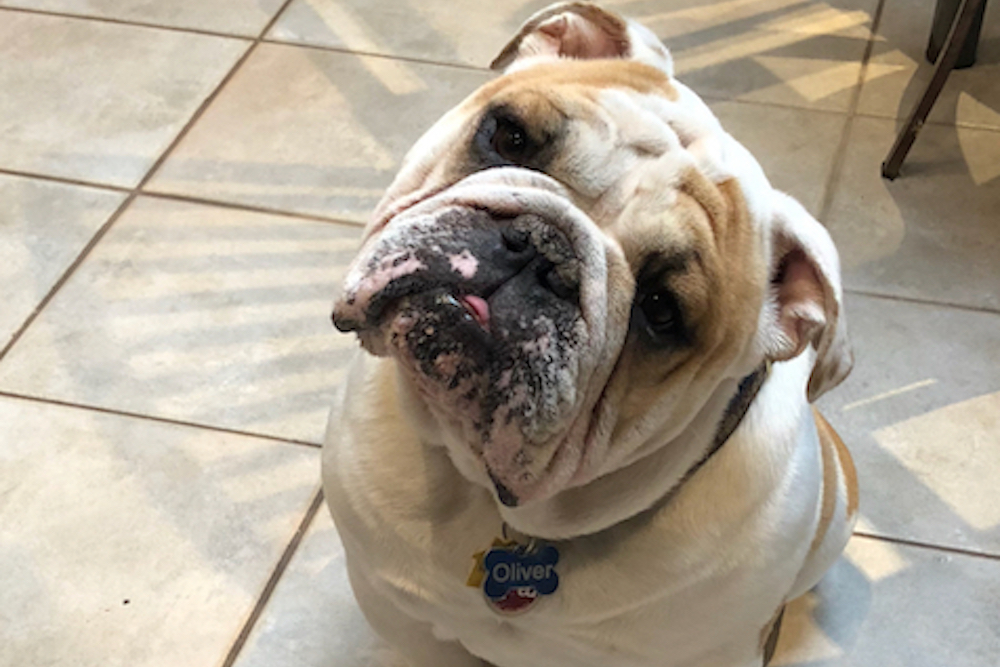 PUPPY LOVE
Oliver, 14-month-old English bulldog
Owner: Diane Levy of Woodcliff Lake
Oliver, a rescue dog, was treated like a prince as the only male pup in his litter of seven—and he's made sure the royal treatment has continued ever since. He refuses to sleep in a doggie bed, spending his nights on his owners' king bed instead, and enjoys a cool-down in the summer with a kiddie pool assembled just for him (and his two older fur "siblings," who are also rescues).
Oliver's diva behavior may be understandable—he won first place in the first dog show he was ever entered in, after all—but he's not as tough as he lets on. The pup is afraid of vacuums, brooms and Swiffers, his owner says, but feels it's his duty to protect his family from those scary things before they attack everyone else. All bark and no bite!
Think your furry friend is the cutest in Bergen County? Send us a picture of you and your pet and we may publish it! Email editor@wainscotmedia.com

PRESENTS FOR PETS
Doesn't your animal deserve a little holiday love too? These local stores are more than run-of-the-mill pet shops; here you'll find the perfect items for every furry (or fishy) friend on your list:
Fashionable Pets, Garden State Plaza, Paramus, 201.368.7878
NJ Exotic Pets, Lodi, 973.396.8897
Westwood Pets Unlimited, Westwood, 201.666.7111
Fur the Love of Pets, Oradell, 201.599.9500
NJ Puppy Store, Fair Lawn, 201.773.8280

Doggone it, winter's coming!
You say nature's already provided for your canine's cold-weather comfort? Not entirely, insists Miss Molly's luxury pet grooming salon in Englewood Cliffs. You have a part to play too. Owner Debra Jameson-Calin shares tips on how to be more to your best buddy than a fair-weather friend.
Stay on schedule: It's a misconception that pets need to be groomed less frequently when it's cold outside. "Dogs with medium and long hair still get knots in their hair due to moisture, rain, sleet and snow," says Jameson-Calin. She suggests grooming on the same schedule as you would in warmer months, which ideally is every two to six weeks.
Moisturize: "Like our skin, dogs' skin becomes dryer in winter," Jameson-Calin advises, so when bathing them in the colder months, use opaque, cream-based moisturizing shampoos rather than the clear and clarifying ones.
Bundle up: Jameson-Calin says dogs with medium or long fur should wear coats when they go outside in the frigid temps, for hygiene reasons as well as insulation. "The hair tends to knot up more when it's wet; when you cover it with a coat, you assure that only the legs are exposed to the elements," she says. "It's less work for the owners." But make sure the coat fits well; otherwise it won't keep the pup warm and he'll feel uncomfortable.
Pamper those paws: Booties are a good idea for outdoor walks, she says, as they "give support and stability when they're walking." If you'd prefer Fido go barefoot, Jameson-Calin recommends applying a paw balm to prevent his feet from getting dry.
Clean the chompers: Otis' oral health shouldn't be neglected either. Ideally, Jameson-Calin says, brush his teeth a few times a week or let him chew on bone marrow, which helps to keep teeth clean naturally.
Miss Molly's, 41 Sylvan Englewood Cliffs, 201.482.4366, missmollysnj.com
ZOO NEWS: Do you want to explain to your children how wild animals handle the cold? The Bergen County Zoo is hosting "Animals in Winter" from noon to 1 p.m. Friday, Nov. 9 to help kids ages 6 to 9 understand what animals in our area do when winter hits. Visit co.bergen.nj.us for more information.