Bergen's Booming, But…
The county's retail sector is a national champ. To survive, however, it must offer a shopping experience one can't get with a click.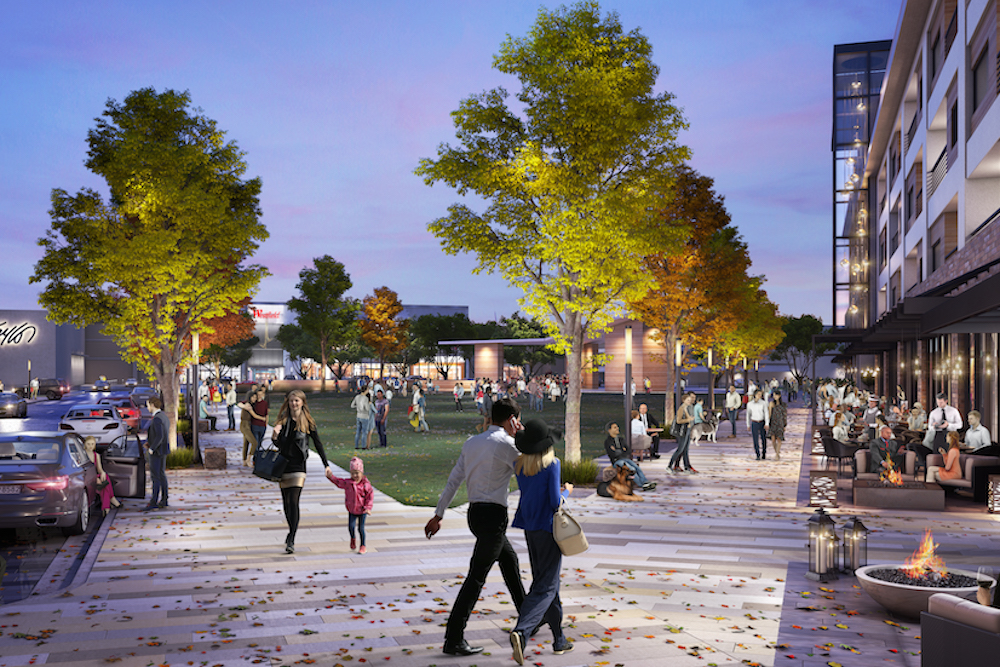 The life-sized snow globes were packed away, the carolers had called it a day and Santa's Post Office was closed for the year. But in the week after New Year's, a sense of goodwill still prevailed at Garden State Plaza, as it always does in one of the country's most profitable malls. Shoppers were browsing the post-holiday sales at Anthropologie and Aeropostale and trolling for resort wear at Versace and Vuitton. The blow-dryers were humming at Drybar, and at Hotel Chocolat customers were lining up for artisanal hot cocoa. While brick-and-mortar retailers across the country wring their hands at shrinking sales and declining foot traffic, business is brisk not just at Garden State Plaza, but at most of Bergen County's other retail establishments as well.
In fact, the county boasts the highest-grossing zip code in the country (07652, in Paramus), and Bergen's retail real estate market continues to thrive. "Bergen County remains very much in demand, both for retailers already in the state and those coming into New Jersey for the first time," says David Townes, senior director of retail services at Cushman & Wakefield in East Rutherford. "It's usually a first place to start looking, especially for tenants just coming across the river from New York City."
Recent multi-million-dollar expansions and renovations are testament to the health of Bergen's retail economy. The owners of The Outlets at Bergen Town Center in Paramus, for instance, are spending $80 million to revamp the popular mall and make space for new tenants like a Burlington discount store and a Ruth's Chris Steak House. According to the analytics firm Placer.ai, Bergen Town Center draws as many shoppers as Garden State Plaza on weekdays, a fact that helped to spur the megamall to begin an expansion of its own. And The Shops at Riverside in Hackensack is in the final phase of a major renovation expected to wrap up this spring.
But while the Bergen retail landscape is, by all estimates, an enviable one, it's nevertheless beset by the same forces bedeviling retail across the country, most notably the rise of online shopping. The question being asked by shopkeepers from Ferragamo to Flying Tiger is whether Bergen can keep booming in the age of Amazon.

WHY BERGEN'S HOT
To a large extent, demographics drive the county's retail success. "We have very dense areas that are populated with people who have disposable income and the time and ability to get out and shop," says Townes. While Bergen's population density—4,050 people per square mile—can't match the nation's densest county (Manhattan, with 72,918), it's nearly double that of Los Angeles County, the country's most populous. And the median household income in Bergen is a third higher than that for the nation as a whole ($94,107 versus $61,937).
Infrastructure plays a part as well. "We have major highways going through the towns and prime commercial space up and down each and every one of these highways, and it affords retailers visibility to hundreds of thousands of people every day," Townes notes. Paramus, which a century ago defined itself as the Celery Capital of the World, now boasts more than 75 stores per square mile generating some $6 billion in sales annually. The town draws shoppers not just from Bergen but from surrounding counties as well. Essex County resident Annie Costa, for instance, lives in West Orange but is more likely to shop at Garden State Plaza and Paramus Park than at the Livingston and Willowbrook malls nearer her home.
"Garden State Plaza is big," she says. "It's open, it's bright and it has so many stores." She's also drawn to off-the-rack stores, such as Nordstrom Rack and Neiman Marcus Last Call, at Bergen Town Center. Bergen also lures residents from New York City, who brave bridge and tunnel to take advantage of New Jersey's zero-percent tax on clothing. In fact, the county's proximity to Gotham makes it particularly appealing to retailers. When Triple Five, the Canadian-based owner of the Edmonton Mall and the Mall of America in Minnesota, considered taking over the failing project in the Meadowlands now known as American Dream, its Bergen County site was a major plus. A spokesperson for the company notes that "because it's located so close to Manhattan and it's central to the tri-state area, Bergen County is the perfect location."
THE LURE OF CLICK-AND-BUY
But Bergen isn't immune to the disruption wrought by internet shopping. That's evident in the fact, for example, that many retailers in the county are looking for smaller spaces to cut back on costs. At the Paramus Design Center on Route 17 North, for instance, a large area that was once home to PetSmart and Pearl Art & Craft Supply was recently subdivided to create six smaller units. And to entice shoppers off the 'net and into the shops, retailers are increasingly incorporating "experiential" elements—everything from fashion shows to live music to how-to demonstrations and food giveaways—that online shopping can't provide.
Garden State Plaza has been in the vanguard of the experiential trend. After the holidays, for instance, the mall was gearing up for a lunar New Year celebration, featuring a DJ and live performances from Asian dance troupes. The mall, says general manager Jay Daly, courts customers through a variety of services, including car-wash parking, personal stylists and doggy daycare. Taking the experiential concept one step further, the mall's owners announced plans last year for the creation of a mixed-use "town center" adjacent to the current property, encompassing a residential development, offices, a hotel, grocers and health and wellness amenities.
American Dream is leaning even more on the allure of experiential offerings, which will make up 55 percent of the mega mall's attractions and include the world's largest indoor water park, a National Hockey League regulation-size skating rink, two indoor ski trails and a massive indoor theme park. Food—at American Dream and elsewhere—is an essential experiential draw, and malls are increasingly incorporating specialty food shops. For example, Stew Leonard's, which bills itself as "the Disneyland of dairies," opened recently in the Paramus Park Mall. The upscale Shops at Riverside eschews the food court model in favor of high-end eateries like Houston's, The Oceanaire Seafood Room and Rosa Mexicano, a draw to well-heeled diners who might be inclined to work off lunch with a retail workout at Hermès, Jimmy Choo or the recently opened Peserico.

CAN DOWNTOWN ADAPT?
Downtowns may be the sole exception in Bergen County's thriving retail scene. With the rise of mall shopping that began in the 1960s, many towns' central shopping districts languished in Bergen and across the country. Some, especially in upscale communities, were able to find their footing with a combination of high-end franchises, unique small shops and restaurants. But the second blow of internet shopping may be too much for many downtowns to withstand. Says Carol Rauscher, president of the Englewood Chamber of Commerce: "Englewood is going through what every town is going through, and not just towns but cities too." She cites store closings and declining foot traffic.
Restaurants can often pick up the slack for lost retailing in downtowns and they can also draw shoppers, who come to eat and stay to buy. But New Jersey's laws governing the granting of liquor licenses, which date back to the era immediately following Prohibition, can discourage restaurateurs looking to open in the state. For every 3,000 residents, the state grants one liquor license. That means, for instance, that Englewood, with a population of 27,000, is limited to nine liquor licenses. And even when licenses are available, their cost can be prohibitive, starting at $350,000 and, where demand is high, reaching $1 million. Patrons don't necessarily mind bringing their own, but, as Rauscher acknowledges, "restaurants make most of their money on liquor."
To help its downtown retailers survive and thrive, Ridgewood is in the process of building a parking garage, scheduled to open in July. The expanded parking, says Tony Damiano, president of the Ridgewood Guild, "will invite larger retailers, hopefully, to open some anchor stores in town, which is what we're lacking currently." And in Englewood, the Chamber of Commerce has brought in retail consultants to advise local businesses on website-building, social media and cross-marketing events like "Getting Together in Englewood," which will incorporate art, music and—of course—shopping once a month, starting in spring and continuing throughout the summer. Cross-marketing has become a way of life in Ridgewood, with events like the annual Music Fest, which brings live music to the town's restaurants every Friday evening throughout the summer. The key, once again, is the attraction of an experience unavailable online. That's likely to become increasingly important to all of Bergen's retailers if the county wants to maintain its position as a shopping mecca.
WORKING THE MALLS
Bergen's malls are working hard to build lasting relationships with shoppers. Here's how you can benefit:
SIGN UP FOR THE PARAMUS PARK NEWSLETTER to learn about store openings, sales and special events, including free classes, demos and entertainment (paramuspark. com/en/visit/dont-miss-out).
SNAG EVEN MORE SAVINGS at The Outlets at Bergen Town Center by getting the mall's coupon booklet (click on "extra savings" on the mall's homepage: bergentowncenter.com).
TAKE ADVANTAGE OF GARDEN STATE PLAZA'S concierge service. Text the concierge desk at 201.957.7655 for questions about the mall, errand assistance, hard-to-snag dinner reservations, personal shopping, and more.
GET THE SKINNY ON DEALS at The Shops at Riverside before they happen by, joining Mall Insider (simon.com/mall-insider).