Bergen's Boy Band
Could the world's next music legends hail from Ridgefield? Read our interview with Mario Giordano—a senior at Ridgefield Memorial High School and the founding member of local rock 'n' roll band Hidden Figures.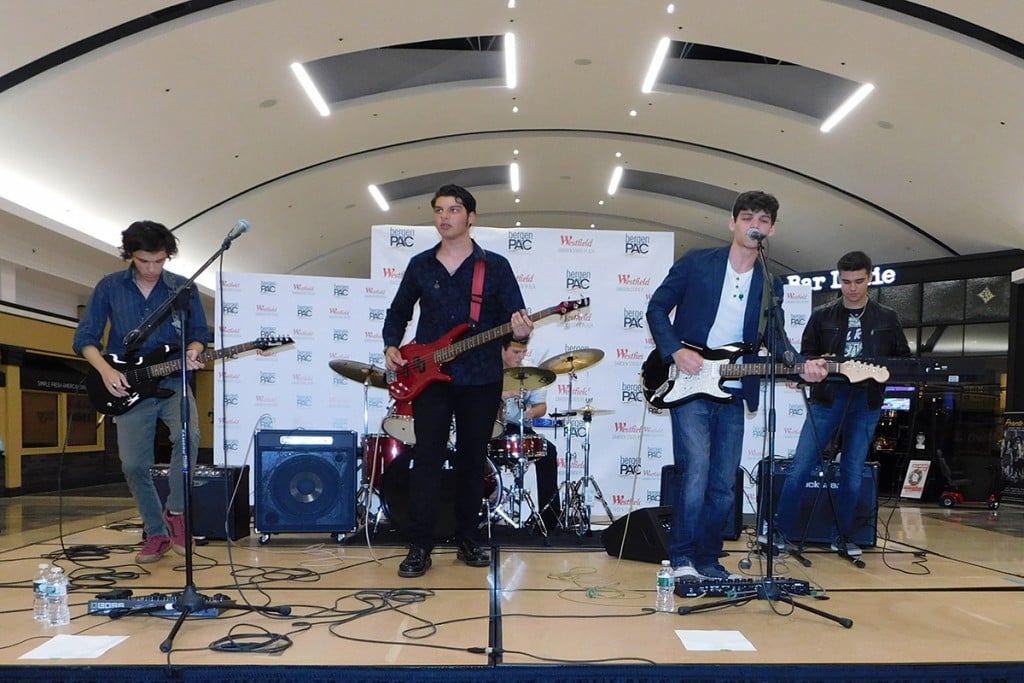 Throughout the years, Bergen County has served as a home to several once-small town bands who ended up making it big: folk crooners The Front Bottoms started out in their hometown of Woodcliff Lake; '70s punk-rockers The Misfits were bred in Lodi; and even the Jonas Brothers lived in Wyckoff for a while. Could that be the case with Ridgefield's Hidden Figures too? The rock 'n' roll band (consisting of Mario Giordano, Michael Febles, Gabe Vega and Luke Becker) is set to open for Brian Kirk and the Jirks at Bergen PAC in Englewood next month after winning Garden State Plaza's "Westfield's Got Talent" competition last fall. The band also plans to release its first full-length album at the end of spring featuring their single "Fool's Gold". We chatted with 18-year-old Giordano, the founding member of the group and one of the lead vocalists and guitarists, to pick his brain about musical influences, performing and getting his homework done before practice (spoiler: he usually does).
BERGEN: Were you and your Hidden Figures bandmates friends prior to forming the band in 2016?
MG: None of us really knew each other very well until we formed the band. I met one of our singers through the Ridgefield Memorial High School marching band, and I was on the drum line with a guy who played the drums very well. Now two of us are still at RMHS and two go to Bergen Community College. We were just kids who barely knew each other, but we bonded over our high school's music programs, primarily. We've been together ever since.
BERGEN: How do you handle balancing school with your music? Is it what people would typically think, where a bunch of guys get together in a garage after doing their homework?
MG: Practice isn't always after homework! [laughs] We make it work. Sometimes we're in the same classes and it works out nicely. We manage by talking a lot and hanging out all of the time. That's important because an idea for a song can pop up out of nowhere. Sometimes I even get an idea for the band in the shower. It might sound weird but it works for us—we're musicians, after all.
BERGEN: How would you describe your sound? Who influences your style and what other artists' songs do you like to cover?
MG: We're rock 'n' roll, definitely, but we're also bluesy. On occasion, when we do play a cover, you might get to hear some Led Zeppelin or maybe a Bruce Springsteen song. I'd say we're all pretty into classic rock and classic blues. Some more modern ones that influence our sound are The Struts, Greta Van Fleet—those types of bands. We all take different influences separately in our music, but collectively, that's our sound.
BERGEN: Tell us a little more about the "Westfield's Got Talent" competition you competed in at Garden State Plaza last October.
MG: Our audition has a funny story behind it. Our bassist and I had a marching band performance right before, and we were literally 20 minutes away [from the competition]. Our equipment was supposed to be set up by our roadies but it didn't make it there. So we basically used what was already set up there and went for it. There were so many people, and it felt like total chaos. Of course we were kind of freaking out, but we made the best of what we had and we got the gig, so it worked out! We wrote a whole new song just two weeks before that and played it there, and I think the crowd really enjoyed it.
BERGEN: Now you're set to open for Brian Kirk & the Jirks at Bergen PAC next month. Do you have anything special planned for that performance?
MG: We've written two more songs called "A City in the Sea" and "Meditation in the Evening" over the past couple of months, and they've never been played live before. Those will be fairly new when we open there, and we're really to perform them. Our live keyboardist isn't technically in the band but he's helping us out that night, which will be really great. We're excited and packing it all in, for sure.
BERGEN: Does the band play locally? Where do a group of young musicians from Ridgefield hang out when they're not practicing for a gig?
MG: We do play locally! Our first performance outside of high school talent shows was at the Hilltop Tavern's Open Mic Night in Lodi. We also did a charity event for the Rock Our Vets organization in town. As for what we do when we're not practicing, we all love Star Wars and Marvel, so we'll watch those movies together. We'll also go hiking or scour record stores like Record King in Hackensack. It's funny—we try to compete for who can find the best records. Believe it or not, you'll find albums from some of the best artists in the $3 bin like Jimi Hendrix, The Who and even Elton John.
You can catch Hidden Figures on March 27 when they open up for Brian Kirk & the Jirks' "Celebrating The Boss' 70th" Bruce Springsteen tribute show at Bergen PAC in Englewood. For tickets and more info, go to bergenpac.org/events/detail/celebrating-the-bosss-70th .
Photos courtesy of Cynthia Aybar