Bergen's Givers
Meet 8 special citizens who show a holiday-like spirit of generosity year-round.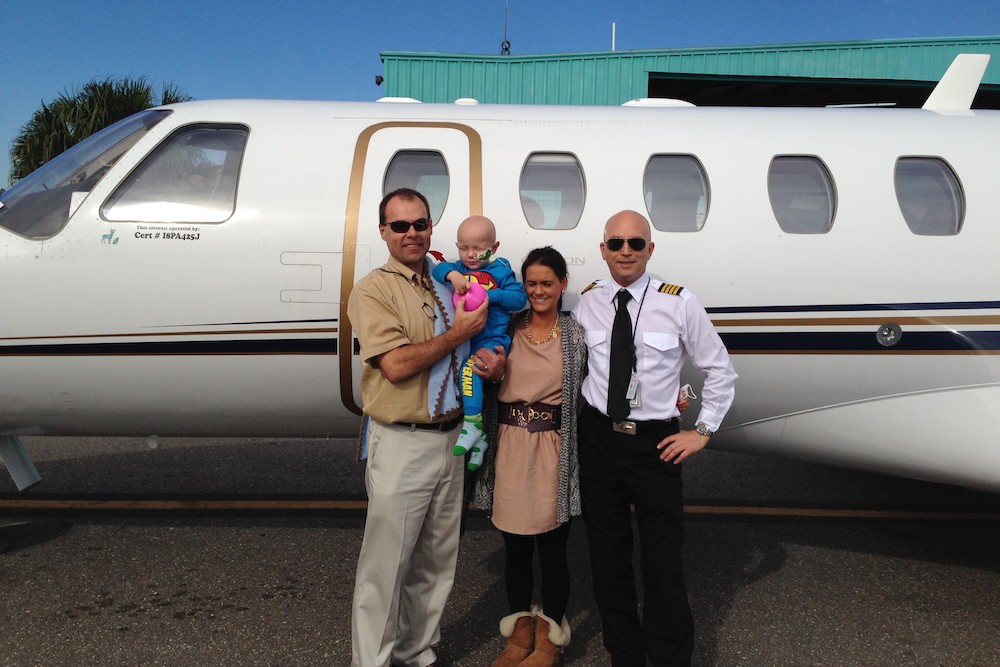 In a season when gifts are top of mind, it's timely to share the inspirational stories of people who do good for their neighbors—in the county, the country and beyond—throughout the year, freely donating their time, their talent and their treasure. Here's how eight of your Bergen County neighbors give back:
BY PILOTING WHERE NEEDED:
Steven Epstein is between planes now, but he's planning to acquire another one in the near future, which is a good thing—for Epstein and for the people whose lives he's saved by doing what he loves most: flying. The Tenafly resident was using his plane to fly back and forth to the company he manages in Oklahoma when a devastating earthquake hit Haiti in 2010. The country was in desperate need of pretty much everything, so Epstein stepped up—way up—and volunteered to fly in supplies by helicopter. He flew three missions, including one to deliver medical supplies to a hospital where patients were dying from lack of oxygen.
In 2015 he returned to Haiti to deliver an ambulance donated by Englewood Hospital. He's also flown for Sky Hope Network, which arranges flights for sick children whose compromised immune systems won't allow them to fly in commercial airliners. He thanks his philanthropist parents for imbuing in him the desire to help others in need. And he credits his pilot's training for allowing him to perform so many mitzvahs. "Flying is my passion," he says, "and it's been wonderful to be able to do good with it."
BY PLANNING CREATIVE FUNDRAISERS:
Christine Figliuolo loves a party, and she certainly knows how to throw one. A former producer at HBO, the Waldwick resident founded Creations by Christine, an event-planning company, in 2006. For a dozen years, she's put together weddings, bar and bat mitzvahs, sweet sixteens, and corporate galas from a home office that's allowed her to spend quality and quantity time with her three daughters.
For that, she says, she feels especially blessed, which is why she plans events that are more than merely celebratory. She organizes an annual 5K run for the Waldwick Chamber of Commerce that raises money for several dozen local charities; a gala for Eva's Village, an anti-poverty nonprofit; and a fall fundraiser for the Center for Hope and Safety, a shelter for women and children fleeing domestic violence. An animal lover, she hopes to create a fundraiser to benefit local shelters. "As one person," she says, "I could never afford to give the money that these events raise. But I've got these skills and I've built this business, and if I can use them to help, then I'm going to do it."
BY MATCHING VOLUNTEERS WITH THE ORGANIZATIONS THAT NEED THEM:
Louisa Hellegers had a long career in publishing, as an editor and then as a manager, and today she's putting her managerial skills to work as the director of Redefining Retirement, a year-old program she spent 18 months designing for the Bergen Volunteer Center.
Though Hellegers, a River Vale resident, doesn't pull down a salary, she works a full 40-hour week, helping Bergen County's hardworking nonprofits find the volunteers they need and locating volunteer work for retirees looking to stay busy and lend a hand. She's matched a docent with the Ridgewood Historical Society's Schoolhouse Museum, a woman yearning to offer hospice support with Holy Name Medical Center, and two accountants with Northern Jersey Meals on Wheels, where they're in the process of putting tougher a new software system for the charity. "All the matches make are exciting to me," Hellegers says.
BY TEACHING AT-RISK AND DISABLED CHILDREN TO RIDE A HORSE:
It was Alicia deTorres's daughter who was looking to volunteer, but it was deTorres herself who reaped the benefits. Five years ago, the Kinnelon resident who now volunteer in Bergen County, advised her youngest, Lauren, an equestrienne, to "do something in a field that means something to you." So Lauren signed on at Pony Power Therapies, the Mahwah farm where children with disabilities build physical and emotional strength by riding horses. Not long afterward, deTorres, a rider herself, joined her daughter at the farm.
For five years, she's volunteered as a lead walker, part of a three-person team assigned to each child-horse combo, and the experience has had a profound impact on her. "To see people with disabilities learn how to ride a horse, which seems so unlikely at first, and to see how they progress—it's fantastic," she says. Two years ago, another family member joined the Pony Power team: JD Rockafella, the competitive show horse the deTorreses had owned for 12 years. The farm has worked its magic on him as well: "He's healthy and happy and relaxed, and he's helping others," says deTorres, "which is a wonderful thing for our family to be part of."
BY BEING A PRESENCE AT THE END OF A LIFE:
Twenty years ago, Esther Marks's father was dying in New York City. And because she and her sister both lived in New Jersey, they couldn't be around as often as they wished to comfort their father and give their mother a respite from caregiving. "I vowed to myself then," Marks remembers, "that someday I would be there for other people in the same situation."
For the past eight years, Marks, who lives in Paramus, has volunteered at Valley Hospital Hospice, where she visits patients receiving end-of-life care. What she gives them is deceptively simple: companionship, a walk in the fresh air, a game of cards. If patients prefer, she'll read to them or just sit quietly and watch TV by their side. If they're unresponsive, she'll sit and talk to them, hoping they can hear her. The patients who have few visitors—or sometimes none—are the ones she feels most gratified to visit. "I just feel like I'm giving them a little bit of pleasure," she explains. While the gift may be small, its impact is incalculable.
BY HELPING TO MAKE THE COUNTY A LEADER IN MEDICAL CARE:
He's been called a business icon, and the business he founded—beginning with just two trucks and a backhoe—has helped to build the Garden State, from the renovation of the New York Giants' playing field to major reconstruction of the Route 4 and 17 overpasses, together representing the largest highway project in state history. Joseph Sanzari, president of Joseph M. Sanzari Inc., has been in business for more than 50 years, but he's known as much for his medical philanthropy as for his commercial acumen.
That's not surprising. He helped to found and continues to support the Joseph M. Sanzari Children's Medical Center; the Women's Health, Education, Research and Resource Center; and the Women's Hospital, all at Hackensack University Medical Center. He has served in countless roles at the medical center, and he's donated equipment and manpower to help repair Bergen County schools, churches and historic buildings. He also provides ongoing support to Holy Name Medical Center, including for the hospital's mission in Haiti, Hôpital Sacré Coeur, to which he has given construction equipment that's been essential to the completion of major building projects there.
Like so many who give back to the community, Sanzari, who makes his home in Ho-Ho-Kus, feels a deep gratitude, especially for his family, who, he says, "has supported me in all of my endeavors." And he's actually a bit shy about discussing his philanthropy. "I prefer giving back," he says, "to talking about giving back."
BY NURSING THE NEEDY:
Having grown up in Cliffside Park, Aret Varvar remembers the sense of insecurity his family had because they lacked health insurance. So today Varvar, a hemodialysis nurse, volunteers at Bergen Volunteer Medical Initiative (BVMI), the Hackensack medical center devoted to serving the uninsured. "I do it to give patients something that my loved ones didn't have, and that's peace of mind," he explains. Sometimes, his patients ask him what they should do if they get sick again, and Varvar gets enormous satisfaction from telling them to "give us a call—we're your healthcare providers."
You can see the relief in their faces," he says.
His favorite cases are the tough ones. In particular, he talks about an elderly woman with diabetes who has no one at home to help her keep track of her blood pressure and blood-sugar levels. So Varvar and his colleagues spend extra time with her to ensure that she gets the attention she requires.
BY TEACHING MATH SKILLS:
He's at Princeton now, majoring in mathematics, but his first tutoring gig was as a middle- school student, after a teacher asked him to help younger students struggling in math. For Zachary Stier, it was a revelation: "I was surprised by the tremendous impact individual attention had on their performance," he says. As a high school student, the Paramus native realized that there were few, if any, tutoring programs in Bergen County that offered free math support to students who couldn't afford private tutoring—so he founded one. YMath, which debuted at the Hackensack YMCA, is now in its seventh year, with two locations (the Garfield Y and Bergen County Academies), 95 student tutors, and some 100 students whose grades and lives benefit from free math tutoring.
Peer tutoring is at the heart of the program. Early on, Stier learned that students are often less intimidated and more comfortable asking questions of fellow students than of teachers or parents. Running the program taught him something else too: "A small weekly commitment from many students," he says, "can have an enormous impact on the community."