Bergen's Got Talent: Instrumental Duet
Academy of the Holy Angels students Elise Kim and Sidney Chung perform during the school's month-long celebration of music education.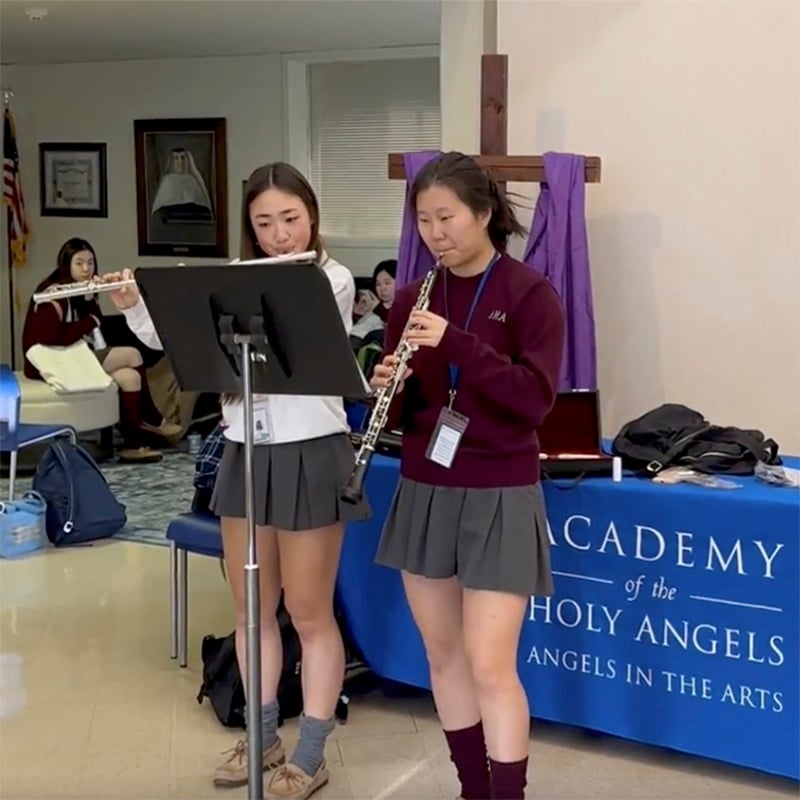 There's a wealth of talent in Bergen County high schools, from classroom whizzes to high-performing athletes. At the Academy of the Holy Angels in Demarest, the spotlight also shines on musical prodigies. In March, the all-girls high school celebrated Music In Our Schools Month (MIOSM), a five-week program highlighting the importance of music education. Throughout March, student vocal and instrumental performances took place at the start of each day as well as during lunch periods. Elise Kim and Sidney Chung, both juniors from Cresskill, for instance, performed a duet on flute and oboe, respectively. See their showcase below:
In addition to scheduled performances, all students were free to play pianos that were set up around the school. "I always used music as a way to connect with others and express my emotions," says Tri-M Honor Society President and Closter resident Faith Youn, who helped organize this year's MIOSM. "I think music is fascinating in that it is so multidimensional both in terms of style and use. Music constantly makes me think and there's always more to learn. It's really taught me to embrace a growth mindset."
Do you know any talented Bergenites? Tell us all about them on Instagram @bergenmagnj.